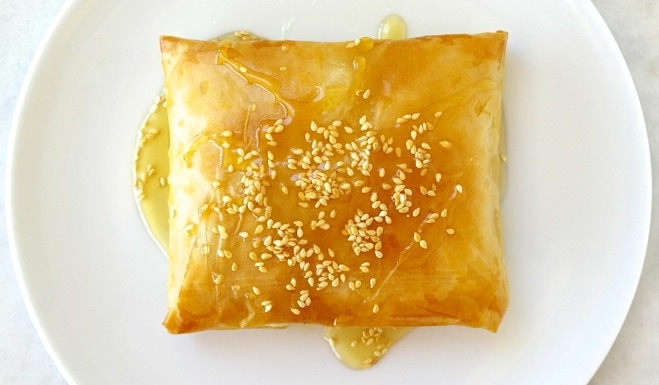 So as you may have noticed cheese is really important in our home, but also in the Greek diet. Since traditionally Greeks did not eat much meat, cheese played the role of protein to go along with all those vegetable dishes. In fact, according to the USDA and other sources, Greece has the highest consumption of cheese per person in the world (yes more than the French), at 71 pounds a year which corresponds to 3 ounces a day (which isn't that much really). That's because it is actually an important component to the meal, especially feta which makes up most of the cheese consumed in Greece.
But cheese sometimes is consumed as an appetizer, such as the saganki which is fried yellow cheese or baked feta and this here recipe is a more fancy version of baked feta. You will see this appetizer in more modern tavernes (taverns) here in Greece and it is delicious. It is very easy to replicate at home. Although usually fried, I made it a bit lighter by baking it and using a bit less cheese.
One of these is an appetizer for 2-3 people, just a few bites each or you can make it for one person and accompany it with a salad for lunch. And while it seems like an indulgent appetizer, one serving is about 100 calories, low carb (the phyllo adds very little) and a good source of calcium.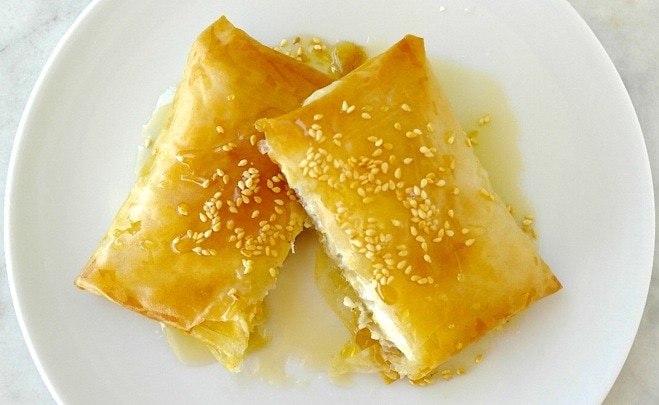 Greek Baked Feta Cheese in Phyllo with Honey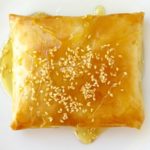 Print Recipe
Pin Recipe
Ingredients
3

ounces

feta cheese

ideally you want the feta to be in the shape of a rectangle or square about 3 X 4 inches, so you can fold it easily

1

phyllo sheet

1-2

teaspoons

honey

1

teaspoon

of sesame seeds

1

tablespoon

of olive oil for brushing
Instructions
Preheat oven at 350 degrees Fahrenheit (180 degrees Celsius)

Toast the sesame seeds. Heat them on the stove to on medium heat for about 1-2 minutes, shaking the pan.

Spread the phyllo sheet and brush with olive oil (make sure you have covered the whole sheet with the olive oil.

Place the feta in the bottom of the phyllo and fold the sides over and then fold the cheese over until you have reached the end of the phyllo. Brush the outside with olive oil and place with folded sided on the bottom on a pan.

Bake for about 20 minutes.

Remove from oven drizzle with honey and sprinkle the sesame seeds over it.
DID YOU MAKE THIS RECIPE?
Leave a comment or share on instagram and mention @greekdiet
Photos by Elena Paravantes