A hearty vegan dish of tender broccoli cooked with garlic, carrots and tomato in olive oil.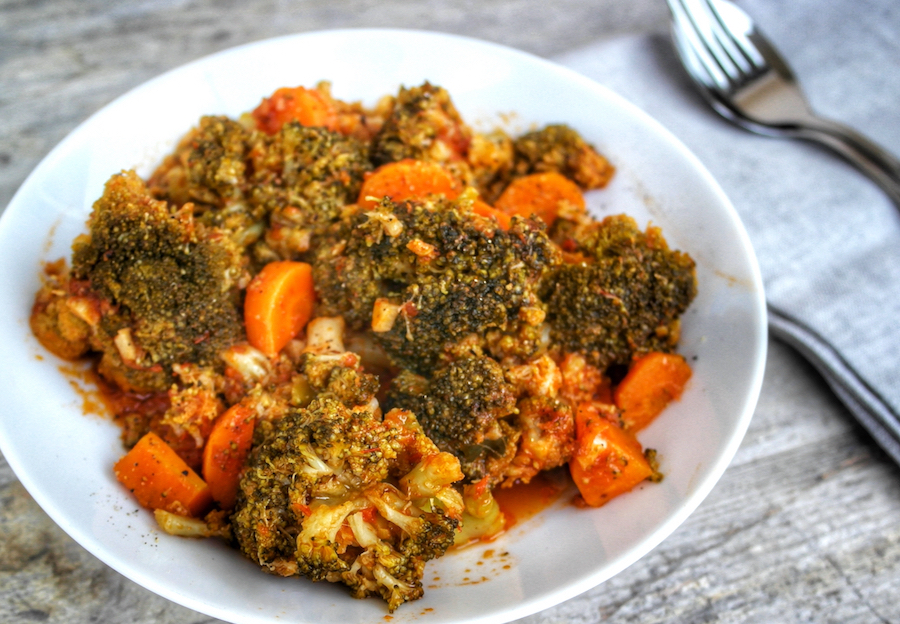 I often associate broccoli with a vegetable no one wants to eat, where you have to serve it with ranch dressing or some sort of yellow liquid cheese. But it doesn't have to be that way, there are so many delicious ways to enjoy broccoli, even as a main dish. This dish of braised broccoli I use the Greek technique of cooking vegetables with olive oil and tomato. It was so hearty and flavorful and pairs beautifully with a squeeze of lemon and some salty and tangy feta.
For this recipe all you need are 5 ingredients that you probably already have in your kitchen: broccoli, carrots, garlic, tomato paste, and olive oil. And you can use frozen broccoli instead. The garlic is sautéed, and the tomato paste is browned in olive oil giving a deep flavor. The broccoli is also sauteed in the olive oil sealing in all the flavors. Then you cook it with very little water (you do not cover the broccoli with water-see photo below), this is key as you don't want a watery broccoli dish, once it's ready, it will only be left with a sauce. The broccoli will cook fairly quickly so it won't need much water.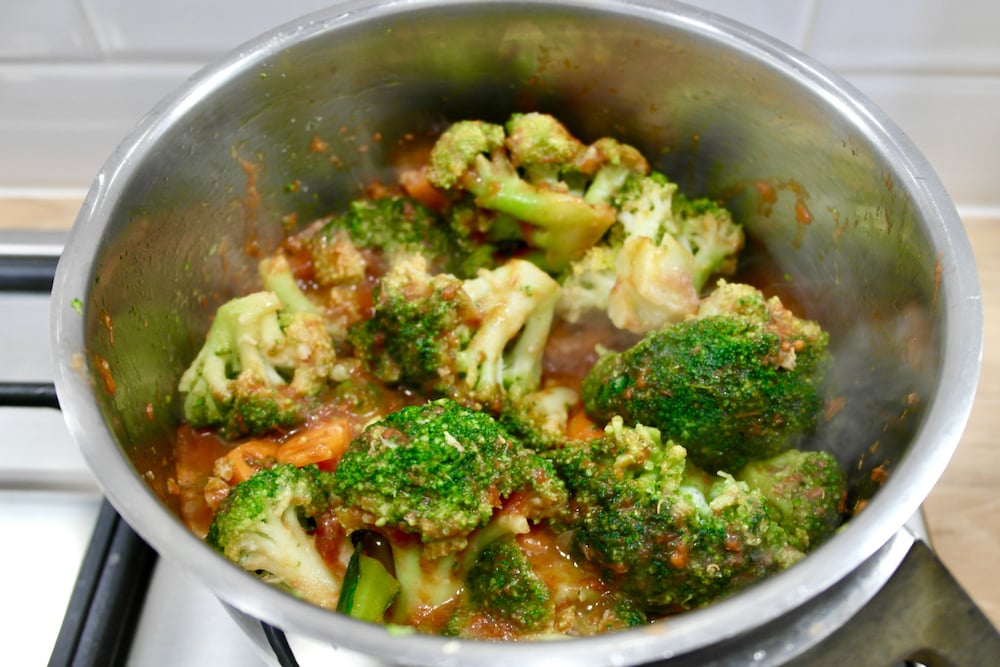 Once it is cooked, you let it cool and serve the broccoli with the sauce (there are some nutrients in the sauce as well) squeeze fresh lemon and enjoy it with some bread and feta cheese for a hearty main course. Or you can also serve it as accompaniment to fish or chicken. It is also nice cold.
Of course, this is obviously a nutritious meal, if you eat this as a main course you will get over a half a pound of vegetables in one serving, plus fiber, protein and cancer fighting nutrients!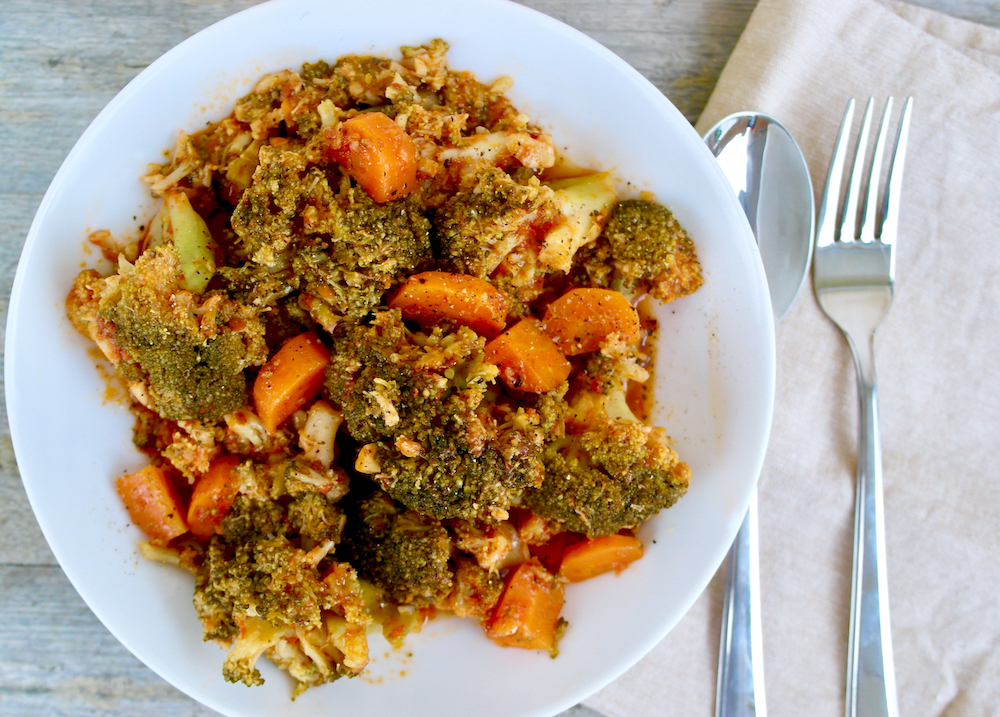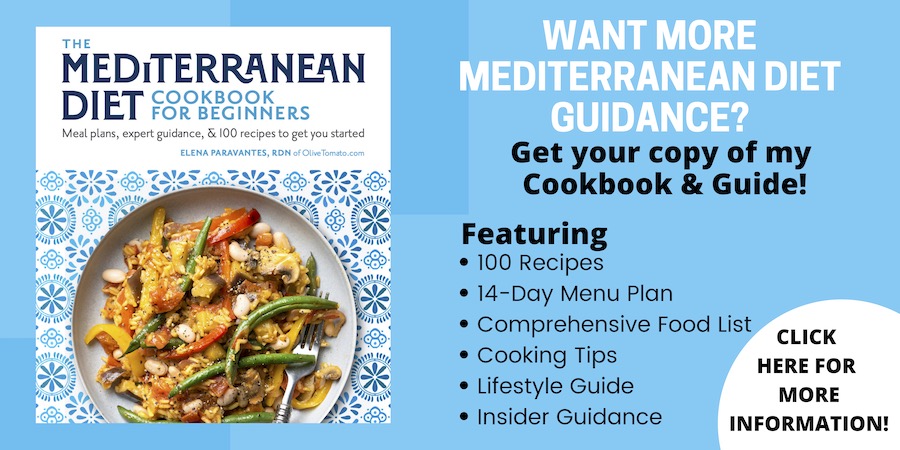 Greek Braised Broccoli with Garlic and Tomato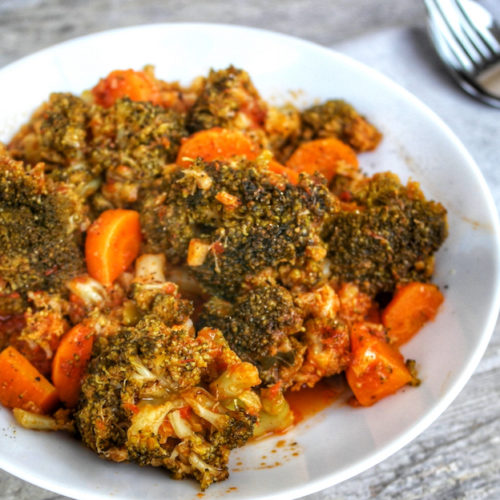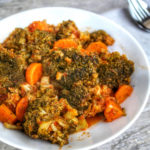 A hearty vegan dish of tender broccoli cooked with garlic, carrots and tomato in olive oil.
Print Recipe
Pin Recipe
Ingredients
¼

cup

extra virgin olive oil

2

garlic cloves finely chopped

1

tbsp

tomato paste

1

large carrot or

2

small sliced ½ inch thick

1

pound

(½ kg

)

broccoli fresh or frozen separated in florets

Salt and fresh ground pepper

Lemon for serving
Instructions
In a medium pot heat the olive oil over medium heat, once it starts to shimmer, add the garlic and sauté for about 1 minute.

Add the tomato paste and ¼ tsp salt, swirl in the pot and heat until the paste browns a bit.

Add the carrots and continue sauteing for 1-2 minutes, then add the broccoli and continue sauteing for about 1 minute.

Add

¼

cup of water, lower the heat to low and simmer (it should not be boiling). Cover and cook until broccoli is soft, and water has been absorbed-about 30 minutes. Check occasionally and add small amounts (2 tbsp at a time) of additional hot water if needed.

Remove from heat, let it sit covered for 15 minutes before serving.
Notes
Serve warm or at room temperature with a generous squeeze of lemon and freshly ground pepper.
You may accompany with feta and bread.
Store in the refrigerator for up to 3 days.
DID YOU MAKE THIS RECIPE?
Leave a comment or share on instagram and mention @greekdiet