Greek Pasta Salad is perfect as a light lunch or summer side. Ripe flavorful tomatoes, along with crispy cucumber, Kalamata olives, tender pasta, sprinkled with good feta and a simple dressing made with extra virgin olive oil come together for a pasta salad everyone will enjoy.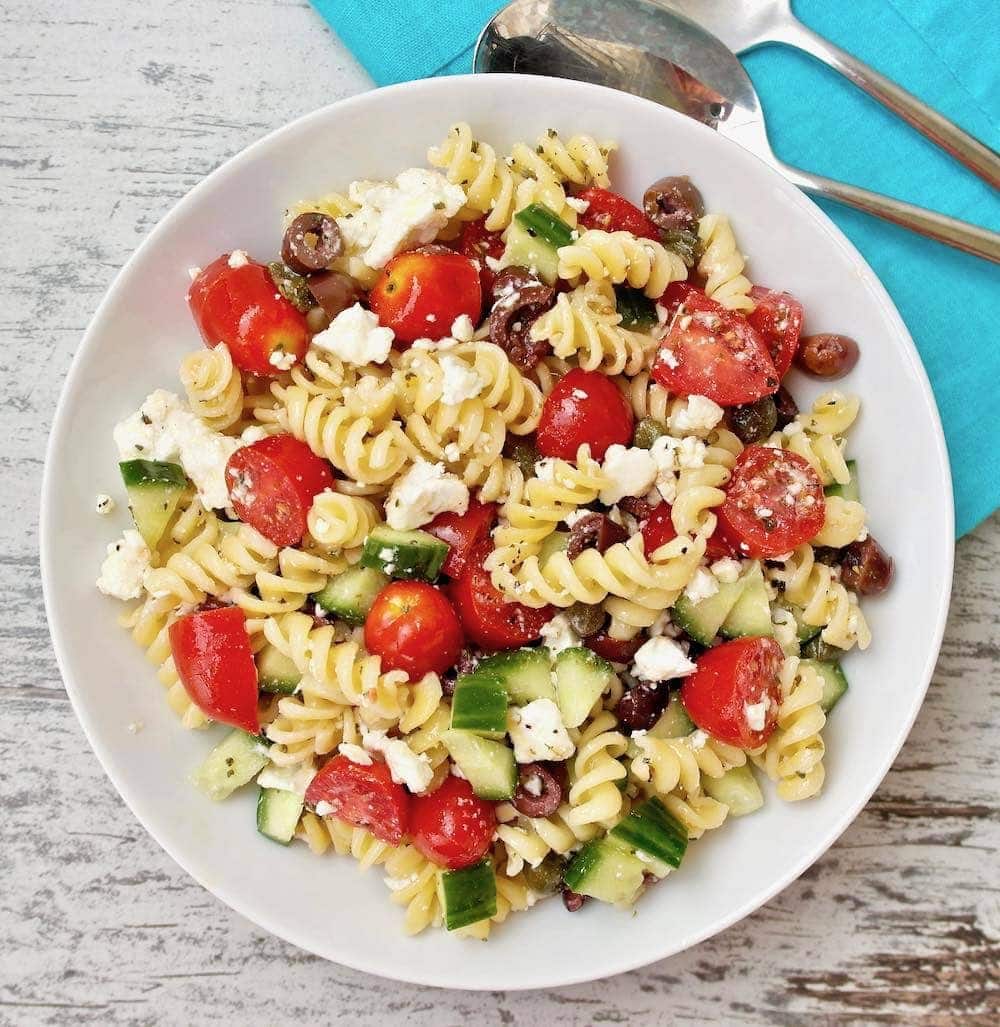 Ahh the pasta salad, just to be clear there is no such thing as pasta salad in the Mediterranean cuisine, but we do eat pasta and we do eat salad, just not together. Pasta salad is more of an American concoction that started appearing in cookbooks in the early 1900s, it was called macaroni salad, it included plenty of cream and mayonnaise and pasta but not much "salad". It wasn't until a few decades later that we started seeing actual vegetables in pasta salads although the mayonnaise was still there.
I do have to say though that the idea of adding a bit of pasta to a salad to provide some volume and sustenance is a good idea, especially for lunch. It can be a complete, healthy meal that you can easily take with you. The thing is you don't want to settle for those heavy, ready-made salads made with mayonnaise or unknown oils (think canola or corn oil instead of olive oil) that have been sitting there for days. Instead, you can make your own fresh pasta salad with the very best ingredients for maximum flavor and nutritional value.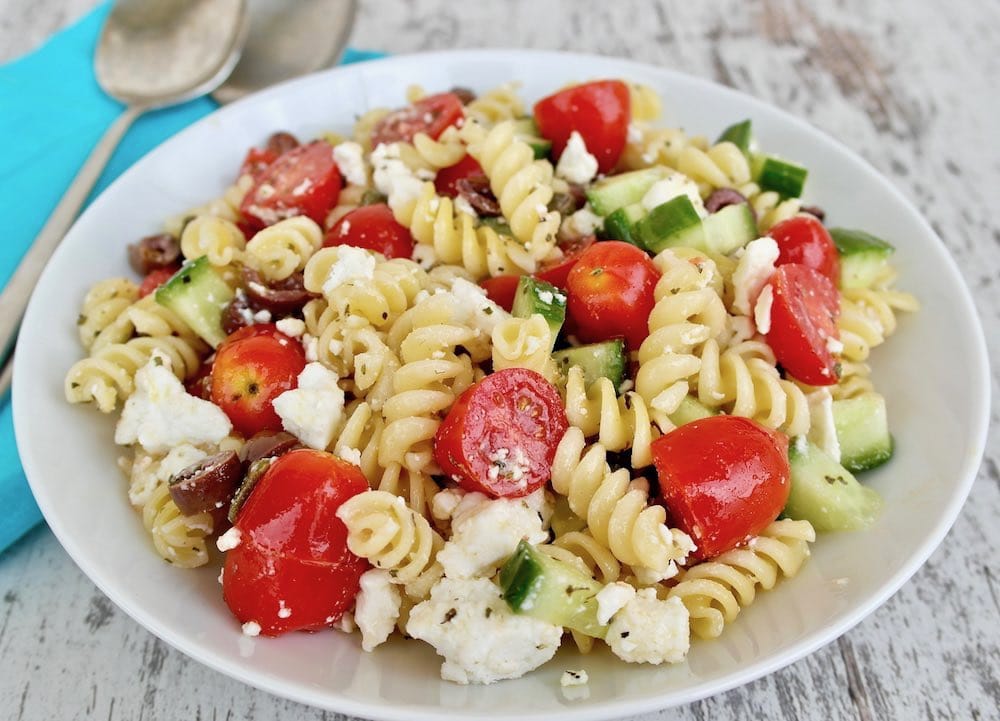 How to make a Delicious and Healthy Mediterranean Pasta Salad
1. Watch the ratio of pasta to vegetables. You want to have more vegetables and less pasta in this recipe, so think at least 50% more vegetables than pasta. 
2. Use good extra virgin olive oil. I cannot stress this enough. Olive oil imparts antioxidants and good fats to your salad and of course flavor.
3. Don't let the salad sit around for long before consuming it. I know, I know many of these pasta salads may taste better after sitting in the refrigerator overnight, but in this case you want your vegetables to be freshly cut so you do not lose the nutrients. Here's what you can do: make ahead the pasta and add the rest of the ingredients in the morning before leaving for work or if at home right before serving (prep is only a few minutes).
4. Do not add cold cuts. Yes adding pepperoni or ham is pretty common, but not so healthy and really not necessary. We know that processed meats have been associated with increased risk of cancer, so it is better to avoid them.
For this pasta salad, I basically followed the principles of a classic Greek salad, and it is perfect especially in the summer when tomatoes are in season. Plenty of color and plenty of antioxidants. I put this together within minutes and had it for lunch, but it can easily be served as a side dish as well. You can omit the feta for the vegan version or use gluten free pasta.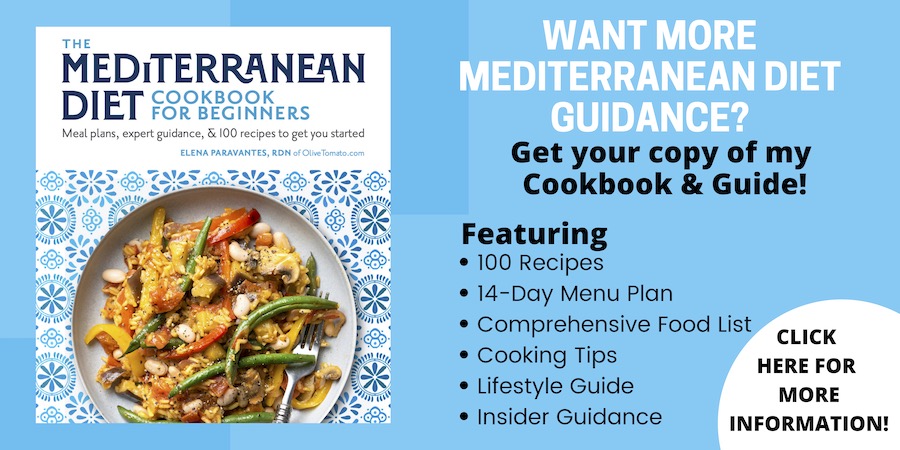 Classic Greek Pasta Salad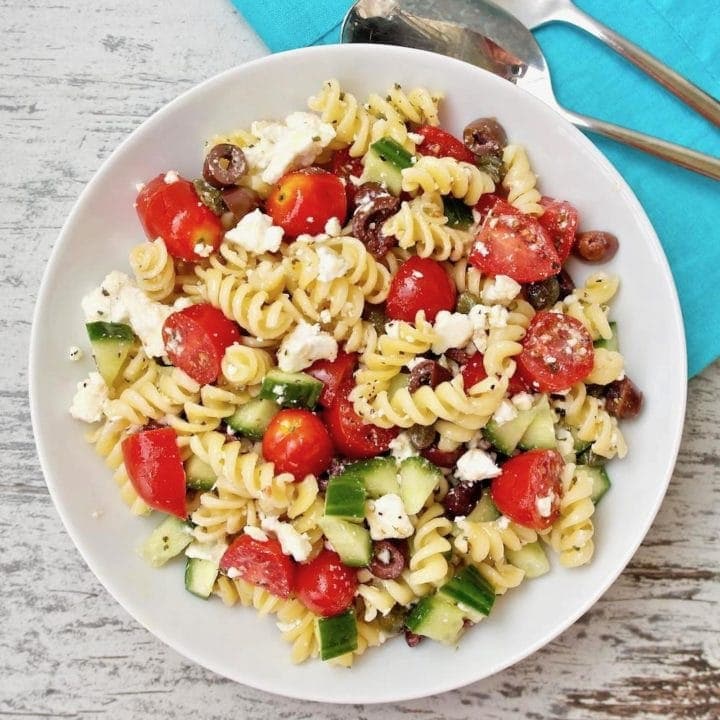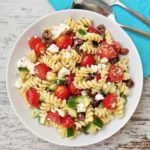 Classic Greek Pasta Salad, Ripe flavorful tomatoes, along with crispy cucumber, Kalamata olives, tender pasta, sprinkled with good feta and a simple dressing made with extra virgin olive oil.
Print Recipe
Pin Recipe
Ingredients
1

cup

dry pasta, rotini or penne – you can use whole grain if you wish

1

cup

cherry tomatoes sliced in half

1

small cucumber, about 1/2 cup chopped in 1/2 inch pieces

3

tablespoons

sliced kalamata olives

2

tablespoons

capers

1

tablespoon

oregano

2

ounces

feta crumbled
Instructions
For the salad
Boil the pasta as instructed and drain. If pre-boiling pasta, add a bit of olive oil after boiling, so the pasta does not stick together.

In a large bowl add the pasta, tomatoes, cucumber, olives and capers and gently mix.

Add the dressing and sprinkle over the oregano, toss the salad.

Sprinkle the feta and gently toss again and serve.
Dressing
In a small bowl mix the with a fork the olive oil and vinegar (it should thicken)
Notes
* Salt in not needed as the olives, capers and feta already have salt.
Nutrition Facts
Classic Greek Pasta Salad
Amount per Serving
% Daily Value*
* Percent Daily Values are based on a 2000 calorie diet.
DID YOU MAKE THIS RECIPE?
Leave a comment or share on instagram and mention @greekdiet
SAVE FOR LATER AND PIN IT!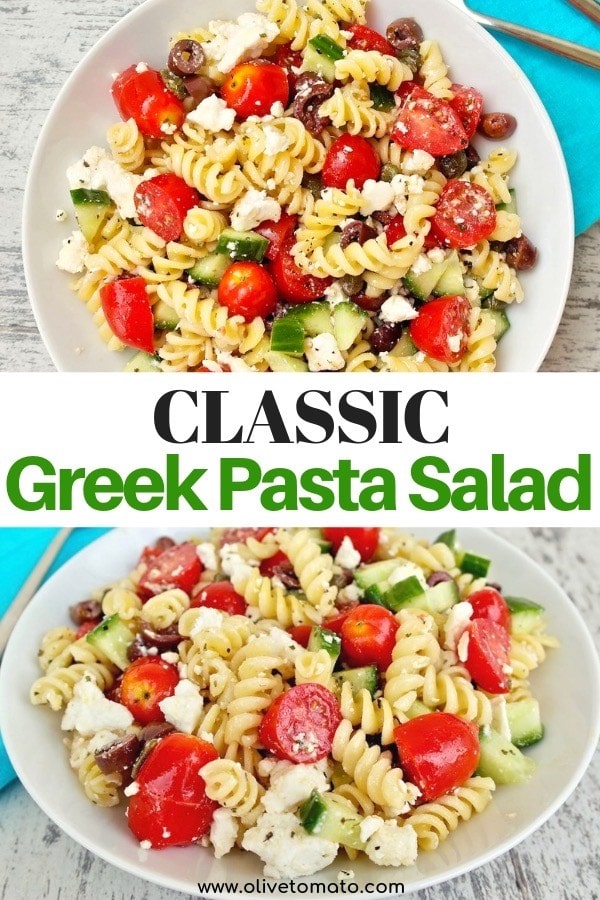 Photos by Elena Paravantes All Rights Reserved
---