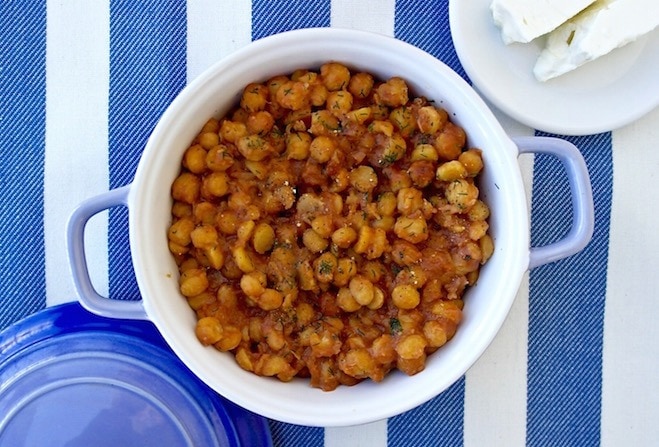 Beans are an important part of the Mediterranean diet. They were cheap and they were vegan, which was necessary as Greeks fasted from animal products for over 200 days a year. But they are so much more! They are delicious and so versatile. They are a perfect nutritional package: plant protein + fiber + antioxidants + carbohydrates. And chickpeas are no exception.
Because of all these components, they are filling, they help control our blood sugar so we stay full longer, they can protect from heart disease, diabetes, cancer and they help with weight loss.
Greeks generally eat beans in the form of a stew, combined with greens or pureed as in the fava. But I love all these other great recipes that appear all over the world: in curries, chili, patties, even in desserts. You really cannot go wrong with beans, also known as pulses or legumes.
The United Nations declared 2016 the International Year of Pulses, basically  to heighten public awareness of the nutritional benefits of beans as part of sustainable food production aimed towards food security and nutrition. Did you know that pulses are plants that have nitrogen-fixing properties which can contribute to increasing soil fertility and have a positive impact on the environment? So they are good for us, but also good for the planet.
Now this recipe combines boiling in the beginning (to get them soft) and then roasting to thicken them and bring out the flavors. The result is a satisfying, flavorful bean dish, which of course goes great with feta. If you use canned, than you can go straight to the roasting part, but make sure to sauté the onion and garlic before roasting them.
I also used peeled dry chickpeas, but you can used unpeeled. And don't forget to soak the beans the night before.
If you are looking for a stovetop recipe for chickpeas, check this one out.
Greek Roasted Chickpeas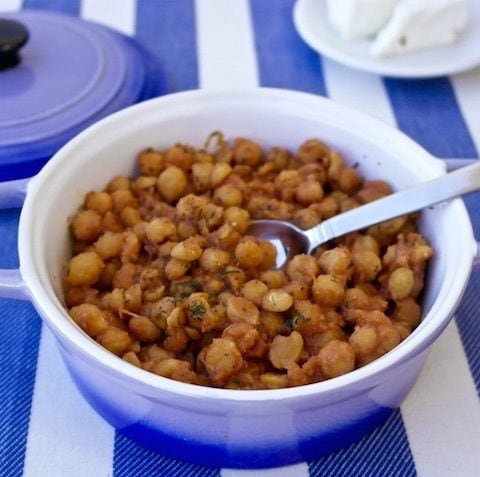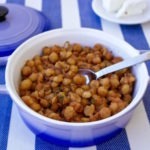 Another great way to enjoy beans. This simple dish of roasted soft chickpeas goes great with feta.
Servings:
2
-3 full course servings
Print Recipe
Pin Recipe
Ingredients
1

cup

dry chickpeas

1

medium onion chopped

2

garlic cloves cut in half

1

bay leaf

1

tablespoon

tomato paste

2

tablespoons

chopped dill

2

tablespoons

olive oil

Salt/Pepper
Instructions
Soak the chickpeas in water overnight.

Rinse and place in a pot with the onion, garlic and bay leaf. Add water until it covers beans with about an inch of water above the beans.

Simmer for about 45 minutes (it may take longer) until chickpeas are almost completely cooked and water is all absorbed.

Preheat oven at 350 degrees F (180 degrees C).

Stir in the tomato paste and let it heat, stirring gently so that it spreads over all the chickpeas.

Remove from pot, empty the beans in a casserole dish and add 2 tablespoons olive oil and the dill. Blend well.

Add about ½ cup warm water at the corner of the casserole dish and tilt so it spreads over the base of the whole dish.

Add salt and pepper as needed.

Cover the pan with aluminum foil or with its lid.

Roast for about 30 minutes.

Serve at room temperature
DID YOU MAKE THIS RECIPE?
Leave a comment or share on instagram and mention @greekdiet
SAVE FOR LATER AND PIN IT!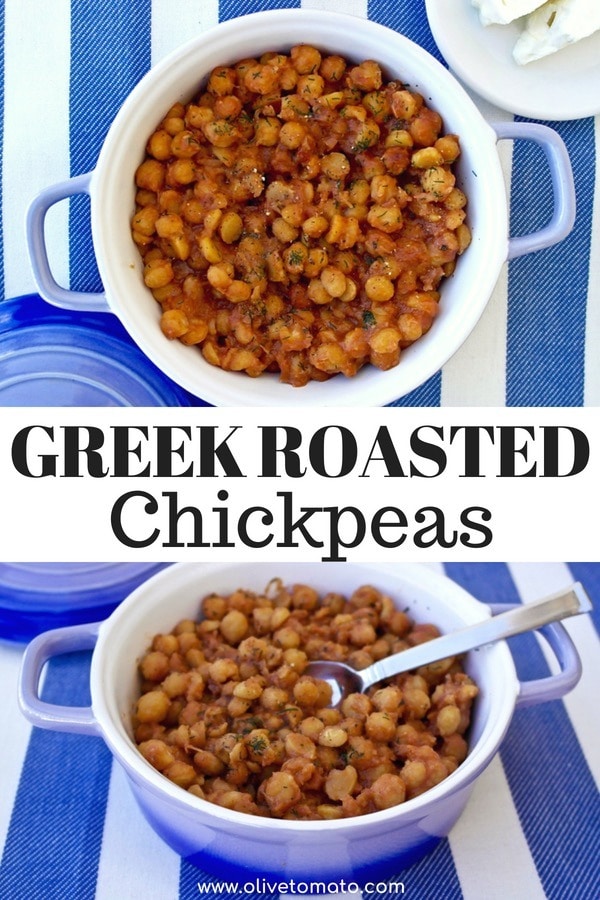 Images by Elena Paravantes © All Rights Reserved