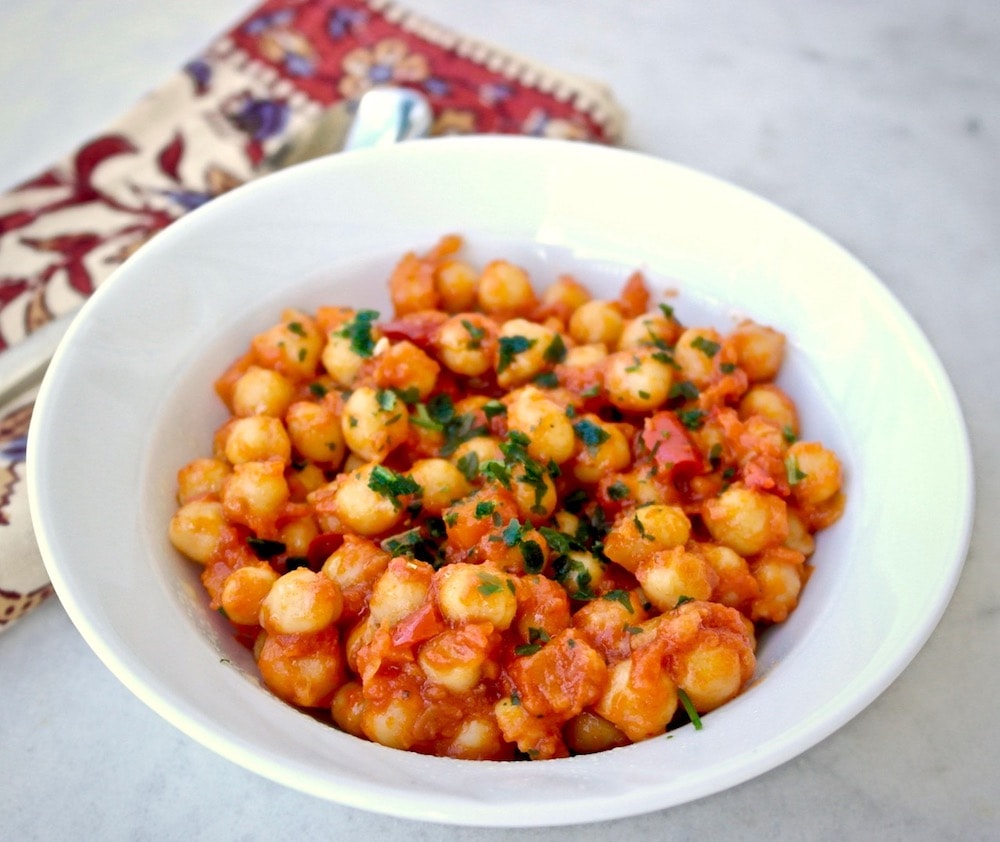 I would like to continue where I left off from my previous post about beans; it is significant that a simple eating habit such as eating a cup of beans can help us lower our cholesterol levels, but also maintain our blood sugar levels as well as help us lose weight since beans are filling due to the fiber and protein. And let's not forget the antioxidants.
Here in Greece we are in the holy week, the last week before Easter. While traditionally the religious fast starts about 40 days before Easter, most Greeks nowadays will not be fasting for all those days, however the majority of Greeks still fast (avoid animal products with the exception of some seafood) the week before Easter, so it seemed fitting to share this easy bean recipe.
I do not eat all that many soups, I prefer beans thicker. An easy way to get tasty beans is to sauté them in a bit of olive oil and then warm them in tomato once they are boiled. They are very tasty and you can add any vegetables you like.
I often steam the beans rather than boil them. In fact an Israeli study from a few years ago, showed that steaming chickpeas helps retain more antioxidants. You can try steaming them for about the same amount of time you would boil them.
Here is my version for chickpeas, but you can do it with other beans as well.
Greek Inspired Chickpeas Cooked in Tomato Sauce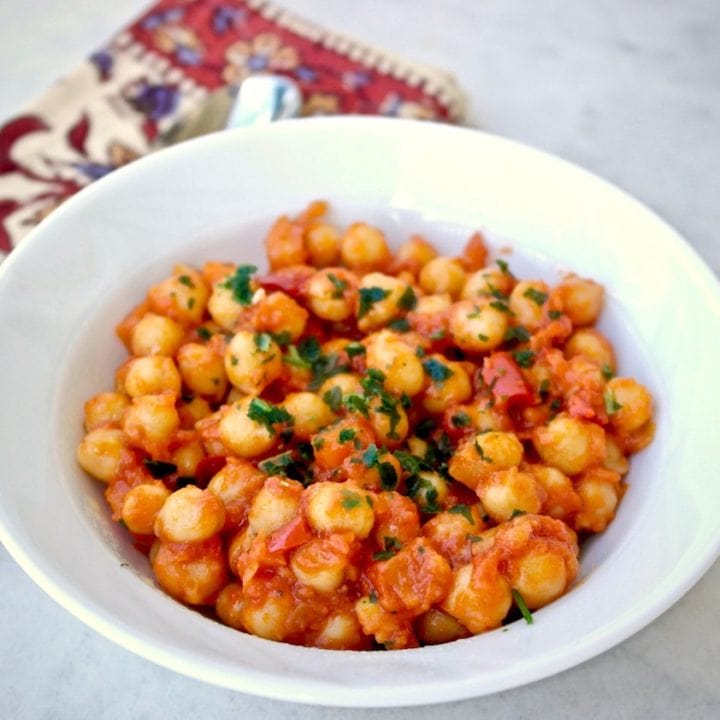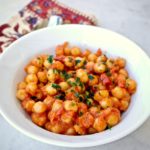 Print Recipe
Pin Recipe
Instructions
If you are using dry soak chickpeas overnight.

If you are using dry chickpeas rinse and put in a pot, add water so the beans are covered by about 3 inches and the bay leaf. Cook for about an hour until the beans are soft. Half way through cooking add the chopped onion, pepper and carrot. If you are using canned chickpeas, you can just boil the carrots, pepper and onion for about 20 minutes and drain.

Once the chickpeas are cooked, drain them along with the other vegetables and set aside.

In a pan heat the olive oil, and sauté the chickpea mixture for a few minutes. Add the tomato sauce and sugar and mix well and let it simmer for about 15 minutes until all liquids has been absorbed. You can add small amounts of hot water if needed during the cooking.

Remove from heat. Add salt and pepper and sprinkle with some parsley.

Enjoy this as is, with a slice of bread or with a piece of feta cheese if you are eating dairy.
DID YOU MAKE THIS RECIPE?
Leave a comment or share on instagram and mention @greekdiet
Photo by Elena Paravantes