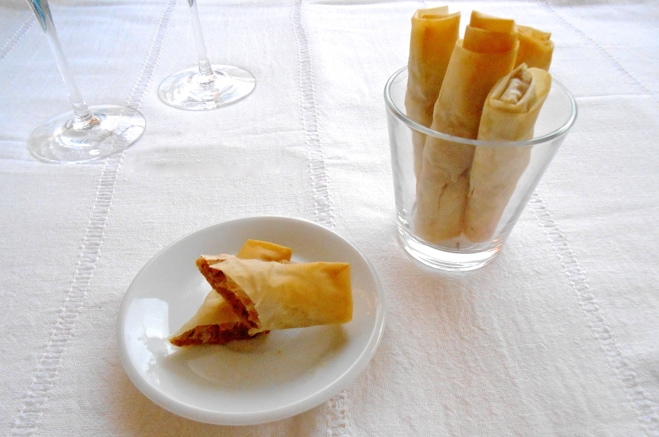 As promised in my post about my visit to the Food and Nutrition Conference, I'll be sharing interesting, Mediterranean inspired recipe ideas that I found at the conference. Beans are always on top of the list of healthiest foods and a very important part of the Mediterranean diet. Here is a recipe that presents lentils wrapped up in phyllo dough, putting them in a nice attractive package to be served as an appetizer. A perfect idea if you are entertaining or for the holidays or…if you just want your kids to eat beans.
I have altered the recipe quite a bit. The original recipe is from a cookbook that was given during the conference by Canadian Lentils. I of course, made some changes: I used olive oil instead of canola oil. I did this for a couple of reasons: obviously the health benefits of olive oil but also the taste. Olive oil really brings out the taste of lentils, it is a natural combination. I also added tomato paste and boiled the lentils with garlic, onion and bay leaf – this is the way lentils are prepared traditionally in the Greek cuisine. The tomato increases the absorption of iron from the lentils and also gives more taste. I also added some Feta in addition to Parmesan. Feta usually accompanies all bean dishes in the Greek diet. And the final touch: vinegar and a touch of honey. When making lentils in Greece, red wine vinegar is always added at the end, for this recipe I used balsamic.
Now beans really are a complete package: protein, fiber, slowly absorbed carbohydrates and antioxidants. And a new study shows that they can improve glucose levels and reduce blood pressure (read about it in my next post). So, it really is worth your while to include them anywhere you can, even as a sophisticated appetizer. Oh, and yes they are delicious. In fact, when I made them, both my sons ate all of them (after I photographed them). Actually, I had some left over lentil puree and my toddler happily ate it all.
Greek Style Lentil Cheese Phyllo Rolls
INGREDIENTS
1/2 cup dry lentils
1/2 onion
1 garlic clove
1 bay leaf
1 tablespoon tomato paste
1/4 cup olive oil + 2 teaspoons
1 tablespoon dry oregano
salt/pepper
2 tablespoons grated Parmesan
2 tablespoons crumbled Feta cheese
1 tablespoon balsamic vinegar
1 teaspoon honey
4-5 sheets phyllo dough
DIRECTIONS
1. Preheat the oven at 325 degrees F (160 C)
2. Soak the lentils for 5 minutes and rinse.
3. Bring the lentils to a boil in a small amount of water and then remove from heat and pour out the water.
4. In the pot, cover the lentils with fresh water, add 1/2 chopped onion, 1 garlic clove cut in half and 1 bay leaf. Simmer for about 30 minutes.
5. Strain the lentils and pour them in a food processor. Add the tomato paste, Parmesan, Feta, oregano, vinegar, honey and 2 tsp olive oil and blend. Add some water (1-2 tablespoons) so that the consistency is like canned pumpkin (don't over mix) and blend. Add salt and pepper to taste.
6. Spread a phyllo sheet. Brush with olive oil and cut phyllo in half lengthwise and then cut each half in thirds so you end up with 6 strips about 6 x 7 inches (15 x 18 cm).
7. Spread about 1 teaspoon of filling along one end of the phyllo strip (be careful not to overfill otherwise the filling will burst out while baking) and roll over once. Turn in edges of pastry and roll up to make a cigar shape. Repeat this until all the filling is used.
8. Place rolls on a pan and bake for about 20 minutes until golden.