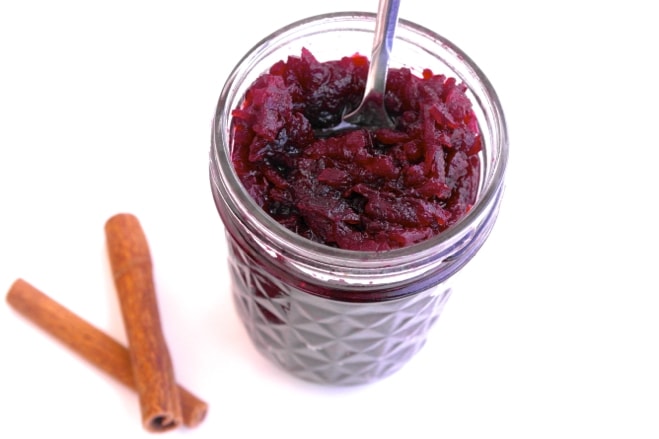 Gliko koutaliou, which translates into spoon sweet, is basically a sweet made from sugar and fruit and sometimes vegetables. Popular spoon sweets include sour cherry (vissino), grape, bitter orange (nerantzi), but you also find eggplant and tomato spoon sweets. These sweets are made by boiling the fruit whole or in large pieces with sugar making a syrupy fruit preserve.
This type of sweet is traditionally served plain on a tiny dish with a spoon along with a cold glass of water. It is also served with yogurt or on top of ice cream. Since it is only fruit and sugar it is low in fat but also nistisimo, in other words it contains no animal products so it can be consumed during fasting periods.
This time I wanted to make beet preserves, I figured they are already quite sweet and so I wouldn't need too much sugar to make them into a preserve. I did not add as much sugar as is usually required in normal spoon sweets, which is equal to the weight of the fruit; for every pound of fruit, you use a pound of sugar. For this recipe I only used 1/3 of the amount of the sugar and cooked it with a cinnamon stick.
This goes excellent with Greek yogurt, as a topping for cheesecake and other cheese based desserts, and with ice cream of course. You can also serve some with pork.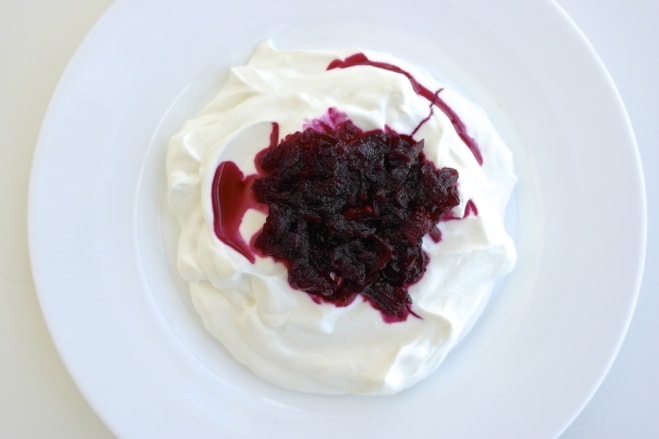 Sweet Beet Preserves-Gluko Koutaliou Pantzari
INGREDIENTS
1 pound beet roots peeled (about 450 grams)
Water
3/4 cup sugar
Juice from 1 smal lemon (or 1/2 large)
Peel from 1 lemon
1 cinnamon stick
DIRECTIONS
1. Wash the beets and cut off their greens (boil the greens later for about 20 minutes and eat them with some olive oil and feta cheese)
2. Peel the beets (I used a potato peeler)
3. Shred the beets (you can use a food processor)
4. Put the beets in a pot and add enough water to cover them and boil for about 20 minutes.
5. Strain the beets and save about 1/2 cup of the beet water
6. In another pot add the beet water (1/2 cup), the sugar, the lemon juice and peel and the cinnamon stick, bring to a boil while mixing well.
7. Add the beets and mix well, let it simmer until it thickens for about 30-40 minutes.
8. You may remove the cinnamon stick after the first 20 minutes of simmering otherwise it may have a strong cinnamon taste.
9. Remove from heat and let cool completely. Remove lemon peel and store in jars. You can refrigerate and use within a month, otherwise you can use sterilized jars and store longer, click here for more information on safe canning.
Photos by Olive Tomato