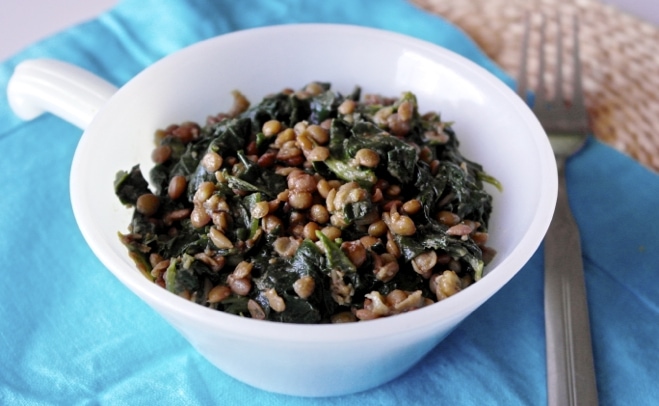 This is a nice and easy vegetable dish that really is a complete meal. Beans are one of the most important components of the Greek-Mediterranean cuisine, particularly during fasting periods. They are usually consumed 2 times a week as a soup or cooked (or roasted) with tomato and other vegetables, they also are often combined with greens. This combination is truly one of the most nutritious you can eat.
There are so many benefits to all the ingredients: spinach provides your vegetable serving along with fiber while the lentils are your source of protein, some iron and of course fiber. And all the ingredients including the olive oil and honey provide the antioxidants. Research has shown that beans provide improved glycemic control making them a good choice for diabetics, but also protecting from heart disease as they can help lower cholesterol levels. Greens such as spinach also have a high antioxidant content, very few calories and are filling. Combine this with a nice dressing made with olive oil, a touch of honey and vinegar and you have a dish anyone can enjoy whether they are vegan, diabetic or even avoiding gluten
Don't try to skimp on the olive oil; it's what makes this dish tasty.
Warm Spinach Lentil Salad with Olive Oil and Honey Dressing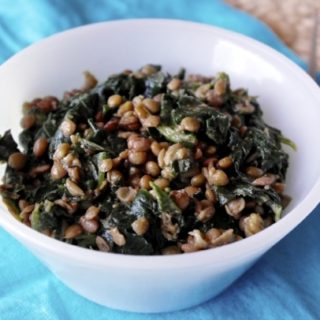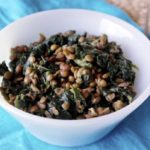 Print Recipe
Pin Recipe
Ingredients
Instructions
Put the lentils in a pot and add water until lentils are covered. Bring to a boil and then remove from heat.

Remove old water and add enough new water, to about 1 inch higher then lentils, add a bay leaf and a garlic clove and let it simmer for about 30 minutes until lentils are soft.

Wash spinach and chop.

Once lentils are cooked and strained (remove bay leaf and garlic clove). Heat

2

tablespoons olive oil in another pot and saute the other clove of garlic minced.

After 1-2 minutes add the lentils and stir them so they are covered with the oil for about 2 minutes and then add the spinach, heating until it wilts and most liquids are gone.

Remove the spinach lentil mixture and place in shallow large bowl and let it cool a bit.

Make the dressing by mixing

1/3

cup olive oil with

2

tablespoons balsamic vinegar and

1

teaspoon honey. Add pepper and salt to taste

Drizzle the dressing over the spinach and lentils and blend making sure dressing has covered everything.

You may serve this with some bread and cheese.
DID YOU MAKE THIS RECIPE?
Leave a comment or share on instagram and mention @greekdiet
Photo by Olive Tomato