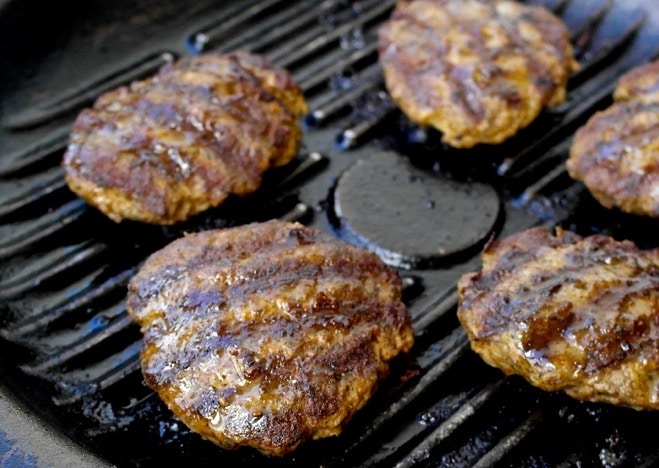 As you may know, my mom has greatly influenced my eating habits and taste, as most mothers, right?. She is very loyal to Greek cuisine and we pretty much ate only Greek food at home. Occasionally she would make what she called "American" food. One of those times she made "hamburgers". Now for Greeks a piece of ground beef cooked on the grill without adding anything to it would be considered bland. "The beef needs to have herbs and spices added to it, otherwise what's the point?" she would say (and still does). My mom could never understand the point of the hamburger: cooking a plain piece of meat and then loading it with ketchup, mustard and a bunch of other condiments. Why not just add things to the meat before you actually cook it? To make a long story short, my mom would make hamburgers, but in fact they were Greek patties that she then would put into a hamburger bun along with a bottle of ketchup and mustard on the table.
Years later I've come to appreciate a good juicy American burger but I also realized that those Greek patties did not need any condiments added to them, nor did they need to be disguised as a hamburger, all they needed was a squeeze of lemon because they were so tasty.
Greek Burgers and Health
These Greek burgers are known as biftekia, they may be grilled or cooked in a pan. The meat is mixed with a variety of herbs mostly, and they contain a bit of egg and breadcrumbs, the result is a very tasty piece of meat.
The oregano and the other herbs that are added are all excellent sources of antioxidants that give a nutritional punch to your patty. They also reduce the levels of heterocyclic amines (HCAs), compounds that develop when meat is cooked at high temperatures and have been associated with certain types of cancer. By using dry herbs such as oregano and mint on the meat you can reduce the levels of these harmful compounds.
This recipe is very easy and I used my cast iron grill pan. These were delicious and juicy and we paired them with a simple tomato salad. Other classic combinations include boiled horta (greens) and tzatziki (Greek garlic yogurt dip) or any type of other green or salad. Make sure you let the meat sit for at least an hour to get all the flavors to meld.
Greek Burgers - Biftekia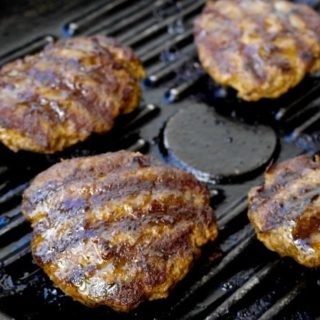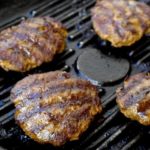 Juicy, aromatic beef patties Greek style! A combination of herbs give these burgers a lot of flavor plus a dose of antioxidants.
Print Recipe
Pin Recipe
Ingredients
1

pound

ground beef (chuck)

1

small onion grated

3-4

tablespoons

breadcrumbs

1

egg

1

teaspoon

dry mint

1

teaspoon

dry oregano

2

tablespoon

fresh parsley

1

tablespoon

olive oil

½

teaspoon

salt

fresh ground pepper
Instructions
Place the beef in a bowl.

Add all the ingredients to the beef and knead with your hands until all the ingredients are well mixed and blended with the meat for about 5 minutes.

Cover the bowl and let the meat sit in the refrigerator for about an hour.

Remove the beef 10 minutes before cooking. Form in 5 patties (these are made slightly smaller than a hamburger). Flatten them.

Heat the grill pan, Place the patties and cook for about 4 minutes on each side.

Serve with a squeeze of lemon.
DID YOU MAKE THIS RECIPE?
Leave a comment or share on instagram and mention @greekdiet
Photo by Elena Paravantes