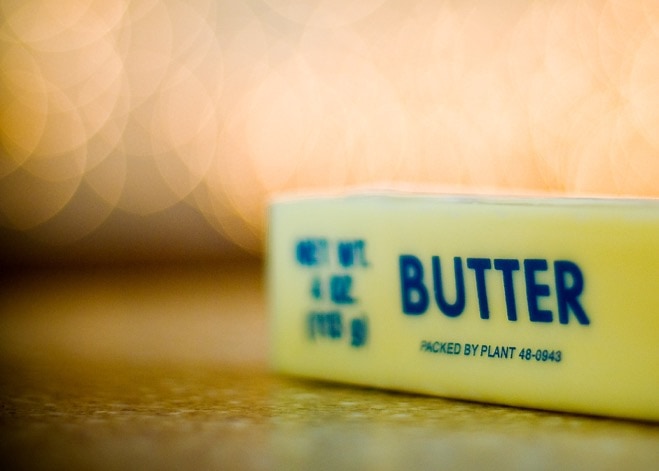 I recently read an article in the Washington Post with the title "The Tyranny of Olive Oil", the title was a bit misleading in the sense that the author actually had good things to say about olive oil but appeared to be referring to the fact that somehow olive oil has gained popularity due to its health benefits over the years and has scared consumers away from butter.
To be honest, I miss the butter that was once served at restaurants with bread, now most of time you see olive oil served on the table, which by the way, is something that we do not do in Greece or in the Mediterranean generally. I recently noticed a group of American tourists in a Brussels bar/restaurant returning the butter that was served to them with the bread and asking for olive oil instead. No no no. There is a time and place to have butter, and asking for olive oil in a Belgium beer bar is just plain wrong, especially as Belgium is not known for its olive oil. Olive oil is all about a lifestyle, not something you dip your bread in before a meal.
Now the fact of the matter is that saturated fat, is associated with a higher risk of coronary heart disease. A new study out of Harvard showed that replacing saturated fat with monounsaturated fats (olive oil) and polyunsaturated fats (fatty fish) can reduce your risk by 15% and 25%. So, yes there is a risk in consuming large amounts of saturated fat (such as butter) which has also been associated with high cholesterol.
However, to me as a person who grew up consuming olive oil since I was a baby, the attitude seems to be more of following a trend than a scientifically sound diet. Well, olive oil is not a trend. I often see articles listing olive oil alongside coconut oil and other fashionable ingredients. And now we have this competition with the butter…
But there is no competition. In the traditional Mediterranean diet and by this I am referring to the traditional Greek diet, olive oil was and is the main source of fat in cooking and baking. We're talking about years ago, way before olive oil became trendy. In fact, even as recent as 30 years ago you couldn't find olive oil in the U.S., you had to go to ethnic grocery stores or as we did, bring it back from Greece. And I have to say (I experienced this firsthand), our diet, my family's diet and food, the Greek diet was looked down upon when I was growing up in Chicago. Too much olive oil, too much garlic, too much oregano. Fast forward 30 years later and we're talking about the tyranny of olive oil. It's kind of ironic though, the very diet that has been proven over and over again to be healthier than the typical westernized diet, is now being attacked.
But back to butter. Yes, butter has a place in the diet and in our cuisine. In Greece, butter was a luxury item plus it is an animal product and since Greeks fasted from animal products for over 180 days a year, butter was not a regular part of their diet. However, during holidays Greek cuisine has plenty of desserts that use butter and not just any butter, they used butter from sheep's milk. But, again this was only during holidays or special occasions. Today in Greece, we have what I call the tyranny of butter, of cream, of eggs… Foods rich in creams, butter and meat are the only ones that can be considered decadent, while traditional Greek foods cooked in olive oil and tomato are deemed boring or old-fashioned.
Outside of Greece, I have often encountered many negative comments when I talk about olive oil, as if its some sort of conspiracy to push people away from their beloved butter. Perhaps it touches on some sort of patriotic feeling, after all olive oil is not really an American or British product. Objectively though, olive oil is an extremely delicious and healthy fat with plenty of antioxidants and research to support its benefits.
So back to the tyranny of olive oil, from my experience as a dietitian/nutritionist and psychologist, I will say that extremes are not healthy for anyone. Don't get me wrong, I love butter (and hate margarine) and yes, you can have some butter and yes butter is better in certain recipes, but the majority of fat in the diet should not be saturated. As the ancient Greeks used to say: pan metron ariston: all in good measure.
Photo by Robert S. Donovan for flickr