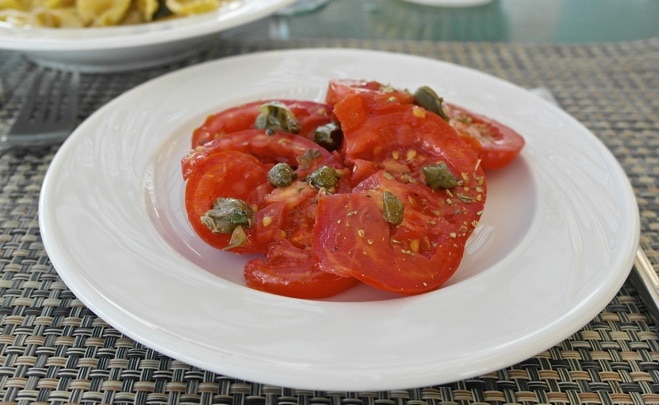 Just got back from Sicily and wanted to share some first experiences along with a quick and simple recipe. I have been to Sicily before and fell in love with the humble cuisine so representative of the original Mediterranean diet.
Tomatoes, my favorite ingredient of all time were everywhere; in sauces, on pizza, with meat and fish and of course quite simply alone. But sometimes it comes along with capers and the result is beautiful. Capers from the islands of Pantelleria and Salina off the coast of Sicily are considered the best in Italy. These capers are not stored in brine but rather packed in salt.
Putting together two ingredients so common in Sicilian cuisine, tomatoes and capers is a natural combination and an antioxidant-rich combination as well. Here in Greece, I use Santorini capers and caper leaves which is mostly a Greek thing (they taste wonderful). Add some olive oil to this salad, but you don't need much. If you wish to eat this as a light lunch you can accompany it with some bread and some less salty cheese such as ricotta or anthotyro.
And of course as with everything, but especially with simple dishes you need really good ingredients so make sure you use red, ripe tomatoes.
Tomato and Caper Salad
INGREDIENTS
2 tomatoes sliced
1-2 teaspoons of capers rinsed
Pinch of oregano
Olive Oil
DIRECTIONS
Place the sliced tomato on a plate, add a few drops of olive, sprinkle oregano and then the capers.
Photo by Elena Paravantes