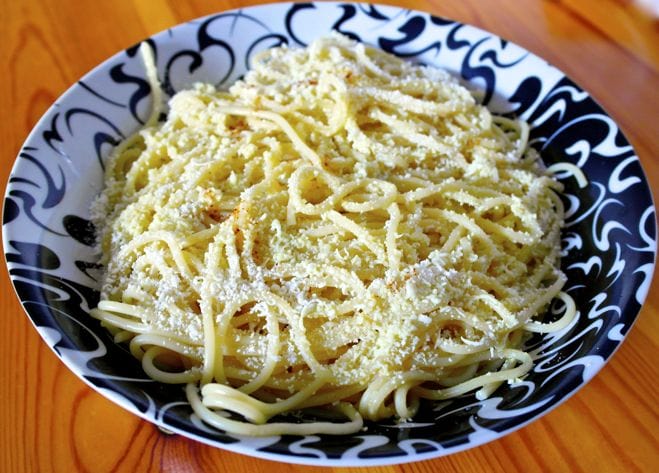 Spaghetti, also known as makaronia in Greek is a bit different in Greece than it is from our neighbor Italy. Here, traditionally pasta is not cooked al dente, but rather cooked longer along with beef, chicken or even seafood.
A popular way it is cooked at home is with olive oil (or butter) and cheese.
By looking at the picture you may not see more than some pasta sprinkled with cheese, but there is a little secret here that makes this pasta addictive.
I rarely make it this way at home because it is so addictive that you can eat a whole bowl, but I did make it a few days ago while on vacation. My father was visiting and so I decided to make a quick meal of some pasta with a salad to eat when we came back from the beach. However, I was a bit worried that he would find my pasta very plain compared to the way my mom makes it, as I usually just boil it, add a touch of olive oil and the sauce. I was sure he would call it nerovrasta, which is an expression of describing food that is just boiled in water, which Greeks rarely do.
So I decided to make it more rich, the way my mother makes it. This recipe calls for layering the pasta in a large bowl or pan after boiling it with grated cheese, (mitzithra) and then gently heating some olive oil with some more cheese and pouring it over the pasta.
Yes this is not very light, but is not extremely heavy either as there is no meat in it and not that much cheese either. I also have lightened considerably as traditionally this pasta was made with butter by families who could afford it. Also we usually accompany it with a tomato and cucumber salad.
Mama's Greek Cheesy Pasta
INGREDIENTS
1 pound spaghetti
½ cup grated cheese
1/3 cup olive oil
DIRECTIONS
1. Boil the pasta about 12 to 13 minutes
2. Once the pasta is boiled, drain well.
3. In a large pan or casserole dish sprinkle the grated cheese and place a layer of boiled pasta over it, sprinkle the pasta with cheese again and continue until you have filled the pan and finish with another sprinkle of cheese. Set aside.
4. In a small pan, heat the olive oil with a sprinkle of cheese at low heat for a few minutes. Pour the olive oil -cheese mixture over the pasta.