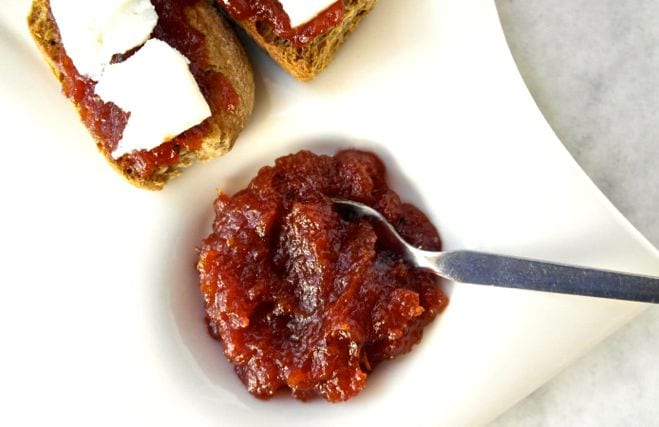 Since I am in a summer tomato mode, I thought I would share a second tomato recipe this week: and that is tomato jam. At an expo a few years ago there was a presentation of the Greek breakfast and a version of it from several parts of Greece. Everything was delicious and one of the dishes was Greek yogurt with tomato preserves. It tasted wonderful.
Tomato preserves require more time and uses the smaller cherry tomatoes, but I had some larger tomatoes and opted for an easy tomato jam recipe.
I thought this would go great with cheese or on bread for an appetizer. I paired it with some mitzithra cheese my sister brought from the island of Naxos and some Cretan rusks and we enjoyed it last night with some wine. But it will go well with several types of cheese, crackers, yogurt, on bread and with meat.
This is a slightly modified version of a recipe I found in the Boston globe. While in Greece white sugar is used, I used the brown sugar in the recipe as I thought it would give a greater depth of flavor.
As you can see this recipe does not take a long time and will last in the refrigerator for a few days, so don't make too much.
Quick and Easy Tomato Jam
INGREDIENTS
2 pounds medium sized tomatoes
½ cup brown sugar
1 teaspoon salt
Freshly ground pepper
3 tablespoons lemon juice
DIRECTIONS
1. Place the tomatoes in a pot of boiling water and let them sit for a minute.
2. Remove from hot water and rinse with cold water and peel. The peel should come right off.
3. Cut the tomatoes in quarters and remove seeds. Place in a food processor.
4. Add the sugar, salt, pepper and lemon juice. Mix in food processor until mixture still a bit chunky.
5. Place in a pan at high heat and bring to a boil. Let it cook stirring the whole time for about 9 minutes. It will be bubbling.
6. Reduce the heat and let it simmer, stirring every few minutes for about 10 minutes until it thickens.
7. Remove from heat, spread on a plate and let it cool.
8. Empty in a glass container and store in refrigerator for about a week.
Makes about ¾ of a cup
Photo by Elena Paravantes