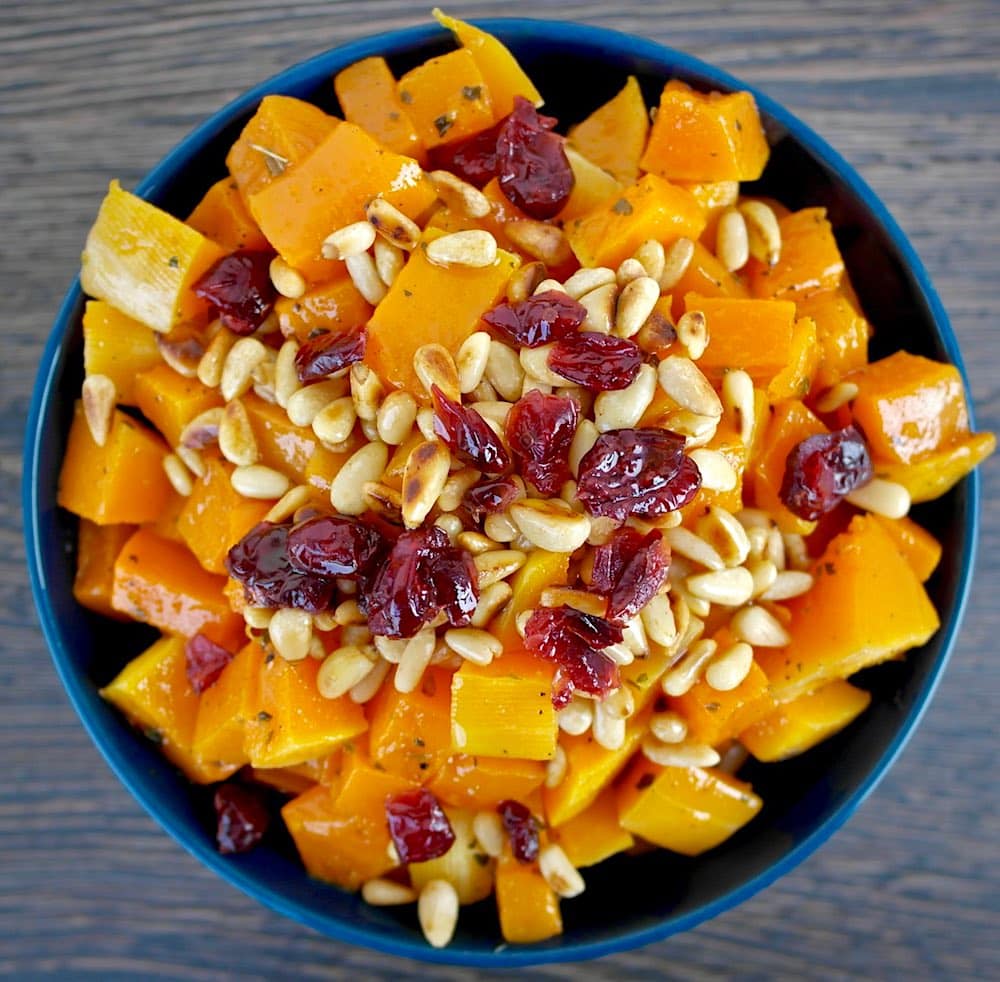 In our home for Thanksgiving I'm in charge of the sides. It is usually a combination of Mediterranean dishes and traditional American. I have some standard dishes I make every year, but I'll also try something new. This year I wanted an easy simple dish that is also healthy so it balances out all the other heavier dishes. Roasted butternut squash with olive oil is simple enough and delicious, but topped with pine nuts and cranberries makes it even more interesting.
I find butternut squash quite flavorful and rich and so easy to handle. I love how the house fills with a wonderful nutty and sweet aroma while it is roasting. For this recipe all you need to do is roast the squash. Honestly it is really good just roasting it with herbs and salt and pepper, but with a few additions it becomes a bit more festive. I topped it with plenty of toasted pine nuts and dried cranberries and drizzled with a touch of balsamic and plenty of olive oil. And that's it! It is really easy, it is seasonal and it looks so pretty on the table.
The beauty of this dish is not only that it is super easy to make, but also that it can be served either as a salad or a warmer dish. I had it a few hours after making it at room temperature and it was good, but then I re-heated it later for dinner and liked it even more. The flavors had melded and the warm butternut squash paired perfectly with the pine nuts and the cranberries. Below, I provide directions on how to put it together either as a salad or a warm dish.
Nutritionally, with this dish you get many benefits of typical Mediterranean foods without sacrificing that Thanksgiving flavor. Butternut squash is a great source of beta-carotene, fiber and potassium and the olive oil provides good fats which also helps absorb more of the beta-carotene.
Roasted Butternut Squash with Pine Nuts and Cranberries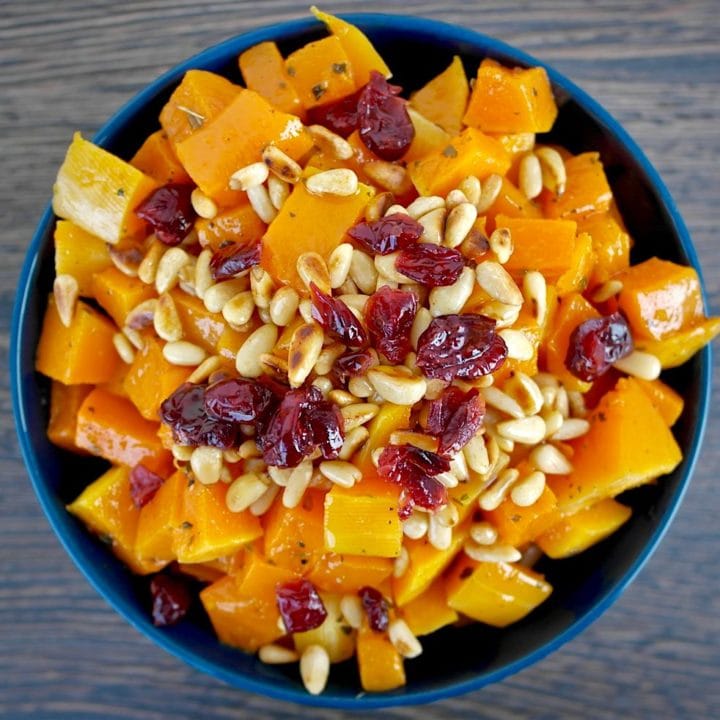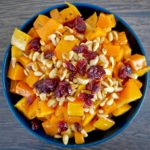 Print Recipe
Pin Recipe
Ingredients
1

medium butternut squash peeled and chopped in small cubes

Olive oil for roasting and drizzling

2

tablespoons

dry oregano

1/4

cup

toasted pine nuts

1/4

cup

cranberries

fresh or dry

2

tablespoons

balsamic vinegar

Salt/Pepper
Instructions
Preheat oven at 400 degrees Fahrenheit (200 degrees Celsius)

If you using dried cranberries, place them in warm water and drain them when adding to the squash.

Peel the butternut squash and chop in 1/2 inch cubes

Place squash in a large bowl and add 2 tablespoons olive oil. Mix well so that all the pieces are coated in olive oil.

Add 1/2 teaspoon of salt and 2 tablespoons of oregano and mix again.

Line a large pan or baking sheet with aluminum foil and brush with olive oil. Spread the butternut squash in one layer.

Roast for about 25 minutes until slightly soft. * If serving warm see step 11.

In the meantime toast the pine nuts in small pan. Heat for about a minute and remove.

When butternut squash is ready, let it cool for about 10 minutes.

To serve as a salad, place squash in a bowl, add the balsamic vinegar and mix. Top with pine nuts, cranberries, pepper and drizzle with more olive oil. Add salt as needed.

To serve warm add 2 additional tablespoons olive oil (instead of 2 ), roast first for 15 minutes, add the pine nuts and cranberries and roast for 10 more minutes.
Notes
-To make-ahead-
*If making it as a salad, roast butternut squash a day before, when ready to serve add the additional ingredients.
*If serving warm, roast butternut squash a day before, place in a casserole dish, add 2 additional tablespoons olive oil, cranberries and pine nuts and re-heat for 10 minutes at 300 degrees Fahrenheit (150 C).
DID YOU MAKE THIS RECIPE?
Leave a comment or share on instagram and mention @greekdiet
SAVE FOR LATER AND PIN IT!