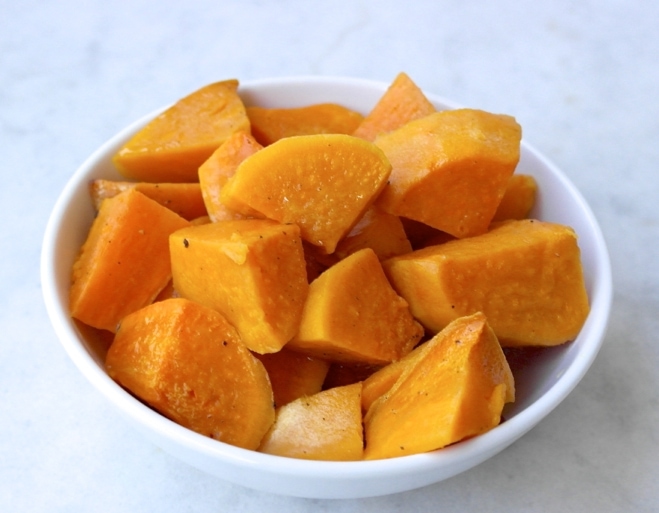 When I was growing up in the US, Thanksgiving was one more reason to have a trapezi. Trapezi literally means table in Greek and it means to invite people over for a nice meal. So during Thanksgiving my mom would make things like corn or sometimes a small amount of yams and then most likely Greek style chicken and potatoes or on some occasions stuffed turkey with a Greek style stuffing. We did not really have things like casseroles or cranberry sauce. In Greek cuisine you do not often see a combination of sweet and savory, so a sweet potato dish with brown sugar or maple syrup would not be very welcome particularly for the older generation Greeks. 
Well now I have my own family which is a bit multicultural and we celebrate Thanksgiving (even though we live in Greece) with a mixture of American traditional dishes such as turkey and cranberry sauce and some dishes that have the Greek element to them. One of them is sweet potatoes. We do a simple preparation of roasted sweet potatoes with olive oil, salt, pepper, garlic and a bit of orange juice. The potatoes are cut Greek style which may be like little rounded pyramids, Greek style roasted potatoes are not cut in cubes or in very small pieces.
Now as you may know sweet potatoes are a great source of beta-carotene and studies have shown that the presence of fat increases the absorption of this substance. Beta-carotene comes from the two Greek words beta and carrot (karoto),  it is a vitamin A precursor which means that the body can convert it to vitamin A. Beta-carotene is not an essential nutrient but vitamin A is. Also beta-carotene is an antioxidant as well.
So, these slow roasted potatoes are a nice healthy alternative to the typical (but also tasty) sweetened sweet potatoes often cooked with butter.
Greek Style Oven Roasted Sweet Potatoes with Olive Oil and Orange
Print Recipe
Pin Recipe
Ingredients
Instructions
Preheat oven at 375 degrees Fahrenheit  (190 Celsius).

Peel and cut the potatoes in pieces (as noted above).

In a large bowl mix the sweet potatoes with the olive oil, salt and pepper (I usually mix with my hands).

Spread the potatoes in one layer in a pan. Add a small clove of garlic cut in half.

Pour the orange juice in one corner and tilt the pan so it goes everywhere.

Add 3-4 tablespoons of boiling water again in the corner and tilt the pan. Do not just pour the water or juice over the potatoes, that will rinse off the oil.

Roast for about 20 minutes and then lower the temperature to about 320 Fahrenheit (160 Celsius) and roast for another 30-40 minutes.
DID YOU MAKE THIS RECIPE?
Leave a comment or share on instagram and mention @greekdiet
Photo by Elena Paravantes © 2013