This Family recipe for authentic roasted lemon Greek chicken and potatoes recipe is a delicious and flavorful dish that combines tender crispy chicken and melt in your mouth garlicky potatoes, all infused with Mediterranean herbs.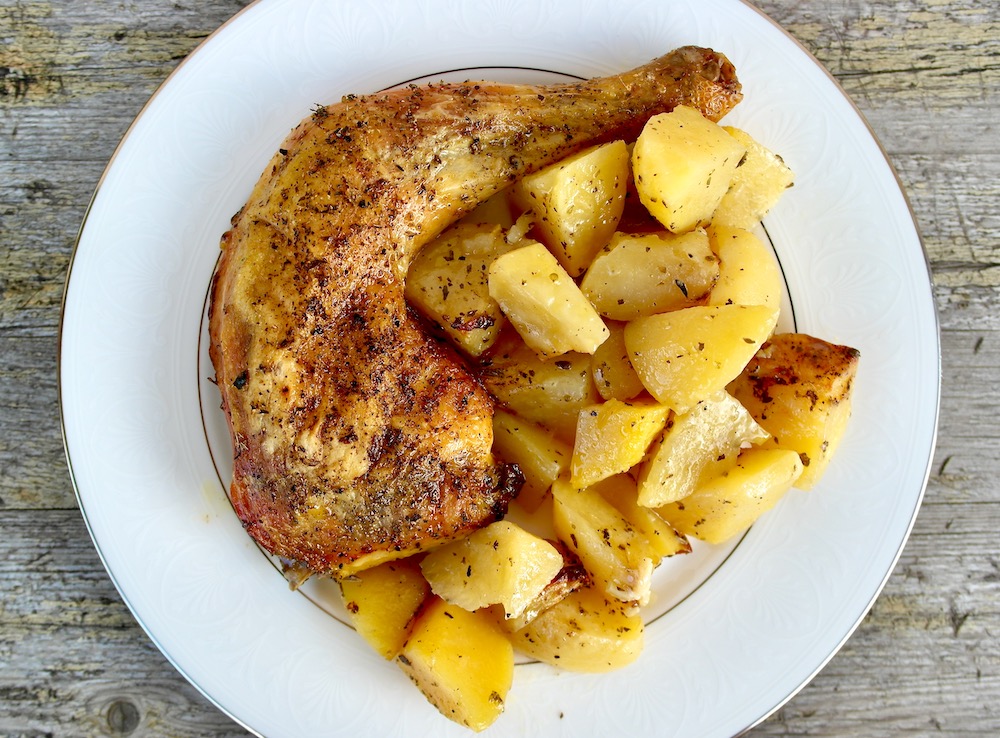 I do not know one Greek person who does not like this dish: Roasted chicken and potatoes (kotopoulo kai patates sto fourno). It is comforting, delicious and reliable. It was a typical Sunday noon dish and along with a salad and some cheese it makes up a complete meal, fit for company.
Today, chicken may seem a "lesser" dish to offer to guests, but that was not always the case years ago in Greece. Chickens were not so easy to come by, you either had your own hencoop which you occasionally "sacrificed" a chicken for a meal, but that was not very often as they would rather keep the chickens for their eggs. You also could find some live chickens at the open market, but they were not cheap as there were simply not many of them. There were no commercial chicken houses. And after you bought the chicken or took it from your backyard you had to deal with whole other process of preparing it for cooking… So not really an easy dish in the old days.
But the point is here, that farmers in Greece as well as all over the world, did not take their animals for granted, their meat was used mostly on holidays and special occasions, even the humble chicken.
Now, let's go back to cooking. The best part of making this in my opinion, is when it is roasting, the whole house has an aroma of garlic and spices. The aroma for me just gives me memories of when we were expecting company at home, the anticipation and the preparations.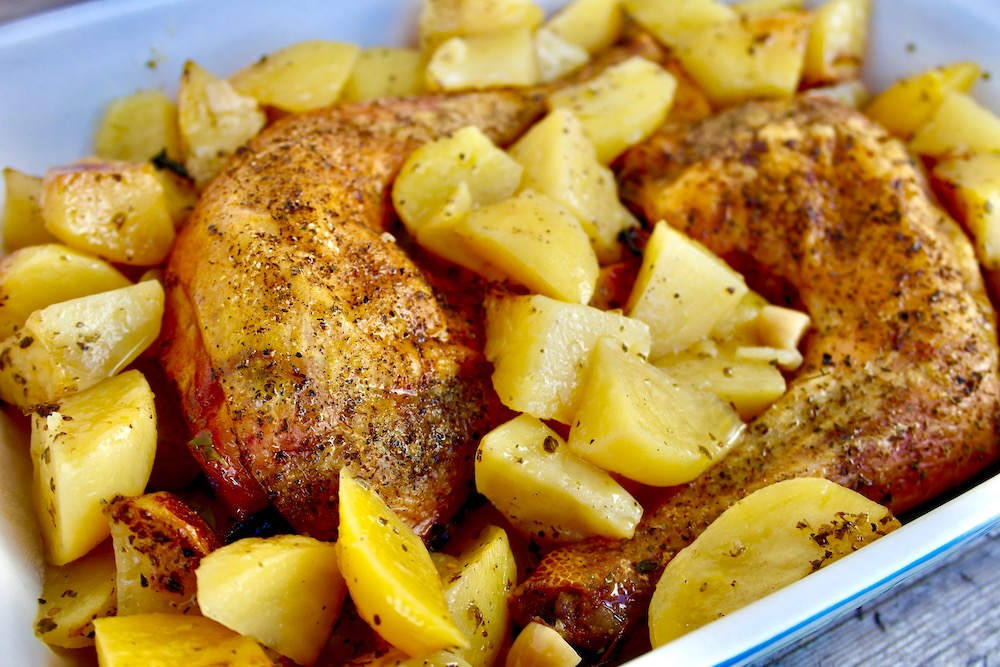 Now everybody has their own version and secrets for this dish, and I am sharing my mom's. Every time she makes it, the potatoes turn out crispy on the outside and the chicken moist and tasty. This dish works well as leftovers too, you just warm up or use the chicken for sandwiches or salads.
Yes, this is a meat based dish, but meat is only part of the dish. The meal is accompanied in the summer by a generous tomato and cucumber salad or by a "greek" salad and in the winter with a Greek romaine salad or a cabbage and carrot salad. Add some bread and cheese and you are all set. If you want to keep the balance, you can fill half of your plate with salad, 1/4 with chicken and 1/4 with potatoes. And while the skin is so good and crunchy, I'll just have a taste.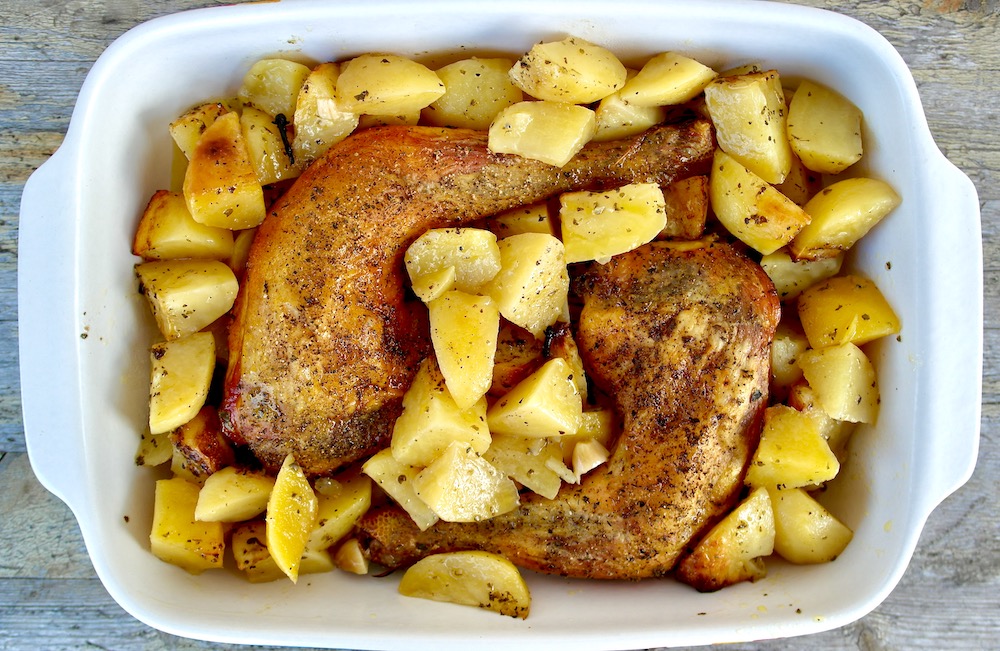 Authentic Greek Lemon Roasted Chicken and Potatoes
But let's talk a bit about the ingredients in here, obviously chicken and potatoes, but it is all those extra additions that make this dish healthier than a typical westernized meat and potatoes dish. First of all there is plenty of oregano on the meat and potatoes. As we know oregano has been shown to have the highest amount of antioxidants of commonly used herbs. This dish also contains garlic, another herb known for its antioxidants. Finally the olive oil also adds to the good fats and polyphenols.
The potatoes are usually peeled and cut in thick half wedges, in this case I cut them in rounds and decided to leave the skin on for some added texture.
Want More Mediterranean Diet Guidance? Get my top-rated book!
Get it here >> The Mediterranean Diet Cookbook for Beginners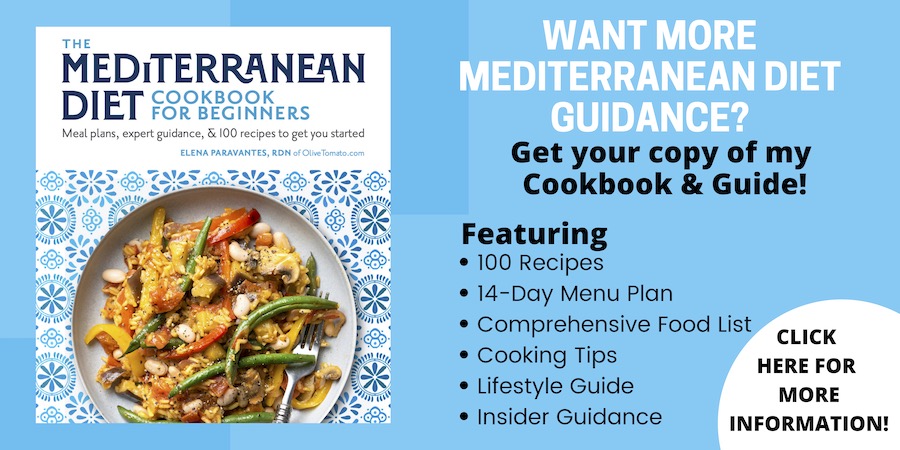 Authentic Greek Lemon Roasted Chicken and Potatoes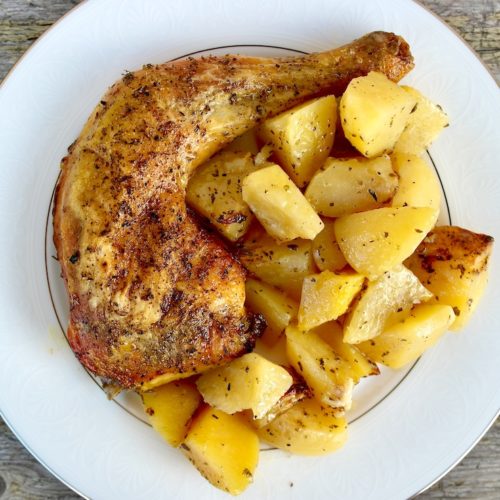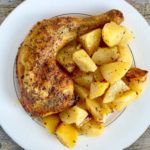 This Family recipe for authentic roasted lemon Greek chicken and potatoes recipe is a delicious and flavorful dish that combines tender crispy chicken and garlicky potatoes, all infused with Mediterranean herbs.
Print Recipe
Pin Recipe
Ingredients
1 ½

pound

chicken pieces (breasts, thighs, legs)

2

pounds

potatoes cut in wedges soaked in water for 20 minutes

1-2

tablespoons

dry oregano

½

cup

olive oil

2

garlic cloves

2

tablespoon

lemon juice

½

teaspoon

salt

2-3

cloves

2-3

allspice berries
Instructions
Preheat the oven at 400 Fahrenheit (200 Celsius).

Wash the chicken with some wine if you wish and pat dry with paper towels. Rub in pepper, oregano and a bit of salt. Set aside.

Cut the potatoes in wedges or half wedges. Put in a large bowl.

Add about ½ cup olive oil to 2 pounds potatoes, the lemon juice, 1 tablespoon oregano, pepper and ½ teaspoon salt. Mix well so that all the potatoes are coated with the oil.

Pour the potatoes in a pan, so that potatoes are all in one layer. Makes sure if you have cut them in wedges and that the tips are not pointing up as they may burn. Place the chicken in between the potatoes. Add 2-3 allspice berries, clove and the 2 garlic cloves cut in fours.

Add hot water in one corner of the pan and then tilt until there is enough water so that the water comes up about ⅓ of the depth of the pan. Do not pour over the potatoes as this will rinse off the olive oil. If water starts to run low, add more hot water, about ¼ cup at a time

Cover with aluminum foil and roast for 20 minutes at 400 Fahrenheit (200 Celsius) and then lower at 350-375 Fahrenheit (180 Celsius) for about 1 hour and 15 minutes until potatoes and chicken are done. Potatoes are ready when they are easily pierced. Turn off the oven and the let the chicken and potatoes sit for at least 10 minutes.
Notes
If you use a whole chicken that will serve about 6 people. Stuff the chicken with the lemon peel and garlic and add some cloves to the skin.
DID YOU MAKE THIS RECIPE?
Leave a comment or share on instagram and mention @greekdiet
Photo by Elena Paravantes © 2013 All Rights Reserved