One of the best Green salads you will ever have: Crispy romaine, feta, Kalamata olives, herbs and drizzled with extra virgin olive oil and a touch of lemon.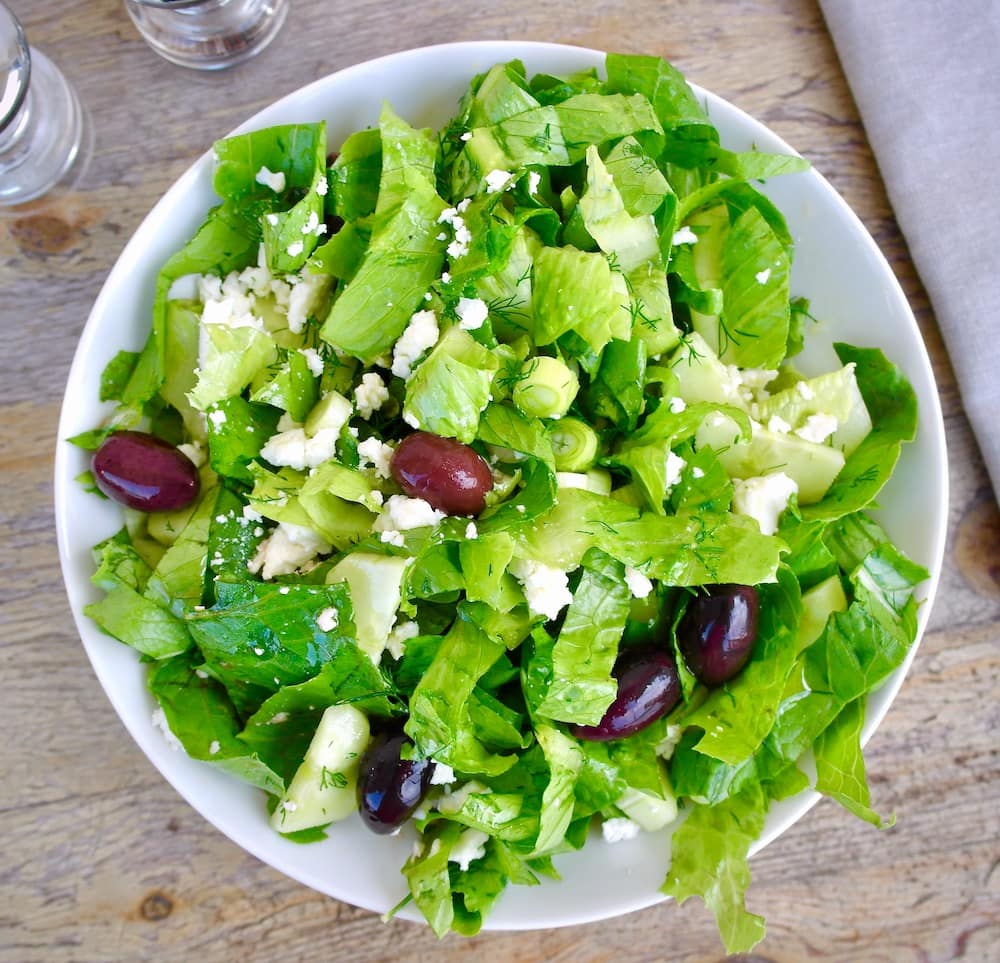 In Greece we have 3 main salads: The Greek salad (horiatiki), the one with tomatoes, cucumbers and feta, the cabbage and carrot salad (lahano) which is a winter salad made with cabbage and lemon, olive oil and a touch of garlic and then you have the classic green salad, which may be consumed year round but mostly in the colder months and is made with romaine, dill, olive oil and lemon (or vinegar).
Once summer is over and tomatoes are not that great anymore, the Green salad is the go-to salad. I don't know what it is about this salad, but it is addictive. It's this combination of spring onions and the dill, that makes it special, and when you add feta, well I could just eat it all. I particularly like this salad as an accompaniment to larger dinners with many other foods, because it works well as a side, especially with fish or pasta, as you can make as simple or as hearty as you like.
The basic version of this salad consists of romaine lettuce, spring onion, dill, olive oil and vinegar (or lemon juice). The enhanced version of the Greek green salad includes cucumbers, kalamata olives, crumbled feta and maybe some crushed rusks or homemade olive oil croutons. The enhanced version is what I make when the salad is the main meal. It is very filling, delicious and hearty. The basic version is ideal when you have other dishes on the table, and it is the version that you will get in most restaurants and taverns.
Nutritional Value of the Greek Green Salad
Romaine is not often considered a super nutritious green, but that is not true. It actually contains higher amounts of certain minerals than kale (using as a comparison as it is so popular), four times the amount of beta-carotene and higher amounts of vitamin K, potassium and folate. So, it's all good, plus it is nice to eat, crunchy and not too bitter. By adding the olive oil, you will have a higher absorption of antioxidants from the salad, plus you are getting the good fat and an additional dose of antioxidants from the olive oil.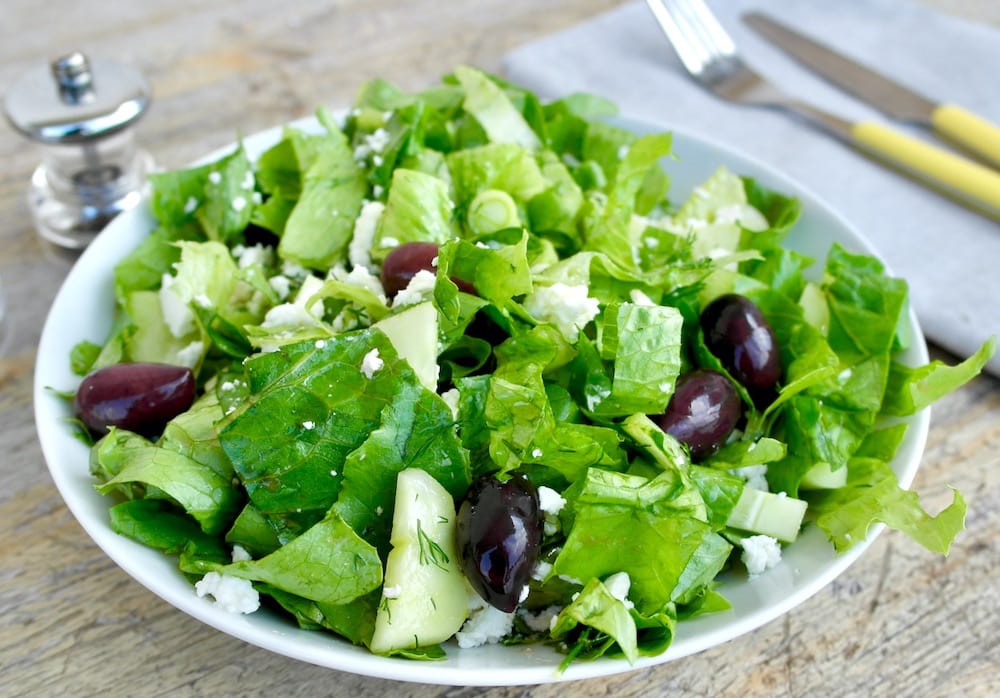 Make Ahead
Ok, so you cannot make this completely ahead of time as the salad will wilt and get soggy. So, I'll wash the lettuce by letting it sit for a few minutes in a mixture of water and vinegar which helps loosen the dirt. I set aside in the refrigerator. I also wash the dill. You can also prepare the dressing ahead of time and keep it in a closed jar, but the lemon will retain more nutrients if you make it on the spot.
The rest I do right before serving.
Tips
The dill is really important in this salad, it would appear that oregano would also go well, but it would give a different flavor profile.
The same goes with spring onions, do not substitute with regular onions.
The romaine should be in small pieces so that everything is mixed evenly.
No garlic. Yes garlic is so good, but does not belong in this salad
Classic Greek Green Salad with Feta – Maroulosalata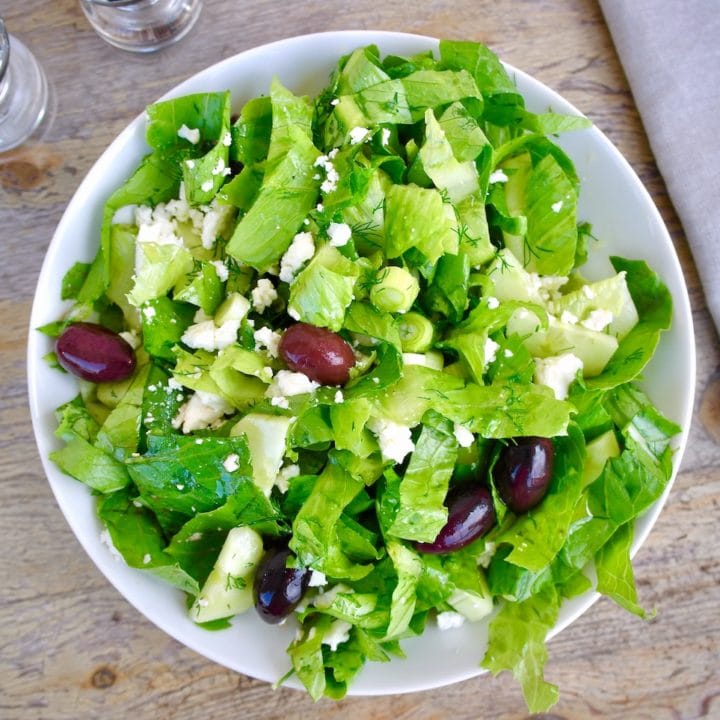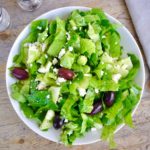 Greek Green salad, full of goodness: feta, Kalamata olives, herbs and drizzled with extra virgin olive oil and a touch of lemon.
Print Recipe
Pin Recipe
Ingredients
1

medium head of romaine

2

cucumbers peeled and sliced

2-3

spring onions (white part)

½

cup

chopped fresh dill

6-7

Kalamata olives

⅓

cup

extra virgin olive oil

2-3

tbsp

or juice of one lemon (or same amount of red wine vinegar)

4

ounces

feta

Salt

as needed
Instructions
Wash romaine lettuce and chop in bite size pieces, set aside

Peel and slice cucumbers. If pieces are big, slice them in half.

Slice thinly the white part of the spring onions.

Chop dill

Toss all 4 ingredients in a large bowl (lettuce, cucumber, dill and spring onions)

Mix the olive oil with the lemon juice (or vinegar) and pour over salad, toss again. Sprinkle with some salt.

If adding feta, olive or croutons, add them at the end and mix gently.
DID YOU MAKE THIS RECIPE?
Leave a comment or share on instagram and mention @greekdiet
SAVE FOR LATER AND PIN IT!