The Mediterranean version of a favorite combo! In this Greek recipe colorful bell peppers, crushed tomatoes, garlic and a touch of sausage are cooked to perfection. Perfect with a good chunk of feta!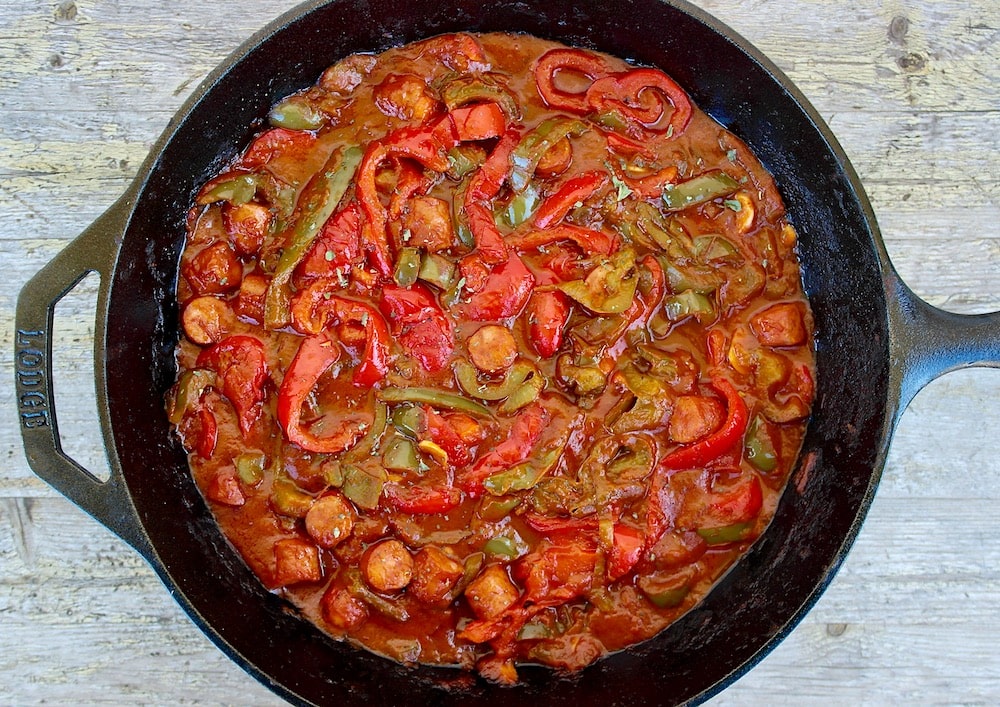 I do not think I have ever posted a recipe with sausage, but I am making an exception here for this, it is absolutely delicious and it happens to be one of the most popular winter dishes in Greece! This traditional Greek sausage and pepper skillet is known as Spetzofai, pronounced "spetz-o-fy". And it consists of peppers stewed with sausage, tomato and a bit of garlic. Served with tangy feta. Of course I have added extra veggies, a bit less sausage and the flavor is equally amazing.
This is a traditional dish from the area around mount Pelion in Greece. The name of the dish appears to come from the word spentzes which refers to a type of green pepper (in Greek), and/or the word spezia which means spice in Italian.
Pelion is a mountain in central Greece, and it is breathtaking. It has 24 villages which have maintained their traditional architecture and are wonderful to visit summer and winter. Speaking of winter, how many of you would think of visiting Greece in the winter? I know most people don't associate Greece with winter or mountains, instead they think beaches, islands and summer. But did you know that Greece is 80% mountainous? And we actually have ski resorts! There are so many things to discover in Greece in the winter. If you are a bit curious, I would suggest you check out this list of 5 off the grid things to do in the winter in Greece (full disclosure: this list was compiled by a seasoned travel journalist, who has literally been to all corners of Greece, so she knows her stuff and she happens to be my sister).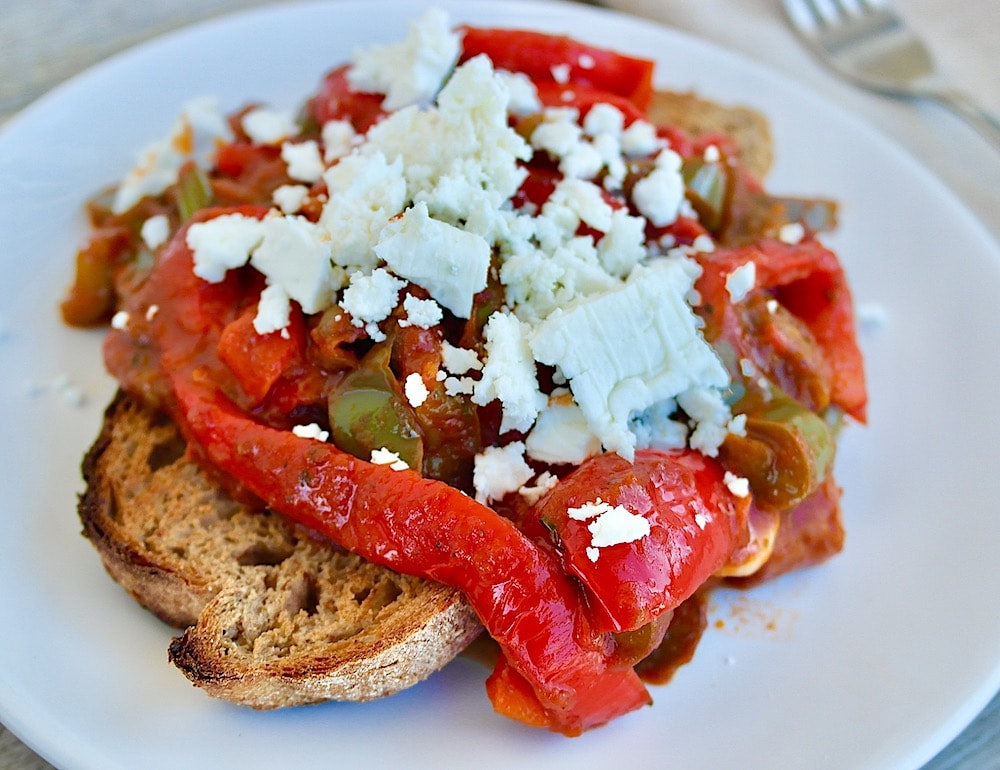 How to Make Spetzofai
So, enough about travel, let's talk about this dish. Τhis dish is traditionally made with whole green spicy peppers (like these), garlic, tomato and sausage. The dish is typically served as an appetizer, especially after a day of hiking in the cold (or skiing) and is perfect with a bit of tsipouro, a grape distillate similar to grappa. However, I found this to be great on top of pasta, which is how I served it to my kids, and also on top of a slice of toasted hearty whole grain bread (which is how I ate it) sprinkled with feta. This was delicious! Here I used my large cast iron pan and added red and green bell peppers cut in strips (to making it kid friendly and not too spicy), chopped tomato, garlic and olive oil. I only added 3 ounces of a traditional Greek sausage to the whole recipe (no need for more as that is enough for the flavor), and you can use other types of sausage such as turkey or chicken instead. While we hardly eat any processed meats (deli meats, etc.), I'll occasionally make an exception if we are out and there is a local traditional sausage.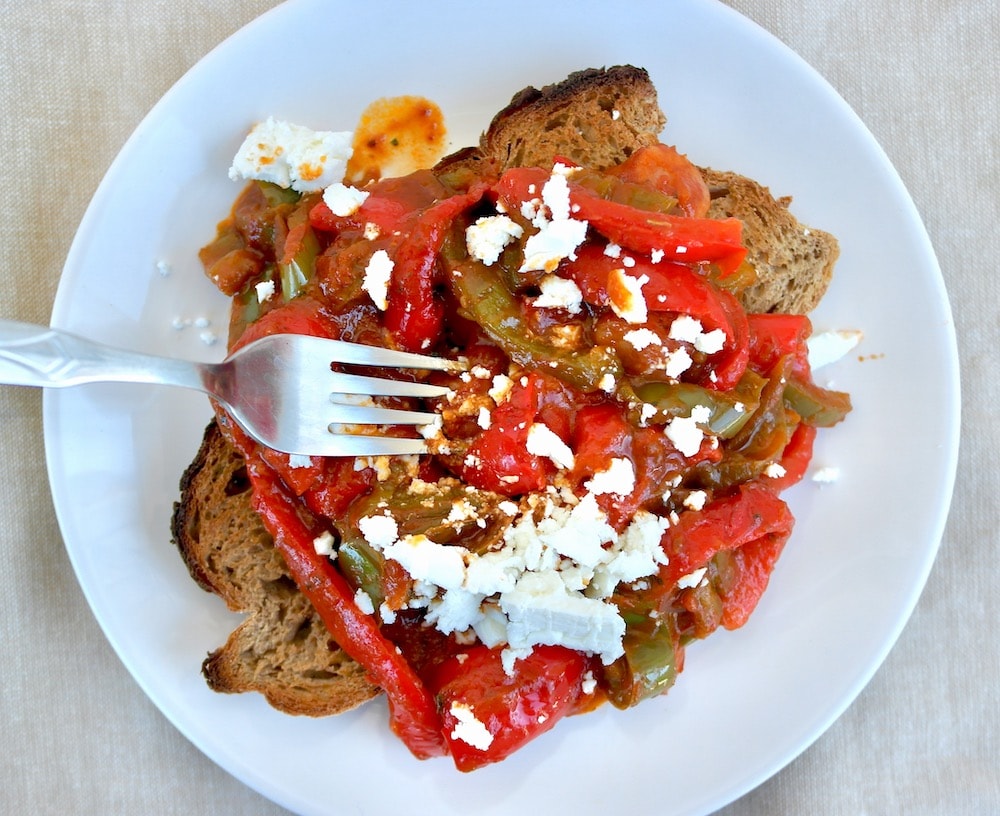 A Healthier Recipe
I used 2/3 less olive oil than the traditional recipe calls for as I was having it as a main course. Appetizer type dishes tend to be rich since you only have small amounts, hence the higher amounts of olive oil, but since I would be serving it as part of the meal, I made it a bit lighter.
Peppers are known to be rich in vitamin C (especially the red ones) and antioxidants. Plus, you are getting more antioxidants with the tomato and the olive oil. I used 4 large bell peppers and plenty of chopped tomato (fresh or canned is fine), which corresponds to about 2 servings of vegetables person. I have to add that this is a ridiculously easy and quick recipe. You use only a few ingredients that most of us have at home, do a quick sauté, then a simmer and it is ready!
Mediterranean Sausage and Peppers – Spetzofai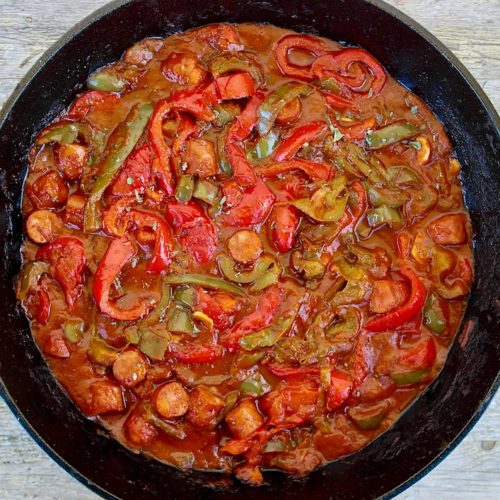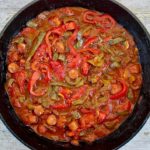 Mediterranean Style Stewed Red and Green Peppers with a touch of sausage
Servings:
2
Mains or 4 as appetizer
Print Recipe
Pin Recipe
Ingredients
2

red bell peppers sliced

2

green bell peppers sliced

3

ounces

sliced sausage

⅓

cup

olive oil

2

garlic cloves sliced thinly

1

A pinch of sugar

⅛

teaspoon

salt

12

ounces

chopped tomato

2

teaspoons

Dry oregano
Accompaniments
Whole Grain Bread

Pasta or rice
Instructions
In a large pan heat the olive oil.

Sauté the peppers and sausage for about 5 minutes.

Add the sugar, salt and garlic. Sauté for a few seconds, and then add the tomato. Stir well.

Lower the heat and simmer for about 20 minutes.

Add very little hot water if needed while simmering.

Remove from pan. Sprinkle some oregano and add some pepper.

Serve warm on pasta or rice or with bread and crumbled feta.
Notes
This is good also in room temperature.
DID YOU MAKE THIS RECIPE?
Leave a comment or share on instagram and mention @greekdiet
SAVE FOR LATER AND PIN IT!