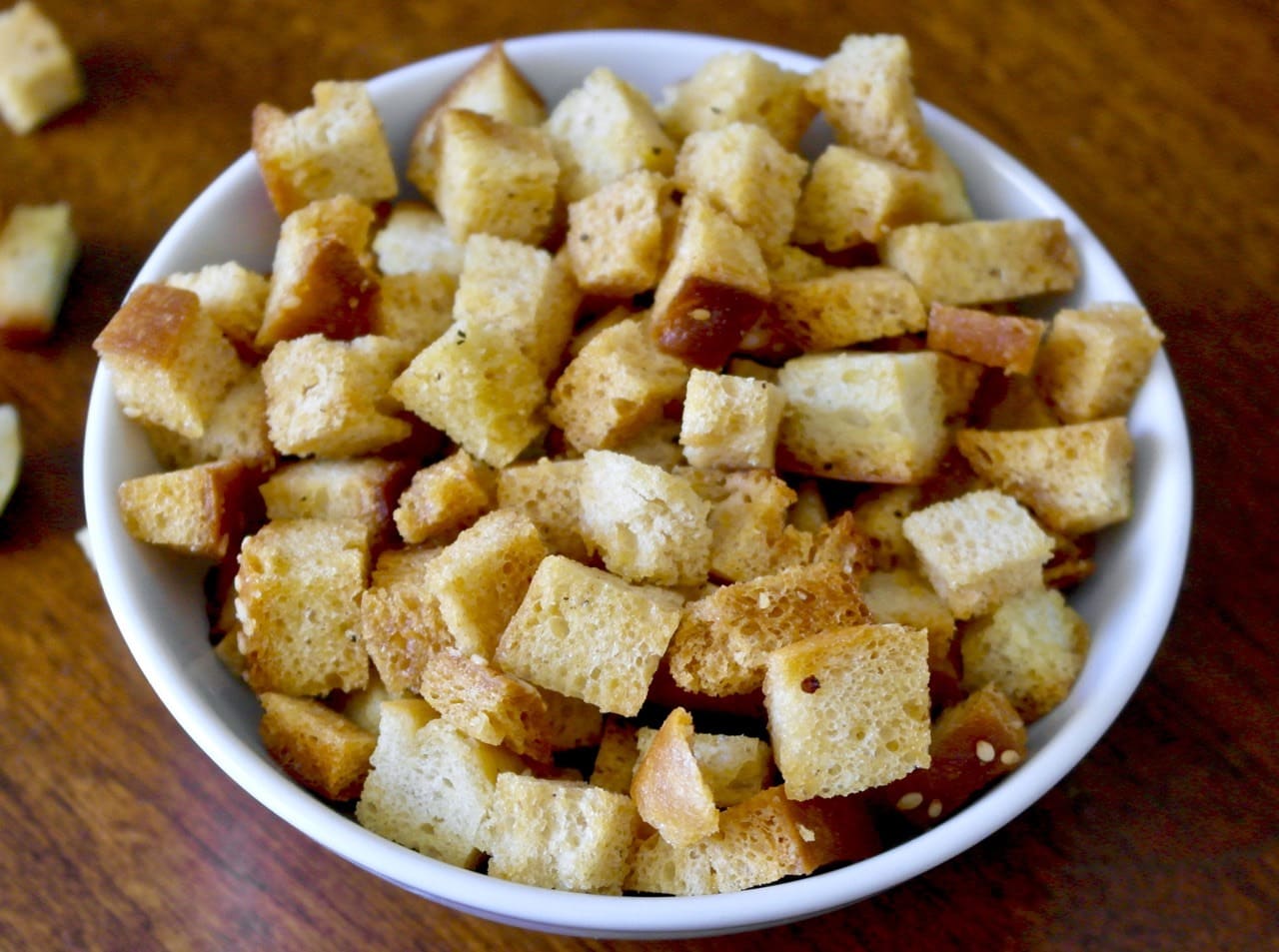 I love a good crouton, but it's not that easy to find decent ones in the store. That's why I make homemade olive oil croutons now. So simple to make, and with none of those nasty ingredients that you find in store-bought croutons.
For one, almost all the croutons I find in the super markets contain palm oil. By making your own croutons, you get to control what's in them, what kind of fat and what kind of bread. It is so easy and quick that you will be wondering why you haven't been making your own all this time. Apart from the nutritional aspect, homemade croutons have a such a better taste and texture. They have a delicate crunch, but are not hard like the store-bought ones and they also taste fresh.
Croutons generally have gained a bad reputation, you will often see recommendations to avoid adding them to your salad because of the extra calories, carbs and fat. Ignore them. Adding these croutons that are made with olive oil instead of seed, vegetable or palm oils automatically improves the nutritional value of the typical crouton and your salad. And let's not forget that traditional Mediterranean salads have their own form of croutons as well, such as the Cretan salad Dakos which includes barley rusks or the Italian Panzanella bread salad that also contains -you guessed it- pieces of bread. I find that croutons are a great addition to a salad, especially if it is consumed as a main course to provide satiety and satisfaction. Just make sure you are not eating additional bread.
Tips for Making Good Homemade Croutons
• The bread used plays an important role: commercially produced "wonder" type bread that is full additives and preservatives as well as sugar, is not your best choice. You want to use good, hearty, real bread, for the texture and nutrition. However, yes, you can still make croutons with the soft bread, but you will need to bake them for less time.
• Choosing whole-grain bread will result in an even healthier crouton.
• Ideally, you want to use slightly stale bread, but it will work fine with fresher bread, you may just want to bake a few minutes more.
• Make sure all pieces of bread have olive oil on them for a good crunchy and flavorful crouton. Once spread out on the pan, I may use my olive oil mister and spray the ones that are not covered with olive oil.
• For basic all purpose croutons only use only olive oil, salt and pepper, you can use them for all kind of salads or stuffings.
• For other flavorings you can also use various dry herbs such as oregano, basil, thyme and just add them to the olive oil before mixing with the bread.
• For garlic croutons (my favorite-they are like mini garlic breads) you can infuse the olive oil with fresh garlic-do not use garlic powder (see recipe for directions).
• I add salt only after baking, it really doesn't need it and let's not forget, bread already contains salt.
• Homemade croutons can last about 2-3 weeks in an airproof container, and I may store them in the refrigerator after a few days.
Homemade Olive Oil Croutons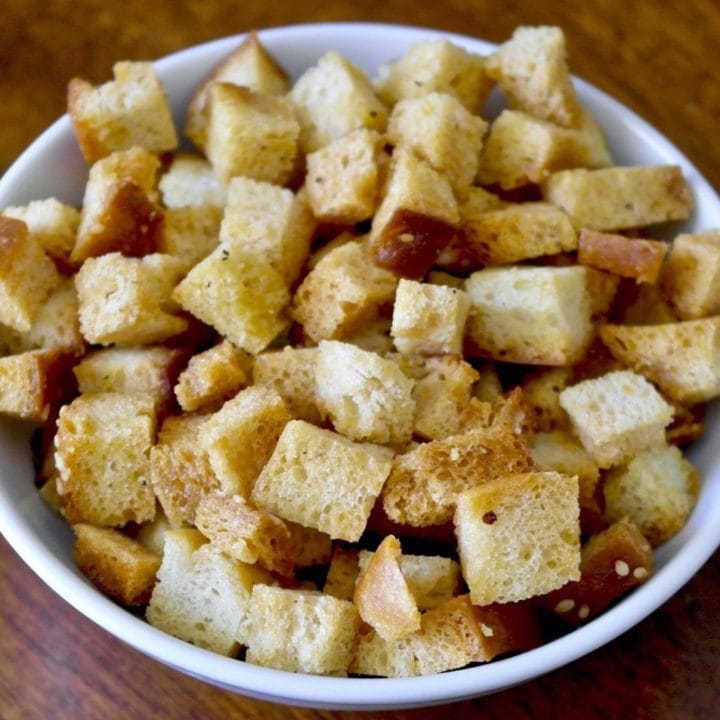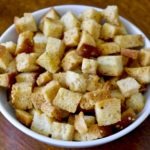 Baked crispy homemade croutons made with olive oil
Print Recipe
Pin Recipe
Ingredients
About ½ baguette or loaf of bread

about 3 cups cubed bread

1/3

cup

olive oil

salt/pepper
Instructions
Preheat oven to 350 degrees Fahrenheit (175 C).

Cut the bread in cubes the size you prefer.

Place the cubed bread in a bowl and drizzle the olive oil over them. If you are making garlic croutons (place olive oil in a little pan with minced garlic and heat. Strain most of the garlic and then drizzle over bread cubes).

Mix gently, making sure all pieces of bread have olive oil on them.

Spread on a pan that has been lined with aluminum foil, making sure they are all in one layer. At this point if some piece of bread does not have olive oil on it, you can spritz with an olive oil mister or brush with olive oil.

Bake for about 20 minutes (checking at 15 minutes). If you are using soft (commercial) bread, bake for 8-10 minutes. Remove when golden.

Sprinkle salt and freshly ground pepper right after removing from the oven.

Store in airproof container for 3 weeks.
DID YOU MAKE THIS RECIPE?
Leave a comment or share on instagram and mention @greekdiet
Images by Elena Paravantes © All Rights Reserved