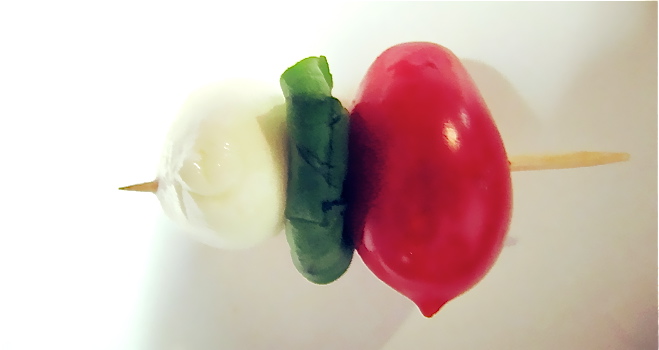 So now that we established that tomatoes are the super food of the Mediterranean and Greek diet, here are two super-easy and super quick appetizers or hors d'oeuvres to serve with drinks on a hot summer day or night. But don't be fooled, they may be easy to make, but that doesn't mean we'll be using and processed ingredients; everything is fresh.
These would be considered more Italian rather than Greek, inspired by the traditional bruschetta and the other one using fresh mozzarella. Greeks love Italian food (who doesn't?) and there are several parts of Greece that have been strongly influenced by Italian cuisine.
Cherry tomato and fresh mozzarella appetizers
INGREDIENTS
Cherry Tomatoes
Fresh mozzarella balls or cut into cubes
Fresh basil
Olive Oil
My mother in law who is French serves these with the apéritif. Very simple, very tasty and very healthy. Just add a cherry tomato, a mozzarella ball and a basil leaf on a toothpick and you are set. Drizzle with just a touch of olive oil if you want and they are ready. I like these for the summer, they don't need and heating, they take minutes to assemble and you can make them ahead of time. These are ideal appetizers if you are planning on eating a carbohydrate rich meal since they are low carb with only 39 calories each….

Quick tomato bruschetta-like appetizers
INGREDIENTS
Thin baguette
Tomatoes diced
Garlic cloves sliced in half
Fresh basil
Olive Oil
Salt/Pepper
For this recipe I don't toast the bread beforehand. Basically I cut the tomato in very small cubes, mix with olive oil, pepper, a bit of salt and basil and let it sit. I cut a baguette into thin slices. I rub each slice with some garlic, than I top with the tomato mixture and then I heat in the oven or a toaster oven. So basically the tomato is somewhat hot. I use this recipe when the tomatoes aren't that great since I am heating them. These are easy as well, but you need to serve them right out of the oven. Use a thin baguette and slice very thin to save calories. These are about 35 calories each.
Photo Credit: Olive Tomato