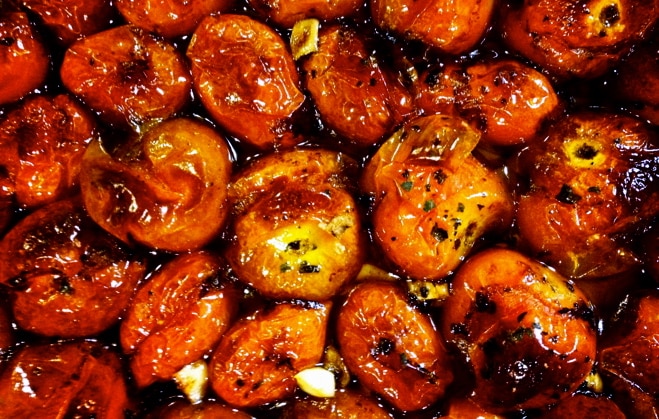 These are not traditional recipes a Greek yiayia (grandmother) would make, just some quick and easy recipes that are useful when you don't have the time or the inclination to do too much, but want something healthy and that makes use of traditional Mediterranean ingredients. I make these when I have a lot of cherry tomatoes that have started to get wrinkly or when I have tomatoes that just don't taste as great as I thought they would…READ ON FOR THE RECIPES
Roasted Cherry Tomatoes
INGREDIENTS
Cherry tomatoes
Olive Oil
Salt
Pepper
3-4 Garlic cloves cut in half
Basil
Balsamic vinegar or oxymelo
*Oxymelo is balsamic vinegar with thyme honey (very common honey in Greece). It is believed that it was first developed by the ancient Greek doctor, regarded as the father of medicine Hippocrates, who used it for medicinal purposes. In any case this vinegar gives a wonderful taste to vegetables, so if you find it, buy it.
DIRECTIONS
1. Wash the tomatoes.
2. Put them in a bowl and pour some olive oil, and 2-3 tablespoons of vinegar.
3.  Add some salt, pepper, chopped basil and the garlic cloves. Mix well.
4. Pour the tomato mixture in a shallow pan making sure all the tomatoes are in one layer.
5. Roast for about 30 minutes.
If we're not very hungry we just eat this with a few rusks or bread (for dipping in the olive oil), but you can also serve it as a side or a sauce with pasta or meat.

Tomato, Olive and Cretan Rusk salad
When I was pregnant with my first son I just wanted to eat tomatoes all the time. I was due at the end of the summer so there were plenty of tomatoes available. At some point I wanted to eat other types of salad and not just the traditional Greek salad. So one day I just mixed tomato, with any ingredients I had around which at the time were Cretan rusks, olives, capers, sun-dried tomatoes and basil. And it was delicious and healthy. Plenty of fiber since the rusks are whole grain and the only fat is the good monounsaturated fat from the olive oil and the olives. And you don't need that much olive oil, because the juice from the tomatoes will soften the paximathi. So ever since, we make this salad when we want something hearty and tasty without adding cheese or meat.
INGREDIENTS
Tomatoes
Olives Kalamon (Kalamatas)
Capers
Sun-dried tomatoes
Cretan Barley Rusks –Kritiko Paximathi
Olive Oil
Balsamic vinegar or oxymelo
*A Cretan barley rusk-Kritiko Paximathi is a traditional recipe that is basically twice-baked bread made with barley flour and sometimes whole-wheat flour. It sometimes contains olive oil, but usually just flour, salt and water. You can find it in specialty stores and they have a long shelf life.
DIRECTIONS
1. Cut the tomatoes and sun-dried tomatoes in small pieces.
2. Blend tomatoes, capers, olives, and basil in a bowl, break the rusk in bite-size pieces and add to tomatoes and mix well.
3. Add the olive oil and vinegar and some salt and pepper to taste.
4. Let the salad sit for 20 minutes so that the rusks soften.