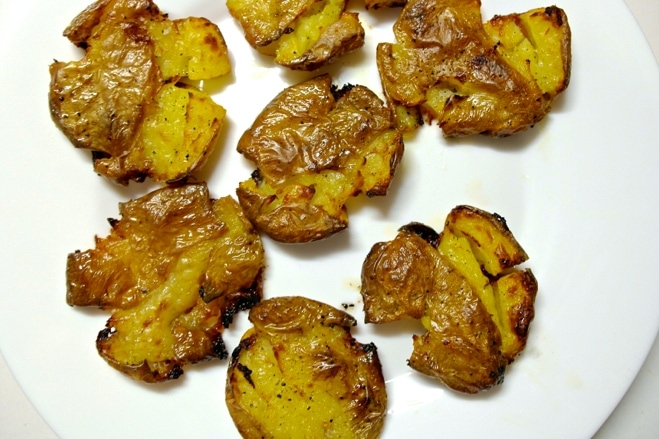 I first made this recipe a few months ago and ever since I have made it numerous times as an appetizer and it is delicious, crunchy on the outside and soft on the inside. The ingredients are only two and of course staples of the Mediterranean diet and Greek cuisine: potatoes and olive oil. Inspired by a recipe here, I simplified them even more to resemble the classic Greek style fried potatoes (patates tiganites) in flavor and texture, but without the frying.
Prep time is minimal, but you need to roast them for abit. Serve with some plain thick Greek yogurt for dipping and these will be gone in a flash.
Smashed Potatoes
INGREDIENTS
7-8 small potatoes
3 tablespoons olive oil
thick salt
pepper
Greek yogurt for dipping
DIRECTIONS
1. Preheat oven at 350 degrees Fahrenheit (180 Celsius).
2. Scrub and wash 7-8 small potatoes and bake them in the oven for about 20-40 minutes (depends on the potato), until you can pierce them with a fork fairly easy.
3. Remove them, wait 5 minutes and smash them with a flat mug or wide glass until they are about a ½ inch thick. Drizzle a bit of olive oil on each potato (you can measure about 1 teaspoon for each).
4. Increase the temperature to 450 degrees Fahrenheit (230 Celsius) and bake till the outside is crunchy. I also turn on the fan for 5 minutes to get them crunchy.
5. Remove from oven sprinkle with thick salt and freshly ground pepper and serve.
Photo by Elena Paravantes