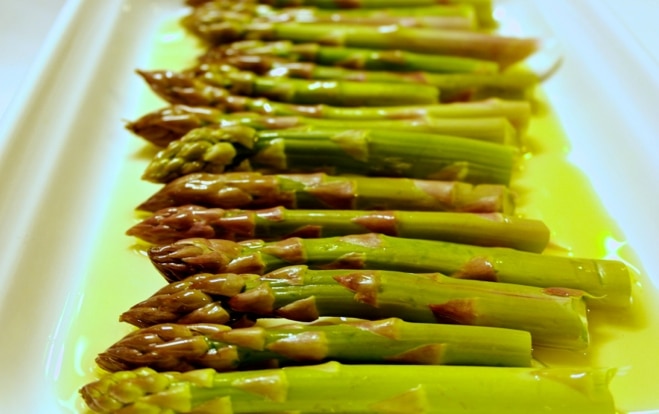 It's the season of asparagus and were loading up on it as much as we can, as soon it will be over. Here in Greece we get plenty of the white asparagus and less of the green type and then if you are lucky, you can find wild asparagus which is thinner and slightly bitter.
Asparagus is a good source of several vitamins and minerals, especially vitamin, A, K and folic acid. It is also a great source of both soluble and insoluble fiber. Studies have shown that it has a good amount of flavonoids and high antioxidant activity.
When the season comes we enjoy this very simply, we place them in a pan, drizzle with olive oil and roast. That's it.
Sometimes we might add some lemon juice, but usually we just enjoy them plain. That way you really taste the asparagus and with the olive oil it really brings out the flavor. We often have just this as a light dinner (lunch is our main and largest meal here in Greece). We have the roasted asparagus accompanied by a few Cretan barley rusks for light dipping of the asparagus infused olive oil left over. And do not forget to add the the salt and freshly ground pepper, it makes it so much better.
This is ideal, especially at the end of the day, when and you are not willing to spend more than 10 minutes preparing food.
When choosing asparagus, make sure the stalks are not soft or limp, the tips are closed and they have a bright green color. When making this with white asparagus, I use a peeler to peel off the outer layer and they may need a bit more time in the oven to soften.
Oven Roasted Asparagus in Olive Oil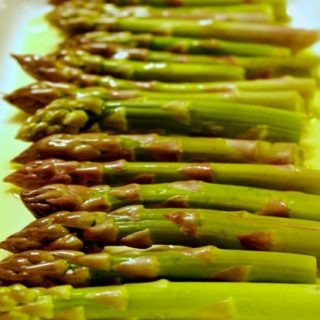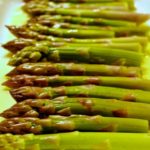 Print Recipe
Pin Recipe
Instructions
Preheat oven at 400 degrees Fahrenheit (200 Celsius).

Rinse asparagus and snap off hard ends.

Place in a pan in one layer, drizzle olive oil and roll the asparagus spears so that they are covered with olive oil on both sides.

Roast for about 20 to 25 minutes or until asparagus has softened.

Sprinkle some thick sea salt and fresh pepper.
DID YOU MAKE THIS RECIPE?
Leave a comment or share on instagram and mention @greekdiet
Photo by Elena Paravantes© All Rights Reserved