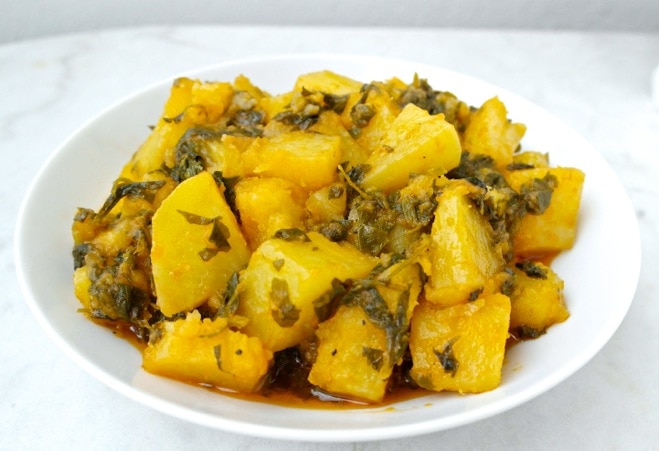 It's been a toughish winter. Athens actually had snow a few days (well not anything crazy, but still). The city can have a bit of a temperature difference as the north suburbs are next to or on a mountain, while the south suburbs are next to the sea. So some areas are icy and snowy, while others are not. This causes nice traffic jams and school closures everywhere. But what has made this winter a bit more difficult is everyone getting sick. Cold, flu, whatever it's making everyone feel lousy.
And when we feel lousy (or even lazy) we want comfort food and easy food. These potatoes are exactly it. Yes, this is a traditional meal from the area of Arcadia in Pelponissos, where my parents are from. It is so simple and so cheap. The beauty of the real Greek diet, making something out of nothing.
Potatoes along with celery leaves-yes the leaves, not the stalks- are the main ingredients. In Greece celery is small, the leaves are about the size of parsley leaves and we use them in a number dishes. This dish is called patates me selino.
These potatoes are "reddened" with tomato paste and olive oil. Tomato paste was made as a way to preserve tomatoes from the summer, so you will often see Greek winter dishes using paste.
This meal is vegetarian and it is often consumed during lent, and Greeks fasted over 180 days a year. But this is perfect with a chunk of feta and some crusty bread. My dad remembers eating this dish at least once a week when he was a little boy, it's actually his favorite food.
This is a main course, not a side dish. It is a lathero dish which is consumed on its own accompanied with bread and cheese.
Nutritionally, it's good. Celery leaves are a source of antioxidants. The tomato paste heated with olive oil increases the absorption of lycopene (another antioxidant), while the olive oil is another source of antioxidants. And potatoes make this meal filling.
Here is my mom's recipe:
Potatoes and Celery Cooked in Olive Oil
INGREDIENTS
1 pound potatoes cut in 1 ½ inch pieces
½ cup olive oil
1 cup (or more) of chopped celery leaves
1 heaping tablespoon of tomato paste
1 pinch of sugar
½ teaspoon salt
pepper
DIRECTIONS
1. Heat the olive oil on low and add the potatoes, sauté for a few minutes.
2. Add the tomato paste and mix well so it is heated with the olive oil. Add the sugar
3. Add the chopped celery leaves and mix well.
4. Add the salt and pepper.
5. Add warm water until it almost covers the potatoes (but not quite).
6. Let it simmer covered for about 45 minutes-you want the potatoes to be very soft (it may take longer depending on the potato). Test with a fork. Once it is done it should be left with a reddish olive oil sauce, it should not be watery.
Serve warm or at room temperature with feta cheese and bread.
Makes 2 main course servings
Photo by Elena Paravantes