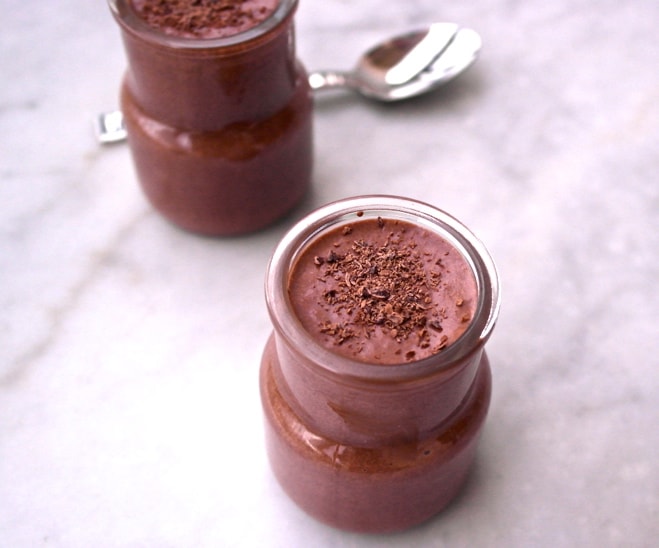 Last year I posted a chocolate mousse recipe with olive oil that I had learned how to make from Greek patisserie chef Stelios Parliaros. This time around I made a lighter chocolate mousse,  again with a Greek twist: I used Greek yogurt. The result is an airy, slightly tangy chocolate mousse.
This recipe is really easy to make and to remember; it needs only 3 ingredients: chocolate, milk and low fat Greek yogurt.
While I wouldn't call this dessert "light", I would call it "lighter" as it does have slightly less fat and calories, plus you get about 100 mg of calcium with each serving.
You can use chocolate with a high percentage of cocoa solids but 50% works well here.
This recipe makes 4 small dessert cups (about 3-4 ounces each).
Light and Airy Greek Yogurt Chocolate Mousse 
INGREDIENTS
7 ounces dark chocolate (200 grams)
2/3 cup whole milk  (160 grams)
3 ounces low fat Greek yogurt (160 grams)
DIRECTIONS
1. Melt chocolate in a double boiler. Be careful not to overheat.
2. Whip milk with yogurt until it becomes frothy.
3. Add chocolate gradually to yogurt-milk mixture and blend. You should have a uniform color.
4. Empty in small glasses or bowls (it will be a bit liquidy) and keep in refrigerator for at least 3 hours before serving.
Photo: Olive Tomato