Try this quintessential summer Greek Mediterranean dish: Roasted summer vegetables stuffed with rice and herbs. The famous Gemista or Yemista.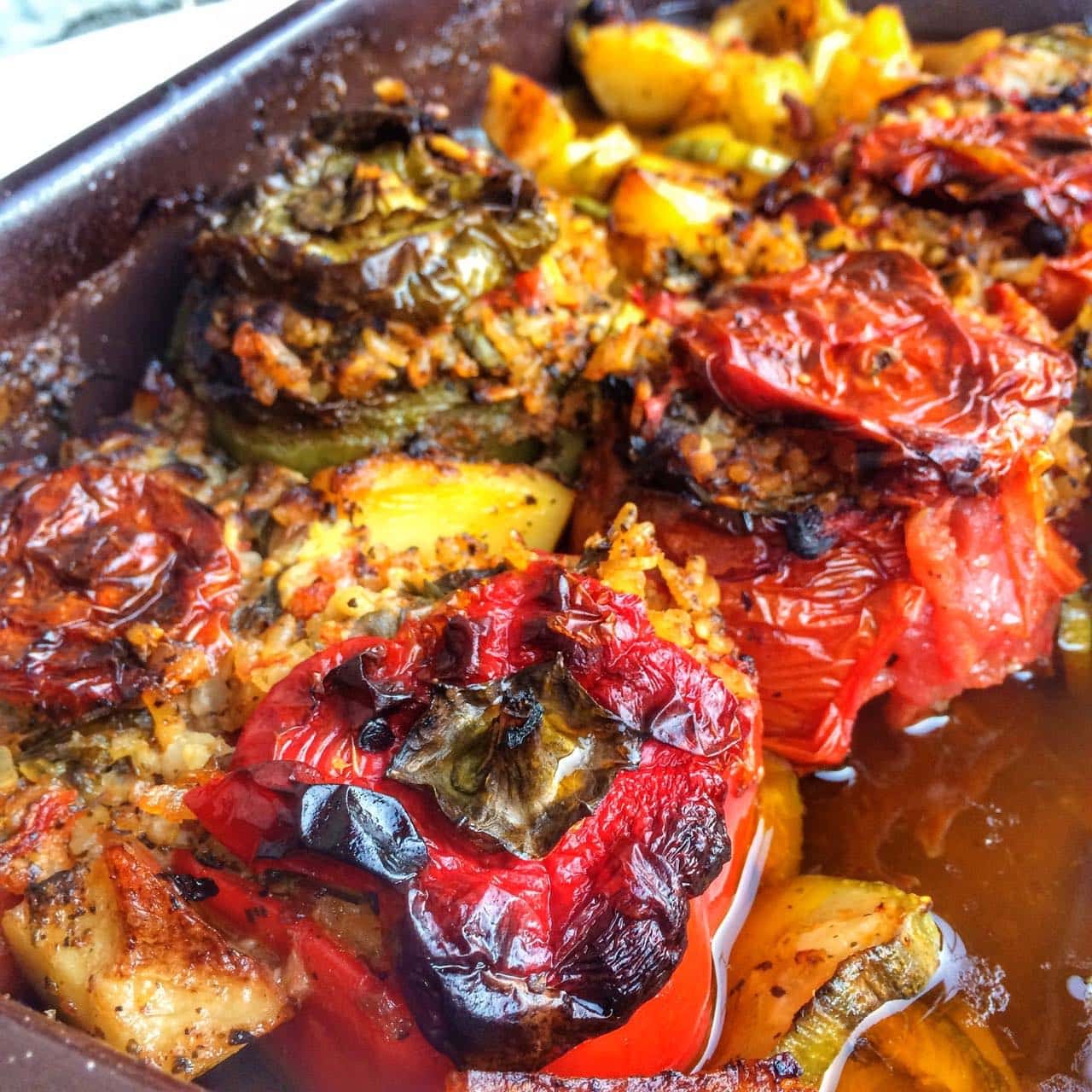 It is not possible to talk about tomatoes, the Mediterranean diet and Greek food without mentioning Gemista (or Yemista). Gemista are vegetables usually tomatoes, bell peppers, zucchini and eggplant filled with rice (sometimes with ground meat) and baked in the oven. Gemista translates as "ones that are filled". And as I mentioned earlier my mom's gemista happen to be my favorite food.
Now I need to mention that yes, this recipe has a lot of olive oil for non-mediterranean standards, but don't let that scare you.
As with most people's favorite foods, this is also a comfort food for me, but as opposed to many comfort foods this one is healthy. At first glance you may think it's a starchy dish, but once you take a look at this recipe you will notice that there are plenty of vegetables, to be exact, for each gemisto you eat you get almost 2 servings of vegetables. Why? Well the rice itself is mixed with some more vegetables; in fact you only eat about a ¼ cup of rice per serving.
Now I need to mention that yes, this recipe has a lot of olive oil for non-mediterranean standards, but don't let that scare you. First of all there is plenty of olive oil left in the pan so unless you drink it or mop it up with bread you won't be getting all those calories. Secondly, as I have mentioned the beauty of the lathera-Greek vegetarian dishes with moderate starch and a good amount is olive oil is that you actually end up with a moderate amount of calories because the vegetables hardly add any calories to the meal.
Now as I said my mom's gemista is my favorite food, I don't order gemista when I'm out because none of them will compare. These are truly the best (and I don't say that lightly). Here is why:
How to Make the Best Greek Stuffed Tomatoes- Gemista
The rice is cooked until it is very soft not al dente and so are the vegetables. My mom says that if the gemista look too pretty they probably won't taste good. And she is right, whenever I see nice bright looking gemista that have kept their shape, the vegetables are somewhat hard and so is the rice, making for a tasteless and boring dish.

Also, do not pre-cook the rice,

the whole point of cooking together is that the rice absorbs all the flavors of all the other ingredients,
She only fills them with rice, not ground beef. It is a summer dish; beef would just make it heavier and add calories.
She mixes the rice with a bunch of herbs, which makes them super tasty.

There is olive oil in this dish and it is important that you use it, otherwise you won't get this melt-in-your mouth sensation. Trust me.

I recently saw a recipe for gemista on the site of a popular US NYC newspaper that used only 3 tablespoons of olive oil, that will not work, you'll end up with a hard, tough and dry gemisto.
She cooks potatoes with them. By adding potatoes you actually have a whole meal fit to serve guests.
And did I mention that this recipe has no animal products, so perfect for vegans too!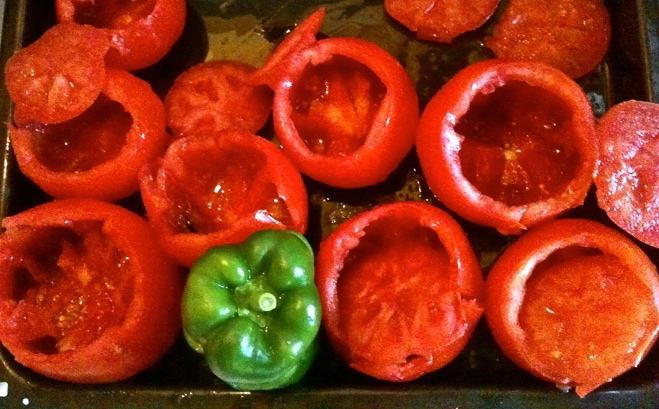 Ok this is my mom's famous recipe, it will take you about an hour to do the prep, so you are better off making a big batch, these last 2-3 days and they taste better the next day.
This dish is a lathero and it is enjoyed best at room temperature with feta. I don't eat it with bread, as there is the rice and potatoes, but most Greeks do.
Want More Authentic Mediterranean Diet Recipes and a 14 Day Meal Plan? My Cookbook is here! Get your copy! >>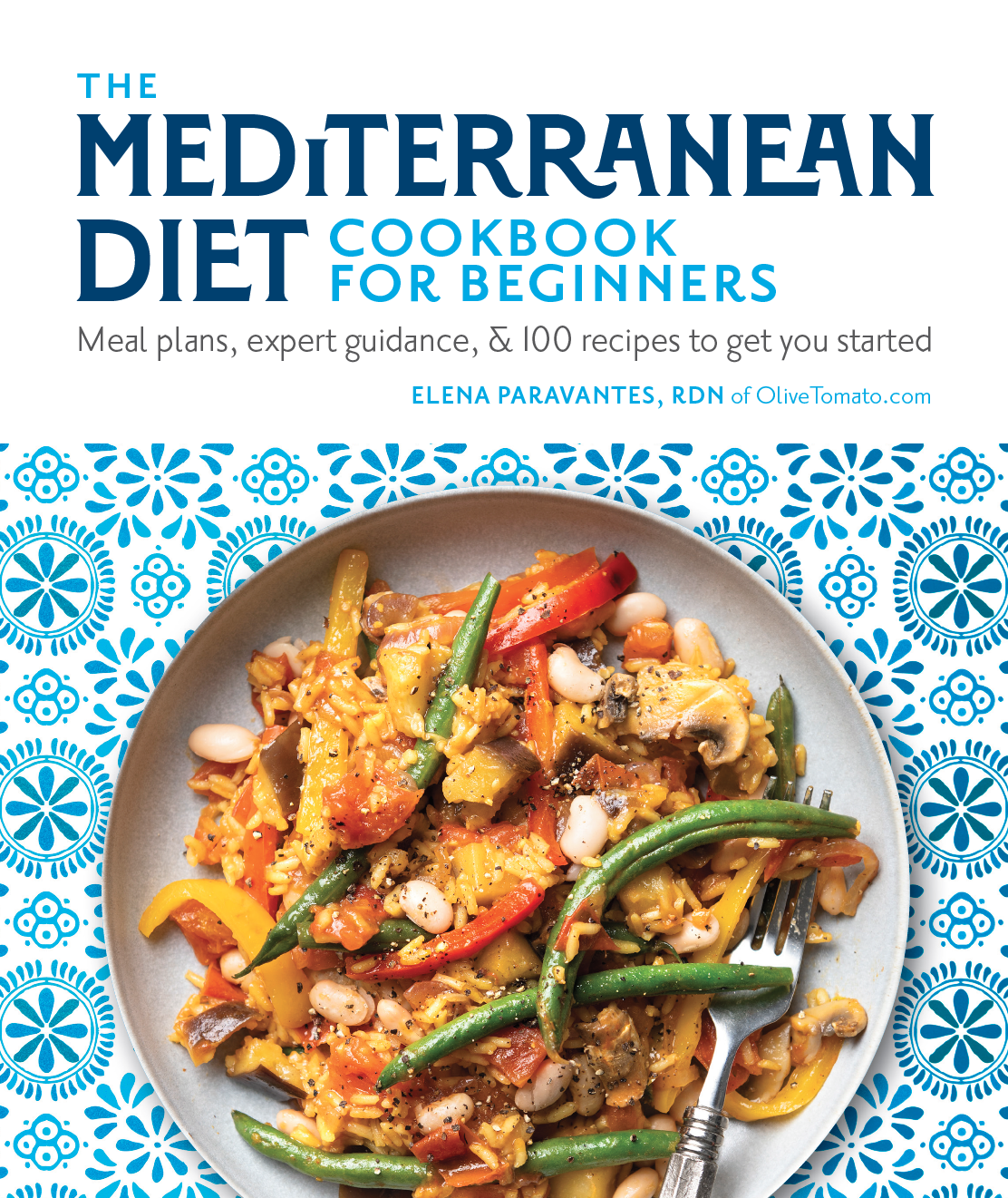 The Best Authentic Greek Stuffed Tomatoes and Peppers-Gemista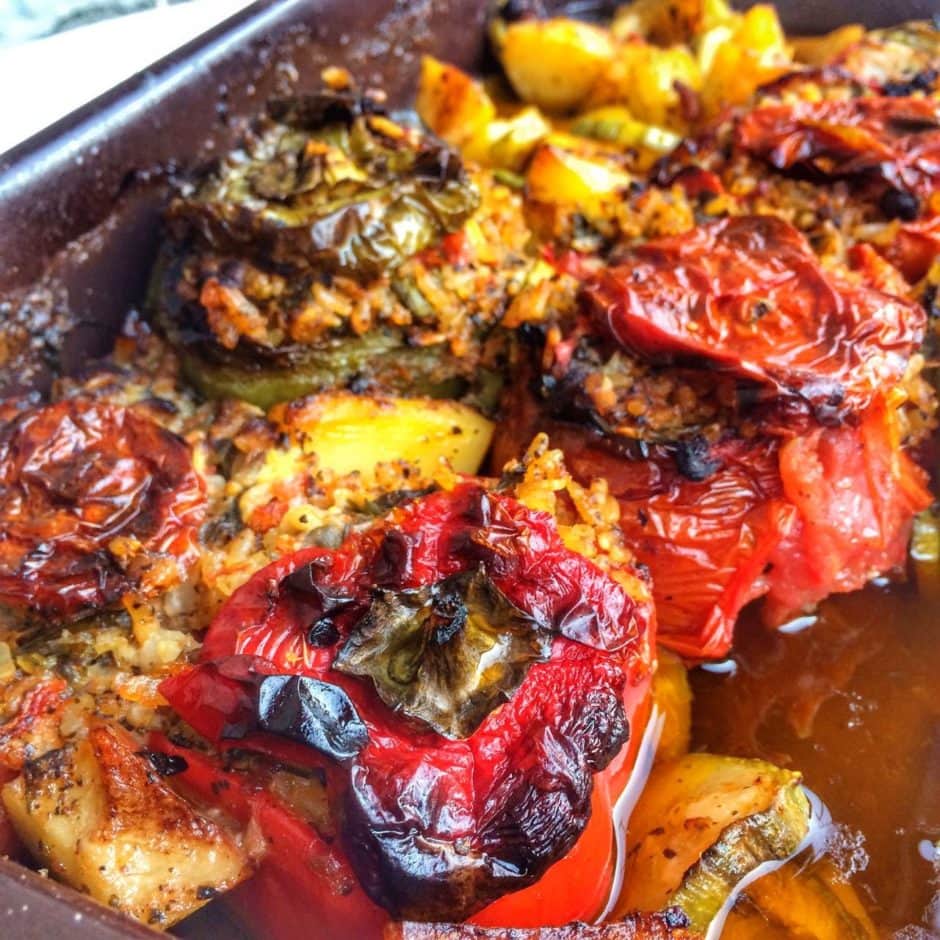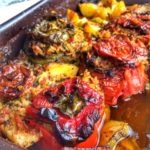 The quintessential Greek Mediterranean dish: Roasted summer vegetables stuffed with rice and herbs. The famous Gemista or Yemista.
Print Recipe
Pin Recipe
Ingredients
5

large tomatoes

5

large green bell peppers (you may also use zucchini or eggplant) + 1 small green pepper

10-12

tablespoons

un-cooked short or medium grain rice (do not use long grain)

8

zucchini

1

onion

2

pounds

potatoes

7

garlic cloves

1

tablespoon

oregano

2

tablespoons

dry mint

4

tablespoons

fresh parsley

1

tablespoon

tomato paste

cloves-whole

allspice – whole

1 1/2

cup

olive oil

lemon juice

salt/pepper
Instructions
Preheat oven at 400 Fahrenheit (200 Celsius).

Wash the tomatoes and peppers. For the peppers cut around the stem and empty the inside of the pepper. For the tomato cut around the base (the bottom part) not the stem part and empty the tomato with a spoon. Put these pieces of tomato in a separate bowl along with the juices. Make tiny slits on the inside bottom of the peppers and tomatoes (not all the way through)

Place the empty tomatoes and peppers along with their caps n a large pan about 3 inches deep.

Take 2-3 zucchini peel them and grate them, put the grated zucchini in another bowl.

In a food processor add an onion, 4-5 garlic cloves, a bit of oil about a teaspoon and some salt. Mix but not too much (you don't want a paste). Add the onion mixture to the zucchini.

Take a small green bell pepper and also dice it and add to the zucchini mixture.

Finally take a small potato (a bit larger than an egg) and grate it and add to the zucchini mixture.

Now strain the juice from the tomatoes (squeeze the tomato with your hands too) and save in a separate bowl. Now you should have 3 bowls one with tomato, one with zucchini-potato-onion mixture and one with tomato juice.Cut the tomato in small pieces and mix it with the zucchini mixture. Add 1 tablespoon salt, dry mint, parsley and tomato paste. Now add to the mixture 10 to 12 tablespoons short grain rice and 1 teaspoon lemon juice. Finally add ¾ cup olive oil. Let the mixture sit.

Now start cutting the potatoes. Take 2 lbs. of potatoes, peel them and cut them into quarters, place in a bowl. Take 3-4 zucchini, peel and slice and add to potatoes. Add ¾ cup olive oil, 1 tablespoon oregano, some salt and 2 cloves garlic cut n small pieces. Mix well (with your hands preferably). Then add the tomato juice which you had saved from the tomatoes in step 8.

Now start filling the tomatoes and peppers with rice all the way to the top and close with their caps.

Add the potatoes to the pan, making sure to place around the tomatoes and peppers so they don't slide in the tray. If there is any rice mixture left mix it with the quartered potatoes and add to to the pan.

Add 5 cloves to the potatoes and about 5 allspice.

Add about a cup of water, but not on top-you don't want to "wash off" the oil. Add the water in a corner of the pan and tilt slightly so the water goes everywhere.

Bake in the oven for about 15-20 minutes at 400 Fahrenheit (200 Celsius). Then reduce to 320-340 Fahrenheit (170-160 Celsius ) and bake for another 1-½ hours. If you notice it getting dry, add a bit more water.

To see if it is done, check the rice it should be soft and mushy.
Notes
You can also just use only tomatoes.
DID YOU MAKE THIS RECIPE?
Leave a comment or share on instagram and mention @greekdiet
Photos by Elena Paravantes © All Rights Reserved