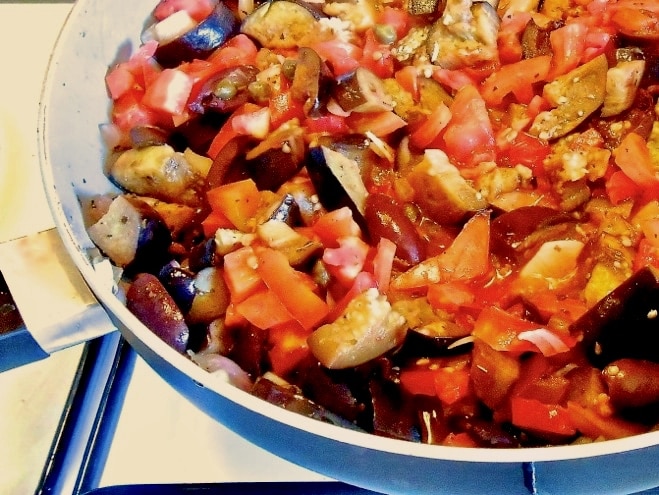 Ok, I promise this is the last eggplant recipe I will be sharing this year. But seriously you cannot talk about eggplant and not mention this delicious, not to mention healthy Sicilian dish. Eggplant is probably the most popular vegetable in Sicilian cuisine and when you cook it in olive oil along with tomato, onion, olives, capers, celery and a bit of sugar it makes an ideal accompaniment to good hearty bread and some red wine. Once again a typical Mediterranean dish that makes you want to eat a bunch of vegetables.
Apart from the fiber that you'll be getting from the eggplant and tomato, you also will get plenty of antioxidants from the eggplant, tomato, oregano, onion and the olive oil. Well, actually almost every single ingredient is a source of antioxidants.
I've tried several recipes and this is a combination of a few of them that had the best results.  I use fresh tomatoes when I have them, but many recipes use tomato sauce. I use Greek olives kalamon (kalamatas) instead of green. I also don't really fry the eggplant (as is done with traditional recipes) but sauté it just to make it a bit lighter. Generally though the basic ingredients are the same for most versions. And by the way, there is no such thing as a Greek Caponata, I actually saw this on a known cooking website and the recipe was actually briami (see previous post for the recipe).
I like this cooled down, and yes it is better the next day. Even though it's more of an appetizer, we usually eat the whole thing, layering it on thin slices of bread. It really is hard to resist.
Caponata,Authentic Sicilian Appetizer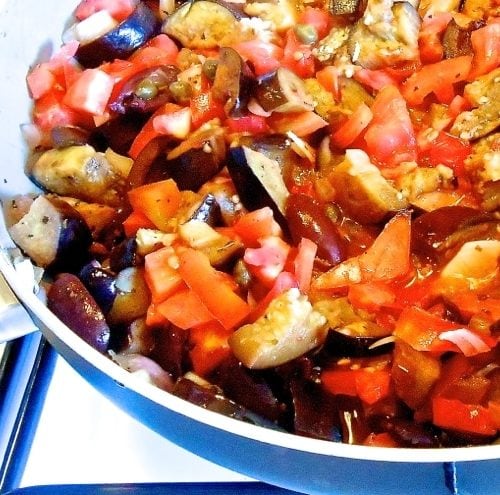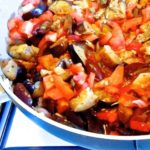 Print Recipe
Pin Recipe
Ingredients
3

eggplants cut in ½ inch cubes

2-3

tomatoes chopped

1

onion chopped

2

tablespoons

capers rinsed

1

tablespoon

oregano

½

cup

Greek olives kalamon cut in half

2-3

tablespoons

olive oil

3

tablespoons

red wine vinegar

2

tablespoons

sugar

2

tablespoons

fresh chopped basil

Salt/Pepper
Instructions
Wash the eggplant and cut into ½ inch cubes (do not peel). Place in a colander, salt and let the eggplant sit for about an hour, this helps remove the bitterness but also to absorb less oil. In the meantime cut and prepare all your other ingredients.

Heat about 2 tablespoons of oil over medium heat in a large pan that is about 2 inches deep.

Add the eggplant and sauté until it starts to turn golden, about 5 minutes.

Add the onion and continue to sauté until soft, add the other tablespoon of oil if it is not enough.

Add oregano, olives, capers and chopped tomatoes with their juices and simmer for about 20-25 minutes.

Mix the sugar with the vinegar and pour over the pan. Heat a few minutes until you can no longer smell the vinegar.

Remove from heat, add salt and pepper to taste.

Sprinkle some chopped basil.
Notes
*Celery and pine nuts are also typically used, but I did not use them in this recipe.
*Remember the olives and capers contain salt.
* You can use more olive oil if needed.
DID YOU MAKE THIS RECIPE?
Leave a comment or share on instagram and mention @greekdiet