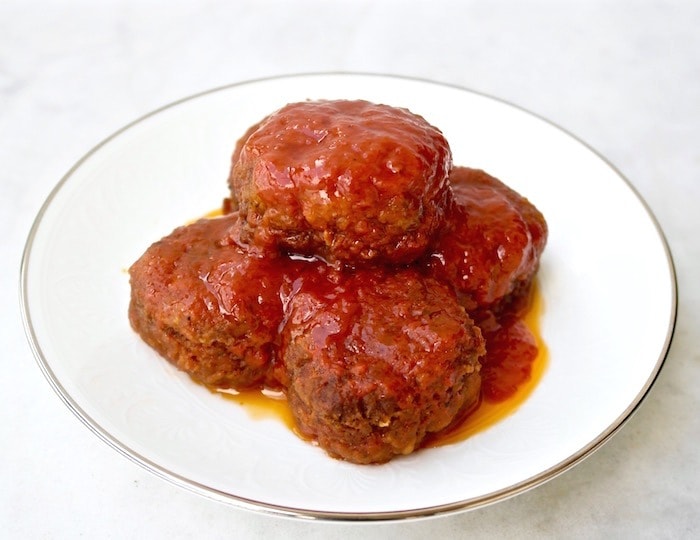 As I have been mentioning, my son has been on a Greek fast leading up to the Greek Easter and so our kitchen has become quite vegan for the past few weeks. Of course the Greek cuisine and diet provides an abundance of vegan recipes, and this is one of them. Greek cuisine is known for all the vegetable patties and one of them are the chickpea patties which are very similar to the famous falafel, but a bit softer in texture. This recipe though is a bit different. It is inspired by a recipe from the famous Greek cook Tselementes. The chickpea patties are made with a combination of the beans along with fresh tomato and then drenched in a rich red sauce made with tomato paste and olive oil. I adjusted it, so it is basically a vegan version of the famous Soutzoukakia, which are meatballs (fried or baked) topped with garlicky tomato sauce. These are called revithosoutzoukakia from the Greek word revithi which mean chickpea.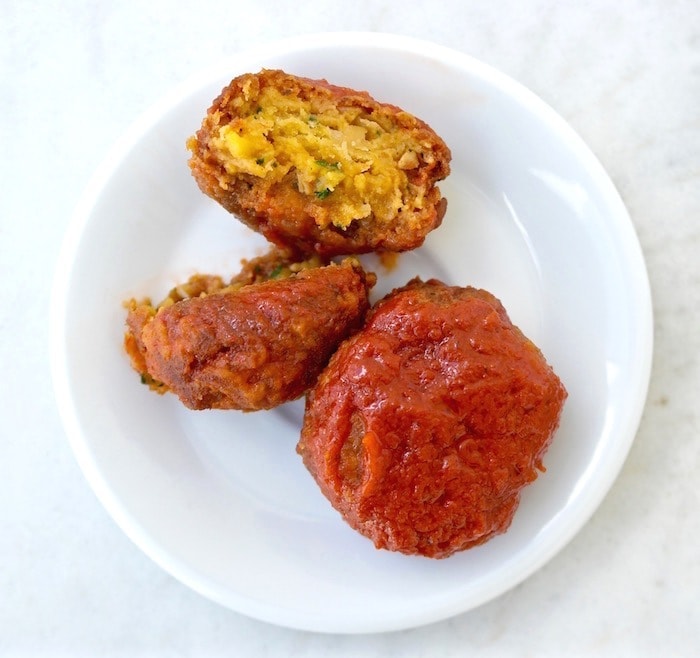 I have to say these patties are rich and decadent and one of the most delicious dishes I have ever had. I literally ate a whole serving this morning, I couldn't wait till lunchtime! These taste so good and satisfying that you do not miss the meat at all, and they are pretty healthy. You are getting a good serving of beans with their antioxidants, protein and fiber, plus the good fat from the olive oil and tons of the potent antioxidant, lycopene from that tomato paste.
Tomato paste may seem strange, but years ago it was used as a substitute for tomatoes when fresh ones were not available. Tomato paste was made at home as a way to preserve tomatoes to use during the winter.Heating tomato paste with olive oil and water provides a intense tomato sauce which makes this dish special. Also you are not just pouring tomato sauce on top of the patties, you cover them with sauce and heat a bit more so that the patties are actually softened by the sauce.
The sauce usually contains garlic as well, I chose to omit the garlic in the sauce for a "lighter" flavor.
*If you choose not to make the sauce, serve these with some squeezed lemon.
Greek Chickpea Patties with Tomato Sauce – Revithosoutzoukakia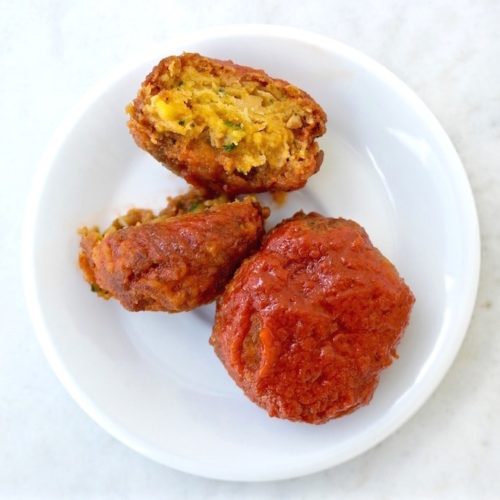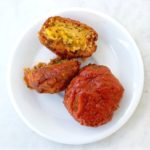 These chickpeas could be considered falafel's seductive cousin. Flavorful chickpea-tomato patties drenched in intense tomato sauce.
Print Recipe
Pin Recipe
Ingredients
For the Patties
Instructions
In a food processor mix the chickpeas and tomato, do not over mix, the mixture should be grainy.

Add the garlic, parsley, 1 tablespoon olive oil, water, salt, pepper and baking soda and blend. Again do not over mix.

Place the mixture in a bowl (dough will be very sticky) and add flour, 1 or 2 tablespoons at a time. Knead with your hands, the dough should be soft but firm enough to shape into patties.

Roll into balls , flattening them a bit, using about 2 teaspoons of the mixture for each patty. Coat with the flour.

Heat olive oil in a pan (oil should be about ¼ inch deep in the pan).

Fry the patties about 2 minutes on each side.

Remove and place on paper towels to absorb any oil and set aside.

Begin the sauce by heating the tomato paste, olive oil and water along with the sugar, salt and pepper in pan, let it come to a boil and then lower the heat and simmer for 10 minutes until sauce thickens.

Add the chickpea patties to the sauce and spoon the sauce gently over the patties.

Heat for a 1-2 more minutes and serve.
DID YOU MAKE THIS RECIPE?
Leave a comment or share on instagram and mention @greekdiet
Photos by Elena Paravantes© All Rights Reserved