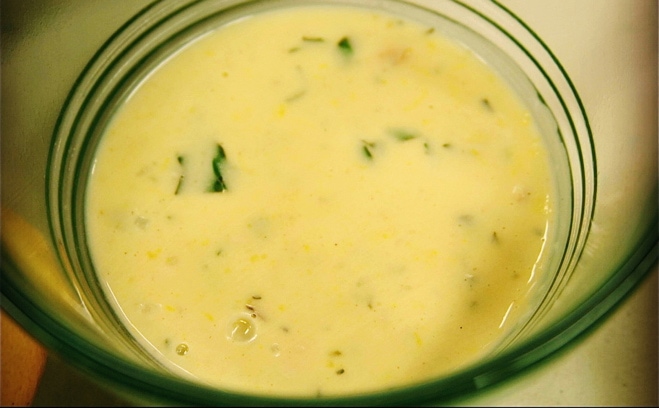 If you have been reading about the Greek Easter, you know by now that it's a very food centered event. One of the most important meals is the one that breaks the long fast: the celebratory post midnight meal on the Saturday night before Easter, Greeks traditionally eat Mayiritsa, a soup made with lamb offal as the main course.
To me eating soup made from organ meats doesn't sound too appetizing, and so for as long as I can remember, my mom would make an alternative soup; Egg Lemon Soup with chicken known as Soupa Avyolemono me Kota. Apart from having mayiritsa, the tradition is to have some sort of soup for this midnight meal, and so in our home we had this one.
Kids could eat it and it is pretty healthy. Made mainly with chicken and rice, the egg lemon soup only contains two eggs (for 4-6 servings) and there is no additional fat apart from the fat in the broth and the eggs. It is accompanied by carrots, so you get your vegetables too.
The word Avgolemono means Egg- Lemon and it is a preparation used with other types of meats and dishes…
This is a relatively light meal, as it should be considering that you are eating after midnight after a long fast from animal products, and it's good for sick days too, an alternative to the traditional chicken noodle soup.
So, if you can't stand even the thought of eating lamb offal (like me) consider Chicken Egg Lemon Soup. Here is my mom's recipe:
Mom's Greek Egg Lemon Soup with Chicken-Avgolemono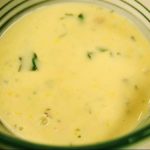 Print Recipe
Pin Recipe
Ingredients
1

whole chicken

You can use a ½ chicken or pieces of chicken for less servings, if half chicken used, only 1 egg and 1 lemon needed

Short grain rice

amount varies, please see recipe

Celery leaves

2-3

Carrots

1

Onion

White wine for washing chicken

2

Eggs

2

Lemons

Salt/Pepper as needed
Instructions
Wash chicken with water and wine.

Boil the chicken in a large pot with celery leaves, 2-3 carrots and one whole onion. Add enough water (measure how much water you add so you can calculate how much rice you will add later) to cover the chicken. Ideally the water should already be hot as it helps maintain the juices of the chicken. Boil for about 1 ½ hour.

Once boiled remove and place on a plate with the vegetables. Save broth.

Bring broth to a boil and add salt to taste, add 2 tablespoons short grain rice per 1 cup broth. Lower heat and let it simmer for 15-20 minutes, it should look like soup.

Separate the broth from the rice. Place rice back into pot and save broth in another bowl.

Separate egg yolks and whites. In a small bowl add only the yolks and the juice of 1 lemon-do not mix.

In another large bowl add the whites, whip with a mixer until stiff, add the yolks to the egg whites and mix on low.

Add the broth gradually to the egg mixture while mixing on low-make sure broth is not hot otherwise it will cook the egg, it should lukewarm. Add about 2 tablespoons at a time.

Add the egg lemon broth mixture back in the pot to the rice. Mix with a wooden spoon and ideally let it come to a boil only once so that the egg is cooked a bit.

Remove immediately from heat.
Notes
The soup is served in bowls with lemon, pepper and salt on the table and the chicken on a separate dish. I like it with small pieces of chicken mixed in the soup, just like I had it when I was a little girl.
DID YOU MAKE THIS RECIPE?
Leave a comment or share on instagram and mention @greekdiet
Photo Credit: Avgolemono by Alyssa Sison