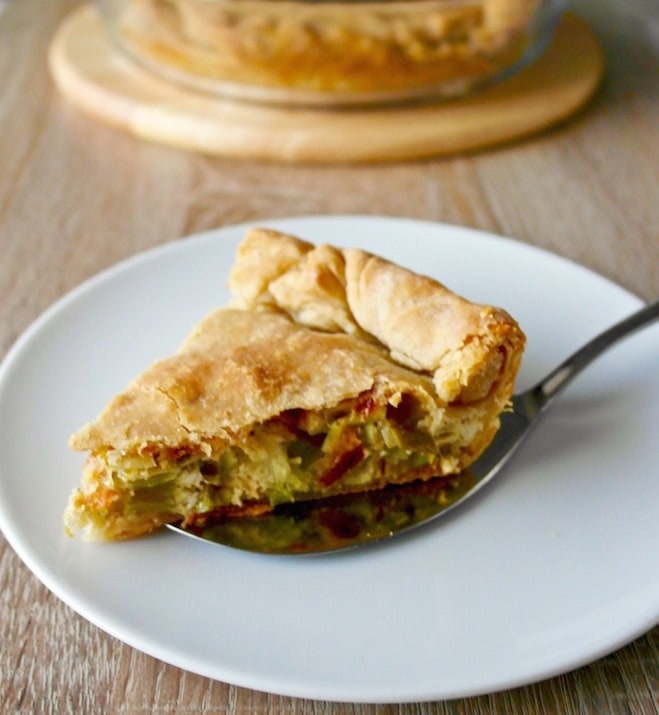 Leek is a vegetable very much liked in Greek cuisine. In the winter we cook it along with rice to make prasorizo, a casserole type dish belonging to the category of lathera. But leek really shines in a pita known as prasopita. Pites or pies are a common snack here in Greece (although they make a fine main course too), and you basically find pites in all the bakeries. Although spanakopita and tiropita are the most common, prasopita is also comparably popular. The sweetness of the leek along with the feta is a perfect combination and a nice break from the typical spinach pie.
Leek belongs to the allium family along with onion and garlic. Although it smells a bit like onion when you are chopping it raw, it sweetens when cooked. Leeks are rich in nutrients, particularly beta-carotene, folate and vitamin K. They are a good source of fiber and protein and of course a variety of protective antioxidants.
For this particular pie we add eggs as well as cheese, but there is a vegan version which is very often consumed during fasting periods and is similar in preparation with the exception that it does not contain dairy or eggs.
I find leek pie is definitely better with the thick crust rather than the thin phyllo you find in the supermarket. This thicker type of phyllo is better for heartier pies and it is what most Greek home cooks used when they made pites. I remember my Grandmothers pies with great fondness, and the best part was her homemade phyllo; thick, tasty with a rich olive oil taste. For the dough you can follow my easy homemade phyllo recipe. Otherwise if you use the thin phyllo sheets, make sure you don't overload it.
Greek Leek Pie with Homemade Phyllo-Prasopita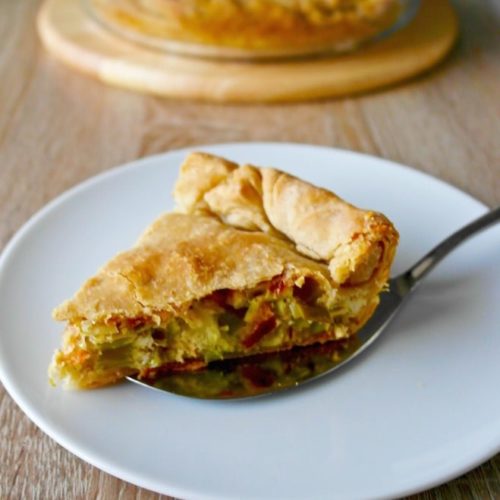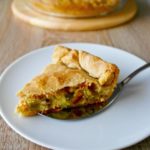 Popular pie in Greece. Sweet cooked leek along with feta, wrapped in homemade phyllo dough.
Print Recipe
Pin Recipe
Ingredients
4

cups

sliced leeks, ½ inch thick slices-only white parts not the leaves

3

spring onions sliced in ½ inch thick slices

¼

cup

olive oil + some for brushing the dough

2

eggs

¼

cup

chopped dill

A pinch of salt

Ground pepper

Home made phyllo dough- See Step 1 in instructions below.
Instructions
Make the homemade phyllo, click here for recipe

Preheat the oven at 350 degrees Fahrenheit (180 degrees Celsius)

In a large pan, heat the olive oil and sauté the spring onion until soft for about 5 minutes. Add the chopped leeks and heat stirring until leek wilts and softens for about 15 to 20 minutes. Make sure there are no liquids left.

Empty contents of pan (leek and spring onion) into a large bowl. Add the salt, pepper, dill and feta and blend well.

In a small bowl beat the eggs and add them to the leeks and blend.

Brush a round 10 inch pan with olive oil. Place your first phyllo on the base of the pan making sure it hangs over the pan. Brush with olive oil. Note: If you are using regular store bought phyllo use this

method

Spread the leek mixture over the phyllo evenly.

Cover with second phyllo and join both phyllo sheets together twisting round the pan so it forms a border.

Brush the top phyllo with olive oil and score the pie where you will cut the pieces (do not cut all the way through).

Bake for about an hour until crust is golden.

Let it cool and cut in pieces.

Serve warm or at room temperature.
Notes
If you are using homemade phyllo, make the dough first. While it is resting (before rolling out) make the filling.
DID YOU MAKE THIS RECIPE?
Leave a comment or share on instagram and mention @greekdiet
Photo by Elena Paravantes