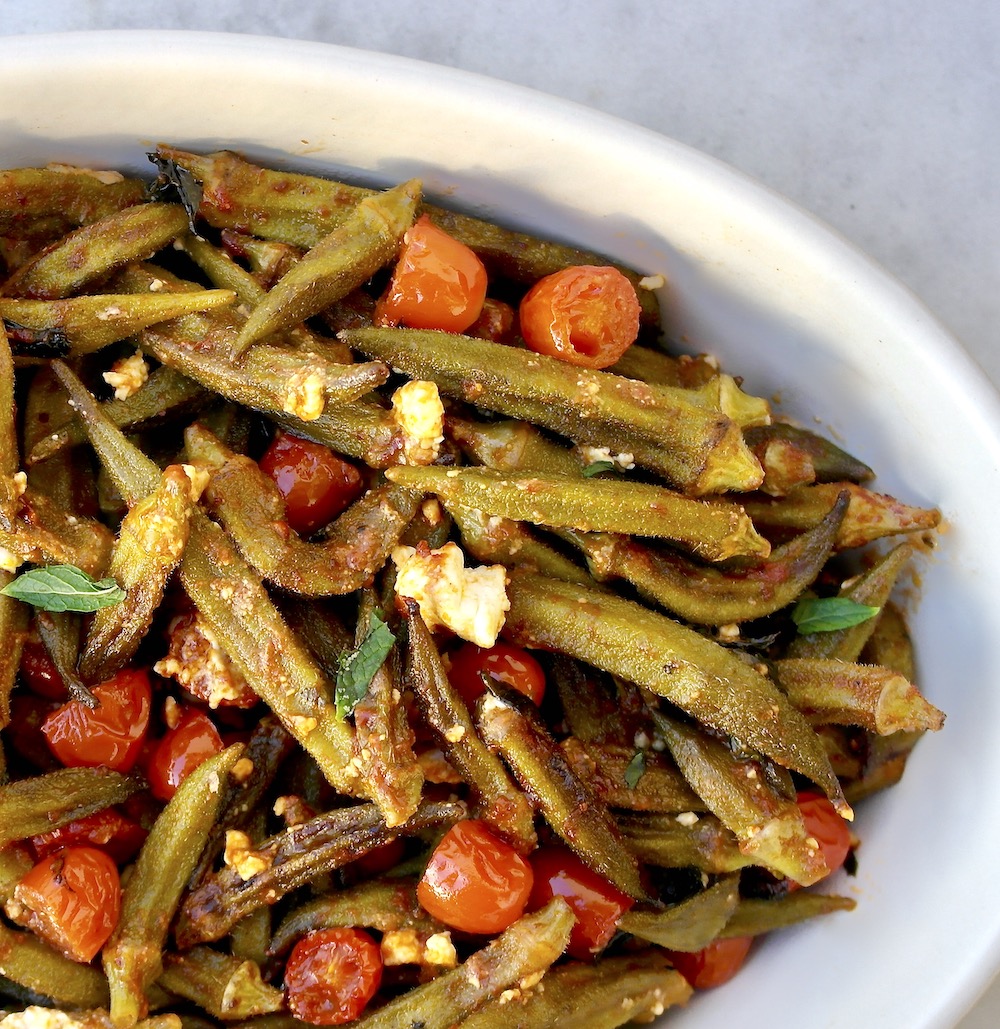 Fresh cooked okra is a special dish in Greece. While it is just a humble vegetable, it can taste fantastic when done right, or horrible if you do it in a hurry. But the secret to making it special, is that it requires a certain process for its preparation. First you have to peel the tips while maintaining the cone shape. This can take some time, especially if you are in an hurry and just want to make lunch. So I would suggest you do the peeling the day before. Speaking of time consuming, this peeling okra process brought to mind the image of my grandmother sitting around the table with her neighbors or an aunt doing this type of prep while talking and gossiping. Time consuming tasks whether it was peeling potatoes or making fresh pasta were somehow turned into another opportunity to socialize, plus you got the job done quicker since you had help, and it was more enjoyable as well.
Now back to the okra. Greek prize very small okra, the smaller the better as it is more tender and has smaller seeds, so that means its harvested early. Also, when you make Greek style okra you actually do not want them to be super fresh and crispy, but 2-3 days old as they have a more concentrated flavor and less of the liquid. In fact the next step is very important for getting rid of the gooey stuff. After you peel them, you dry them in the sun for a few hours or in an oven, to reduce the liquids even more. When peeling, cut around the tip of the okra, so you end up with a cone. Be careful not to cut too low exposing the inside, otherwise the liquid may come out.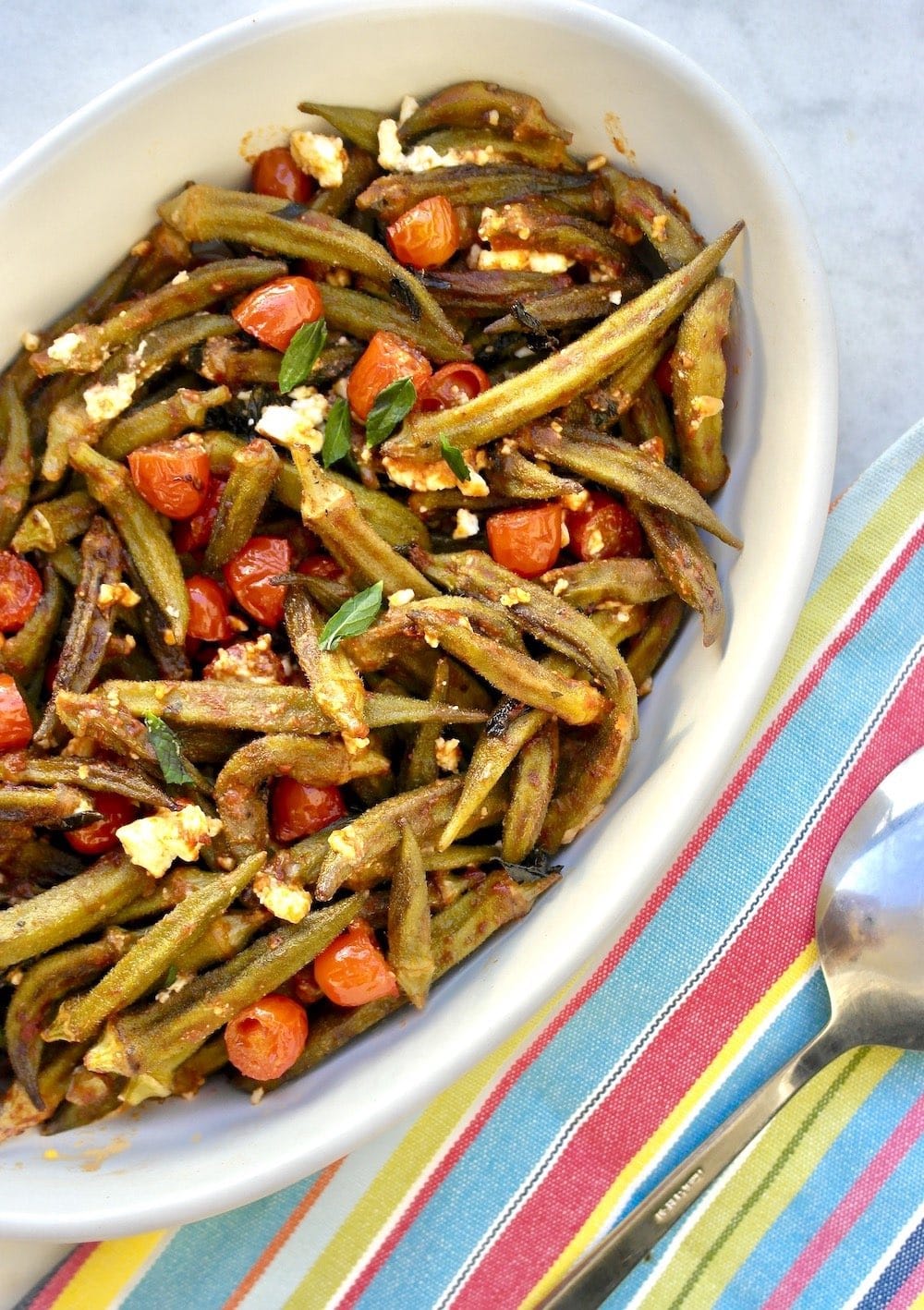 Now, the good news is, that while there is some prep involved, the actual recipe is quite easy and most of the time, it's just cooking in the oven.
The classic recipe is with chopped tomato and usually cooked in a pot but I prefer the roasted okra. Very basic flavors: tomato, parsley and olive oil. For this recipe I added a bit of fresh mint which has been growing wildly on my balcony, along with feta which is quite a flavorful combination. I also added some cherry tomatoes giving it a different texture and appearance.
Okra can be a difficult vegetable and a bit obscure, but if you cook it this way, the okra caramelizes and is bursting with flavor. One of the secrets of enjoying okra roasted this way is to eat at room temperature. Do not attempt to eat okra warm, it essentially will have no flavor.
Do I need to mention how healthy okra and this dish is? Okra is a great source of soluble fiber, the kind that lowers cholesterol levels. And then you also have the tomatoes, the olive oil rich in antioxidants. This meal belongs to the category of lathera, the category of vegetable based dishes cooked in olive oil.
If you have never tried okra or hate the gooeyness, then this is the recipe for you.
Greek Roasted Okra with Feta, Mint and Cherry Tomatoes – Bamies Sto Fourno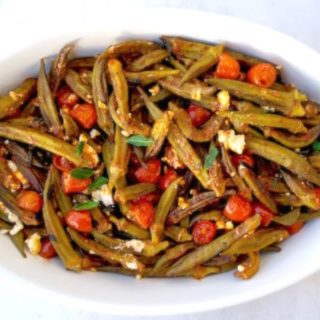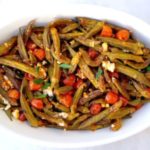 Print Recipe
Pin Recipe
Ingredients
1

pound

okra

use the smallest you can find

1

tablespoon

red wine vinegar

1/2

cup

olive oil

1

tablespoon

tomato paste diluted with ½ cup water

A pinch of sugar

1/2

teaspoon

salt or more for taste

½

cup

chopped fresh mint or 1 tablespoon dry mint

10

cherry tomatoes

halved

4

ounces

feta

crumbled
Instructions
Wash the okra and then peel the tip while maintaining the cone like shape.

Spread okra on a pan and drizzle with some red wine vinegar. Let them sit in the sun for 1-2 hours.

Preheat oven to 400 degrees F (200 C)

Heat in a pan ½ of the olive oil. Sauté gently the okra for 4-5 minutes, to seal them. They will brown a bit. Do not over stir them, because you do not want to break them.

Add to the pan the tomato paste that has been mixed with the water and mix gently.

Remove from heat.

Add the salt, sugar, freshly ground pepper and chopped mint or dry mint. Blend

Place the okra in baking dish so that the okra is about 2 layers.

Nestle the cherry tomatoes among the okra and sprinkle the crumbled feta.

Drizzle on top the rest of the olive oil.

Add about ¼ cup warm water to the corner of the pan, tilting so that the water spreads throughout the base of the pan.

Cover with aluminum fail and bake for 20 minutes, then lower to 350 degrees and continue roasting for about an hour until okra is soft

Remove and let it cool until at room temperature.
DID YOU MAKE THIS RECIPE?
Leave a comment or share on instagram and mention @greekdiet