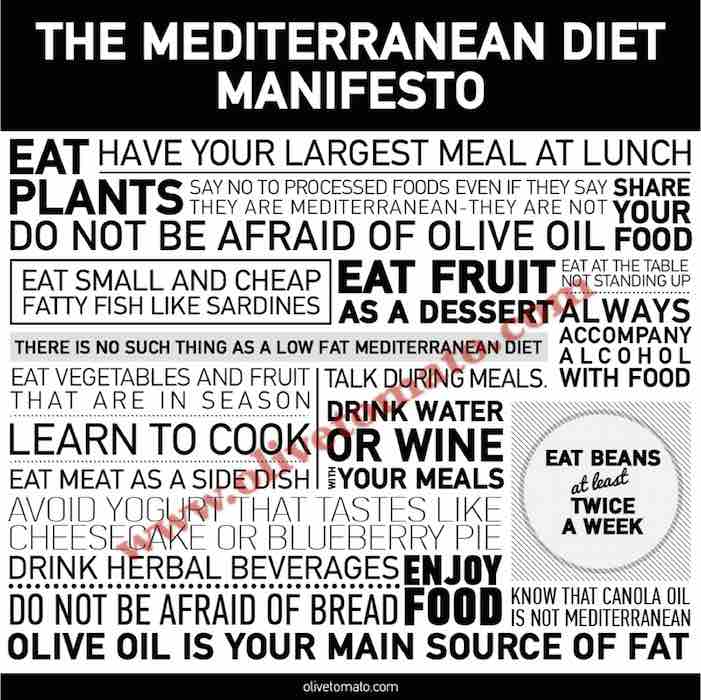 So I went on vacation for a few days and I come back to find the Mediterranean diet all over the news again, showing once again the effectiveness of this delicious way of eating.
The study presented at the European Society of Cardiology Congress showed that individuals who already have heart disease have a 37% reduced risk of dying if they had a high adherence to the Mediterranean diet. Now according to another study earlier this year, it was shown that people taking statins (prescription drugs to lower cholesterol) had a 24% reduced risk of dying. This could lead to the assumption that a Mediterranean diet is better at reducing risk of dying from heart disease than medication. Well, maybe. We have also seen numerous other studies that show that the Mediterranean diet is effective not only for prevention but for people who already suffer from a disease. There is one problem. Adherence to diets is fairly low and most folks are looking for the easy solution in a pill.
As a clinical dietitian, I cannot count how many times I had patients come in and out of the hospital because they just were not following the diets we had prescribed for their condition. This is a reality. People think taking medication is easier than following a diet. And this is why I believe a proper description of the real Mediterranean diet is important. Once again with this new study, dozens of media outlets talked about the Mediterranean diet in vague terms making it look like it some sort of complicated diet that requires a lot of effort. Well, I'm here to tell you that it is not complicated and it is not expensive and it is not restrictive.
So, the lesson here is that while this study is positive, we first have to make sure that individuals with cardiovascular disease spend time learning about the real Mediterranean diet and its simplicity. Show them that eating delicious food is in fact easier and more enjoyable than taking a pill. But they need the tools on how to follow this diet such as simple cooking as well as shopping skills. And this is what I am trying to accomplish here at Olive Tomato. Simple recipes, simple tips, up to date information.
And since we are talking about simplicity, I want to share once again my guide: The Mediterranean Diet Manifesto. Just stick it to your fridge and follow.
Written by Elena Paravantes.
Copyright © 2016 Olive Tomato. All Rights Reserved.