Spanakorizo: A traditional Greek rice and spinach dish that will become a winter comfort food, thanks to its wonderful flavor and texture.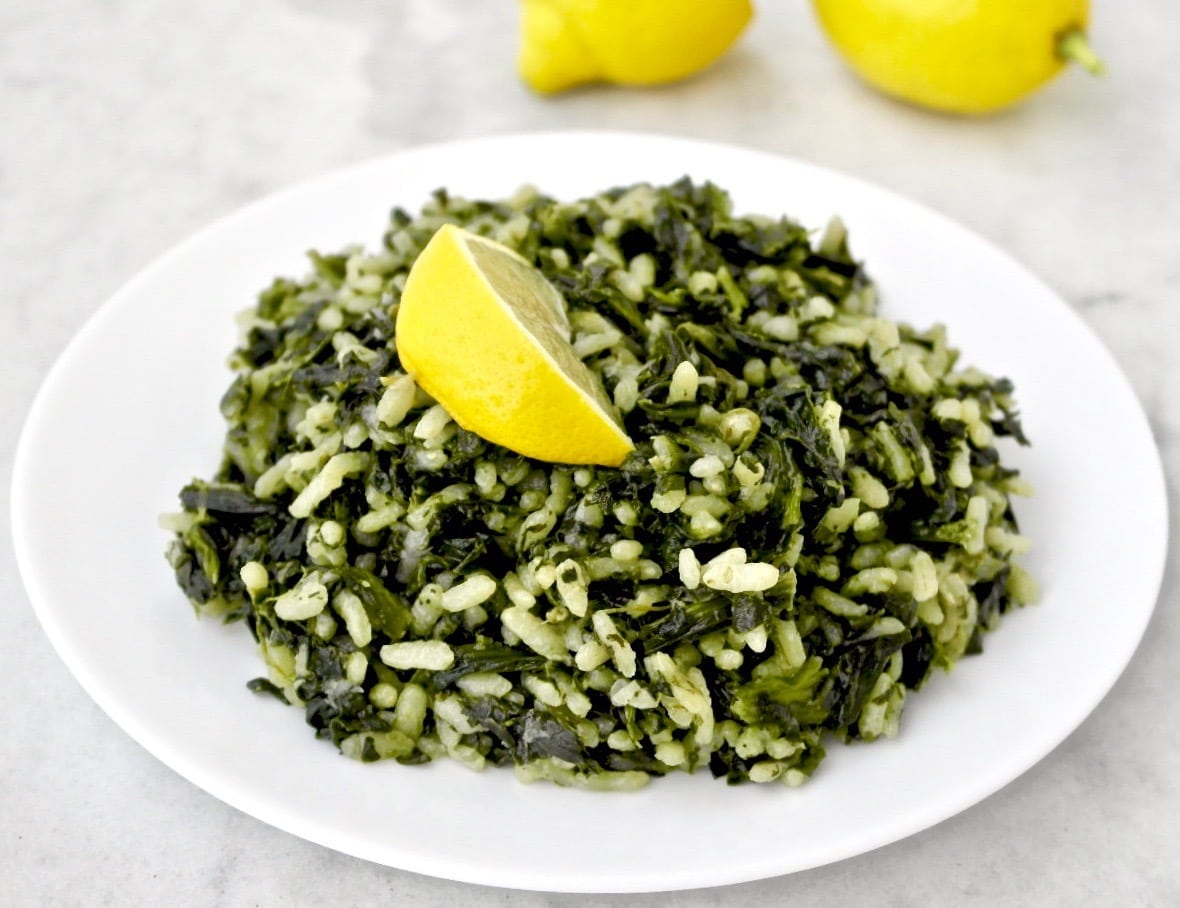 Ah the spanakorizo … This dish was a winter staple in our home. My mom would make it once a week, all winter long. She would usually accompany it with a small cheese pie (tiropitaki) or one or two Greek meatballs, and while you may think that as children we would hate it because of the spinach, it actually was a comfort food.
It is soft and creamy, and along with plenty of lemon juice, a bit of olive oil and of course feta, it was delicious (and still is).
Spanakorizo is such a simple dish as many Greek ones are, but yet delicious and easy to make. Oh, and did I mention its nutritional value? Spinach full of antioxidants and fiber, the lemon helps with some absorption of the iron in the spinach and the rice is a source of carbohydrates to provide sustenance. The actual recipe has little olive oil during the cooking stage, but adding some olive oil while serving makes it even more delicious and the addition of fat helps with the absorption of antioxidants. Now this recipe makes about 2 main course servings, so basically you are getting ½ pound of vegetables in one sitting. The beauty of the Greek diet… getting your vegetables effortlessly.
The rice
A note about the rice: It is important to use the right type which in this case is medium grain rice. You do not want short grain rice which may end up giving your dish a sticky texture, but not long grain either as you will not have the smooth texture we are looking for in this recipe. As for brown rice, it takes a while longer to cook, it will not have the same texture will not cook to the point of being creamy and as a result you may be overcooking the spinach as well.
*Most traditional Greek recipes require medium grain rice, here in Greece it is called "Carolina" but you may use Arborio if you are unable to find medium grain. From a quick search on Google there are several brands that carry medium grain rice.
Serve it with
This can be enjoyed plain (without feta) for a vegan dish or with feta. And this is considered a main course, but you may serve it as a side dish. It goes well with fish or beef patties (biftekia).
You may also like these recipes
Greek cuisine has numerous delicious rice-vegetable combo recipes. Check out some of my favorites:
Greek Leeks and Rice – Prasorizo
Greek Cabbage with Rice – Lahanorizo
One-Pot Greek Zucchini Rice
Want More Mediterranean Diet Guidance + 100 Recipes?
Get my top-rated book!
Get it here >> The Mediterranean Diet Cookbook for Beginners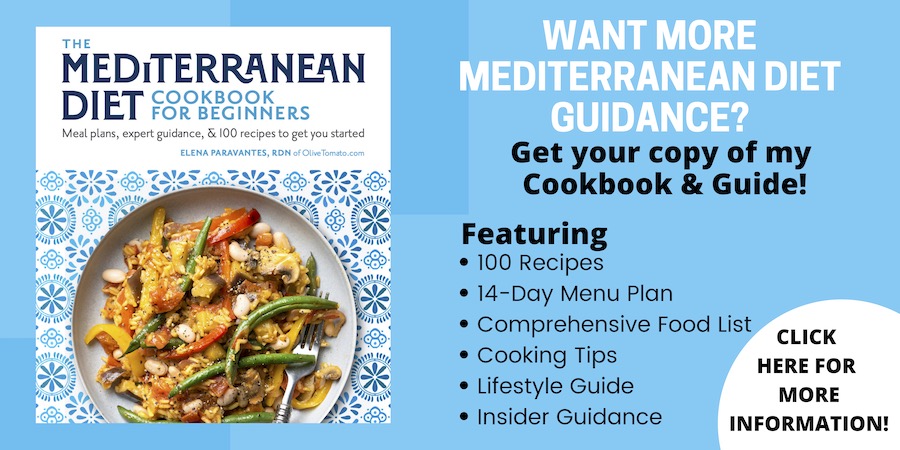 Greek Spinach and Rice – Spanakokorizo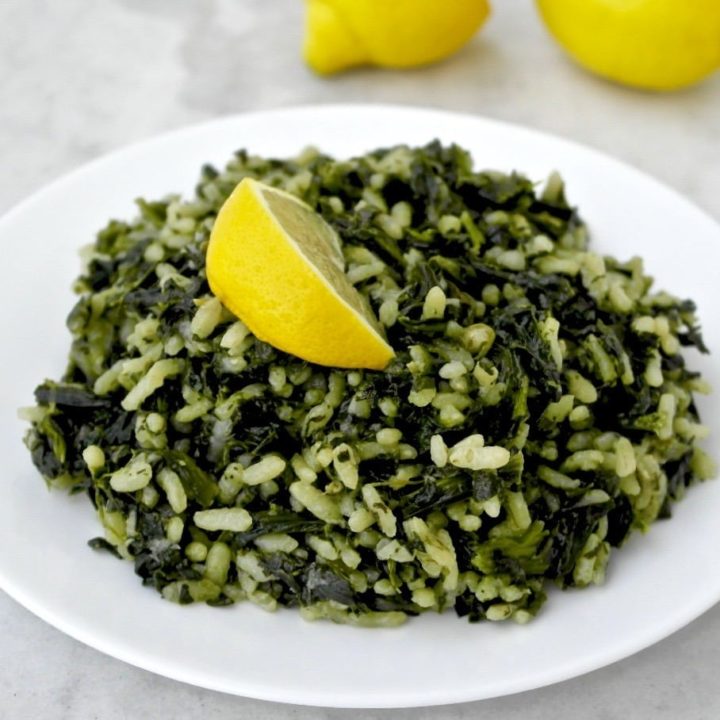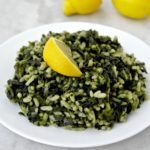 Spanakorizo: A traditional Greek rice and spinach dish that will become a winter staple, thanks to its flavor.
Servings:
2
Main Course servings or 4 sides
Print Recipe
Pin Recipe
Ingredients
1

pound (450 g)

fresh spinach rinsed

Juice of half lemon

1

onion chopped or 2-3 spring onions chopped

2 ½

tablespoons

olive oil plus more for drizzling

I teaspoon dry mint (preferably spearmint)

1-2

tablespoons

chopped dill

2/3

cups

water

1/3

cup (60 g)

medium grain rice

Salt/Pepper

1

tablespoon

tomato paste

optional
Instructions
In a large pot wilt the spinach with the lemon juice and 1 teaspoon olive oil. Set aside to drain.

In another pot sauté the onion with the rest of the olive oil until soft.

Add the spinach, dry mint, dill and 2/3 cup warm water and bring to a boil.

Add the rice, salt (as needed) and pepper and simmer, covered for about 20 minutes until rice is soft. Add additional warm water as needed.

Serve warm or at room temperature with a squeeze of lemon juice and a bit of olive oil and feta.
Notes
You may add the tomato paste in step 4.
Nutrition Facts
Greek Spinach and Rice – Spanakokorizo
Amount per Serving
% Daily Value*
* Percent Daily Values are based on a 2000 calorie diet.
DID YOU MAKE THIS RECIPE?
Leave a comment or share on instagram and mention @greekdiet
---
PIN IT AND SAVE FOR LATER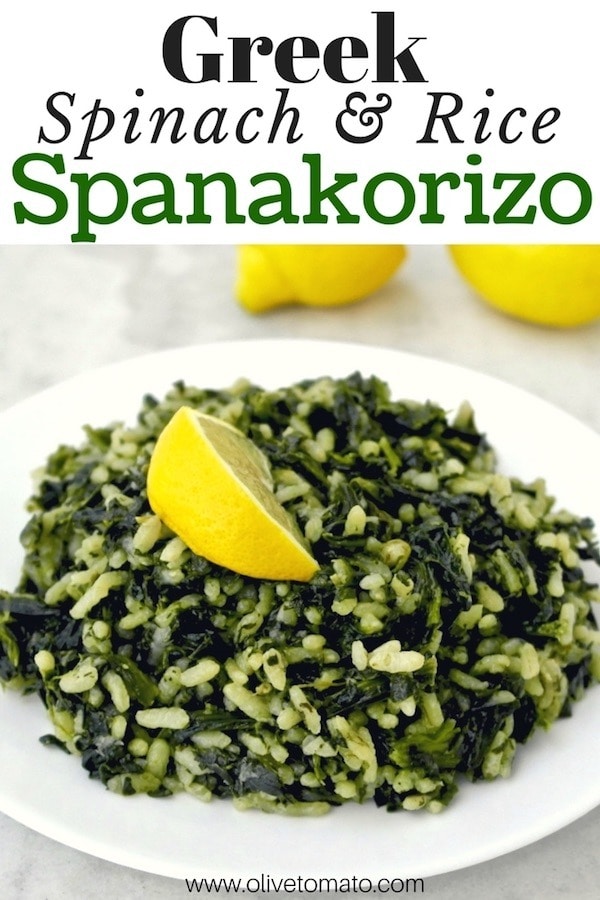 Image by Elena Paravantes © All Rights Reserved
---