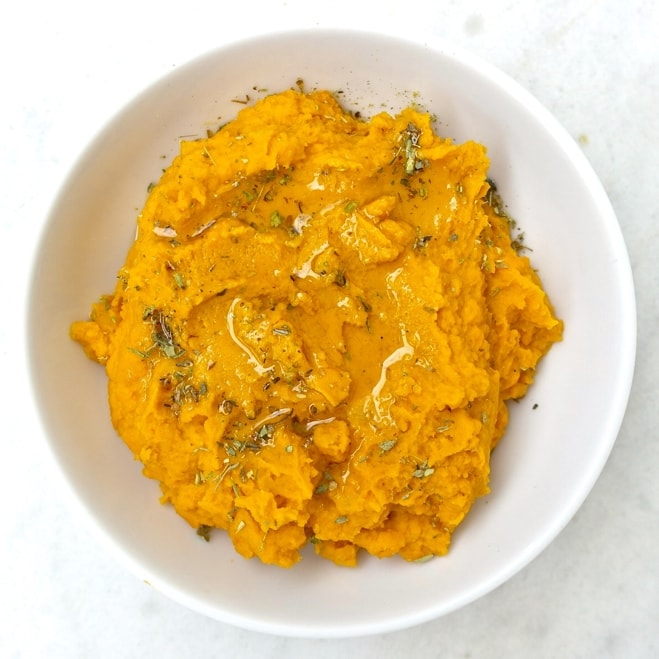 If you like Greek cuisine or have traveled to Greece, you surely have tasted fava, it is yellow split pea cooked to a creamy puree, served with onion and capers and of course drizzled with olive oil. The fava, is not to be confused with the fava bean, this is yellow lentil or  yellow split pea.
Although it is a considered a poor man's food, it has gained great popularity in recent years and you will find it at almost every tavern. Sometimes you get the basic recipe, other times a bit more fancy with additions such as caramelized onions. This dip is  vegan as it was commonly consumed during times of the Greek Orthodox religious fasting which does not allow most animal products.
Now this recipe is a variation of the traditional fava dip, inspired by a wonderful little Greek book I received from my sister about the cooking in Greece during the Occupation (WWII). This book was first published in 1943, and basically talks about how creative people were during the war and how they had to make use of cheap, accessible ingredients such as beans and greens. Here the author talks about how he got sick of regular fava and decided to cook it with onion, tomato and garlic and add oregano. While there is no specific recipe, I worked with his description and the result was delicious. Creamy and tasty, and goes perfect with feta cheese. Note this is a complete meal, although nowadays the traditional fava is served as an appetizer, it is a main course, it is a perfect vegetarian meal. You can also use it as a spread, perfect in sandwiches adding some protein and fiber. I spread it on a slice of hearty whole wheat bread for a quick and filling snack.
This may have been a poor man's food but nutritionally, it is rich in nutrients: plant protein, fiber, antioxidants, this dish has it all.
This was easy to make as the fava does not require soaking and it cooks fairly quickly.
Greek Bean Dip with Tomato and Oregano-Fava Yahni
INGREDIENTS
1 large onion diced
2 cloves garlic minced
4 tablespoons of olive + 1-2 tablespoons
2 cups yellow split peas or yellow lentils (Greek fava) rinsed
2 cups tomato puree or chopped tomatoes
Water
Oregano
Salt and Pepper to taste
DIRECTIONS
1. In a medium pot sauté the onion until soft with the 4 tablespoons olive oil. Add the garlic and continue to sauté for about 30 seconds.
2. Add the yellow split peas and sauté for another minute.
3. Add the tomato and mix well.
4. Add about 2 cups of water and lower the heat so that the beans are simmering.
5. Once the water is absorbed continue to add a bit of hot water simmering until the beans are soft (about 40-50 minutes).
6. Once the beans are soft continue heating and mix quickly for about 5 minutes. The fava will break.
7. Add salt and pepper (I added about 1 teaspoon of salt) and mix well. At this point you can continue stirring vigorously with a spoon until the fava becomes somewhat creamy or you can use food processor.
8. Serve warm adding the rest of the olive oil and sprinkling dry oregano.
9. Serve with feta or cured fish as a main course or as a dip.
Makes 2-3 Servings
Photo by Elena Paravantes