These traditional Mediterranean mini olive pies are filled with a delicious and savory mixture of Kalamata olives, herbs and onion. Great for a snack, appetizer and even breakfast.
These mini pies are really good and so easy to make. Savory, fragrant and hearty! Inspired by the traditional Cypriot recipe here is my version of this delicious recipe. These are typically vegan, the filling contains olives, onion and herbs, but for this version I added a bit of feta which you can leave out if you are having them vegan. The crust is handmade and made with whole wheat flour and olive oil,no seed oils or palm oil that you find in ready made crusts.
Olives in Greek cuisine are typically used as is, either in the famous Greek salad or to accompany a bean dish such as lentils or as an appetizer. They are not really used in sauces or other preparations with the exception of breads or pies. These bite size olive pies originate in Cyprus, but we really love them here in Greece too!
These are great for breakfast in my opinion. If you were following the 21 Day Mediterranean Diet Challenge last month you will recall the challenge of eating a savory breakfast, these are great for that. Traditionally, years ago many Greeks would eat bread, olives and cheese for breakfast, and these little pies fit the bill perfectly. And if you are in a hurry, you just grab a few and you are out the door. They are also great as snacks or a light meal. The kids loved them, I served them along with some carrot and cucumber sticks.
How to Make these Delicious Olive Pies.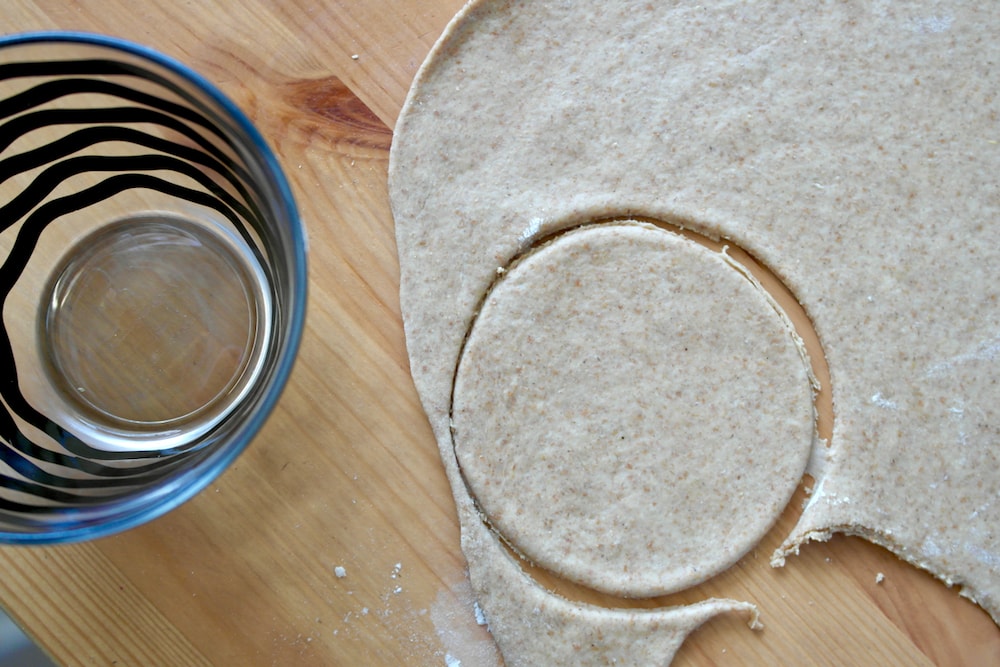 Start with the dough. Most grandmothers when making crusts, breads etc. they will often say "add as much as it takes" in other words the exact measurements are not really exact. So, with this dough I provide specific amounts of flour and water, but you may need to add more of either flour or water to get the dough the right consistency. Dough should be somewhat smooth (won't be completely if you are using whole grain flour) and soft. You will cover it and let it sit for 30 minutes. Also it is better to weigh your flour if possible, I provide both volume and weight measurements.
Once it is ready, you can separate the dough in 16 pieces and roll it out in 4-inch diameter disks or you can roll out the dough like I did above and cut out the circles.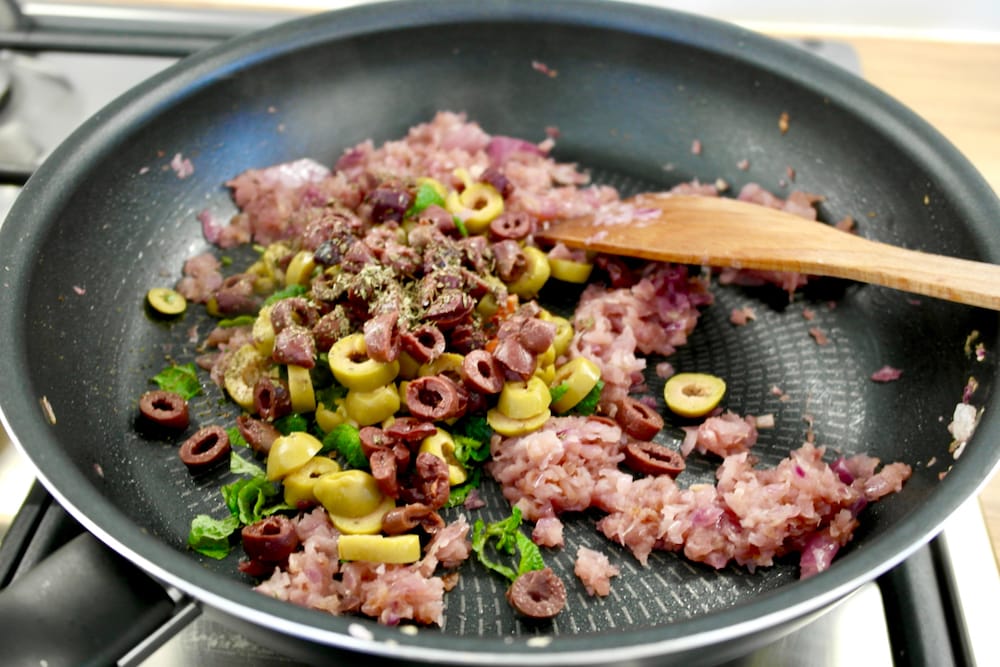 Prepare he filling, Kalamata olives are the best to use because they are so flavorful. Here I added a few green olives for color, but flavor-wise I find that using only Kalamata works best. Make sure you chop the onion in a food processor, or you grate it. Also, you don't want to add salt here as the olives already have salt.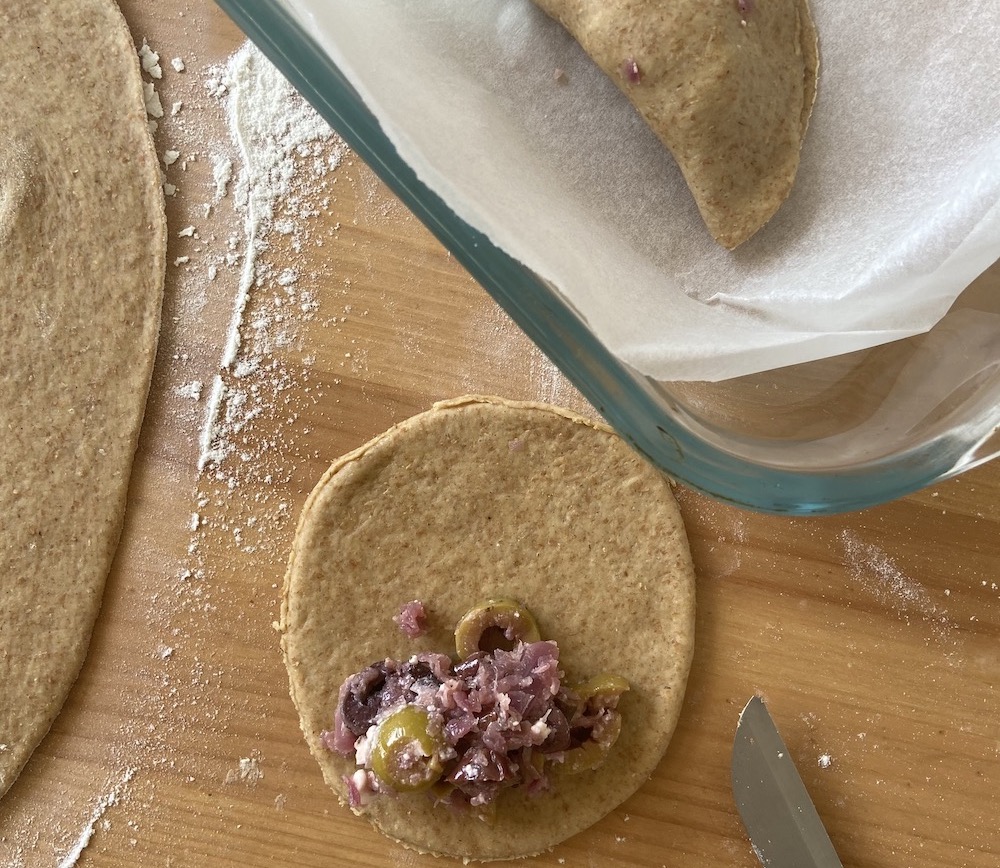 You place about 1 ½ tsp of the filling in half of the round piece of dough and fold over to close it. Wet your fingers with a bit of water and press closing well.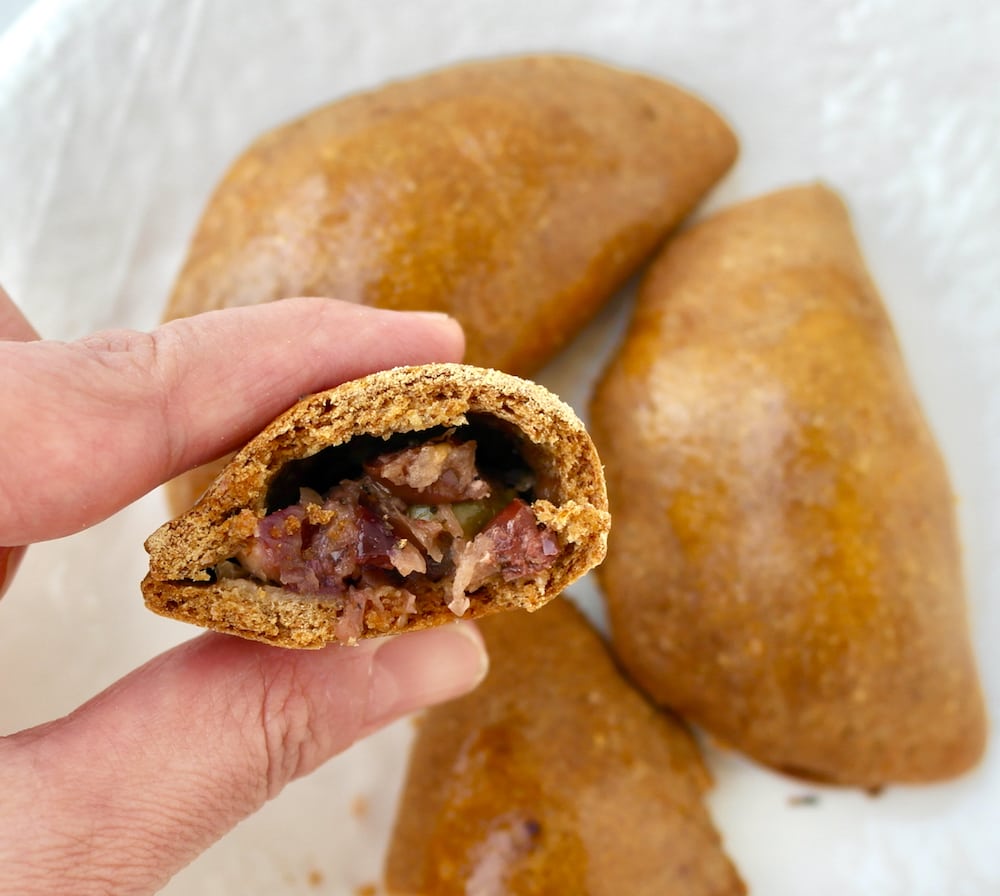 You will brush them either with egg yolk or olive oil and bake them. Let them cool at least for 20 minutes before eating. I find they taste the best at room temperature.
These freeze well, just let them cool completely before freezing. Or you can freeze after assembling and before baking.
Mini Olive Pies – Eliopitakia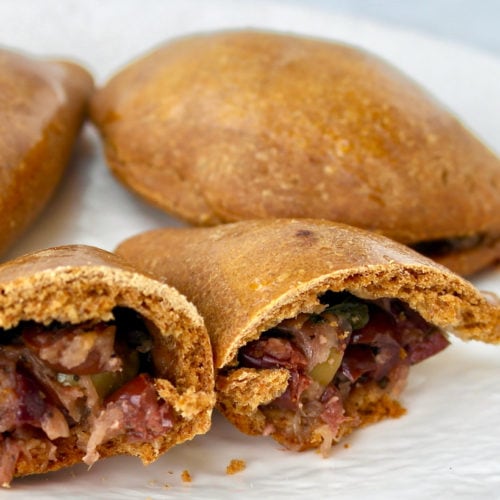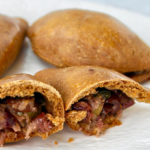 These savory mini olive pies are scrumptious, fragrant and so easy to make!
Print Recipe
Pin Recipe
Ingredients
For the Dough
1

cup + 1 tbsp (150 g)

all-purpose flour

1

cup (150 g)

whole wheat flour

1

tsp

baking soda

¼

tsp

baking powder

A pinch of fine salt

6

tbsp

water

2 ½

tbsp

Extra virgin olive oil
For the Filling
1

tablespoon

Extra virgin olive oil

1

large onion grated or finely chopped in food processor

2

cups (200 g)

Kalamata Olives sliced or roughly chopped (pitted)

½

cup

fresh mint chopped or 2 tbsp dry mint or a combination of both

A pinch of sugar

Fresh ground black pepper

2

ounces (60 g)

crumbled feta

optional
For the Egg Wash (optional)
Instructions
Line a pan with parchment paper.

In a bowl mix the flour with the baking powder, baking soda and salt. Add the water and olive oil and mix with a spoon until all ingredients are mixed. With your hands knead the dough until it is fairly smooth and soft, adding small amounts of water or flour as needed. Wet your fingers with some olive oil so dough does not stick to your hands.

Cover the dough with plastic wrap and let it rest for 30 minutes.

In the meantime, prepare the filling. Heat 1 tbsp olive oil in a pan and sauté the onion for about 5 minutes. Add the olives, mint, sugar and ground pepper, mix and heat for about 1 minutes. Set aside. Once cool, add the feta if using.

Once the 30 minutes have passed, preheat oven at 350 F (180 C).

Sprinkle flour on your work surface and take the dough and separate in 16 pieces and roll it out in 4-inch diameter disks or you can roll out the dough and cut out the circles.

Fill half of it with 1 ½ – 2 tsp of olive filling, fold over the other half of the disc and close off the pie, pinching with your fingers to close it well.

Place on the prepared pan. Repeat with the rest of the pies and then brush with egg wash or olive oil.

Remove from oven and let them cool for 20 minutes before serving.
DID YOU MAKE THIS RECIPE?
Leave a comment or share on instagram and mention @greekdiet
---
Photos by Elena Paravantes © All Rights Reserved