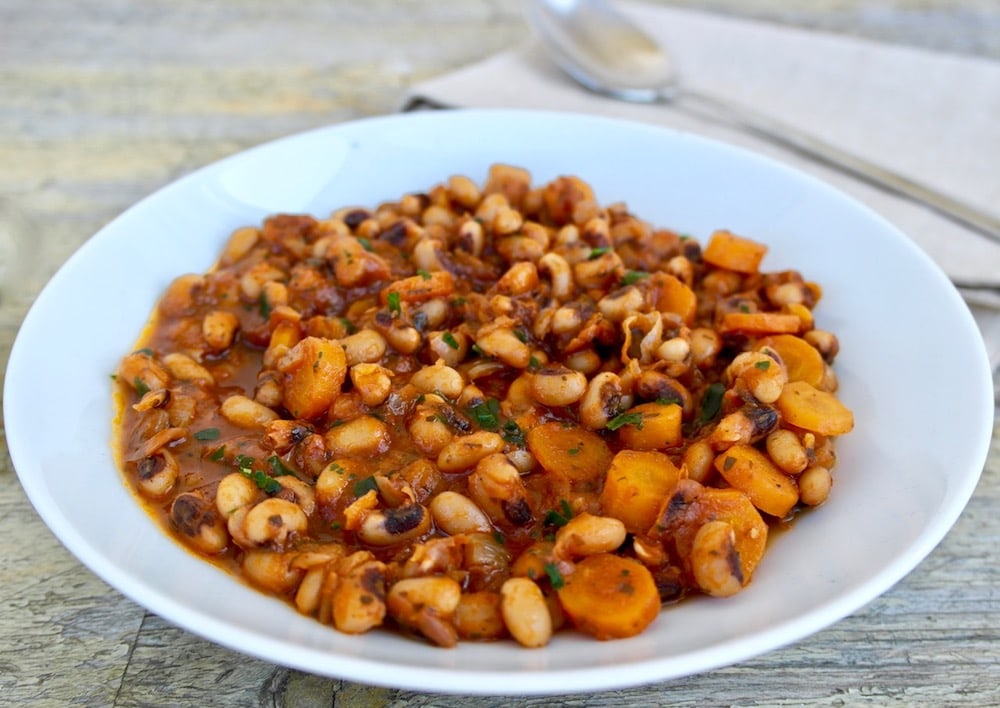 This is the classic way black eyed peas are prepared in Greece: stewed with onion, tomato and herbs until thick. This One Pot Greek Black Eyed Pea dish is hearty and good. It is often combined with spinach or other greens.

While we often see black eyed peas in salad recipes, cooking them as a stew really brings out the flavor and that thick sauce. We often associate this bean with southern and Caribbean cuisine, but in fact they are quite a traditional food in Greece, we call them mavromatika. When we look at this recipe, it has many things in common with southern style black eyed peas (minus the meat): cooked on the stovetop with onions and herbs, these black eyed peas are very versatile, as you can add other greens, or other herbs depending on the season.
Nutritional Value of Black Eyed Peas
Although it is called a "pea" it is actually a bean, and one of the healthiest ones. I find that it is underestimated in regards to its health benefits. Black eyed peas are full of nutrients, let's see how much: 1 cup of cooked black eyed peas contain about 220 calories, 15 grams of protein and 11 grams of fiber. That in itself makes these beans a perfect food for those wanting lose weight, maintain balanced blood sugar levels and feel full and satisfied. But that's not all, a cup of these wonder beans also contains high amounts of folate, iron, magnesium, copper and thiamin fulfilling over 20% of our daily needs for these vitamins and minerals. Black eyed peas are also a source of protective antioxidants. In addition to all this , they are better tolerated than other types of beans.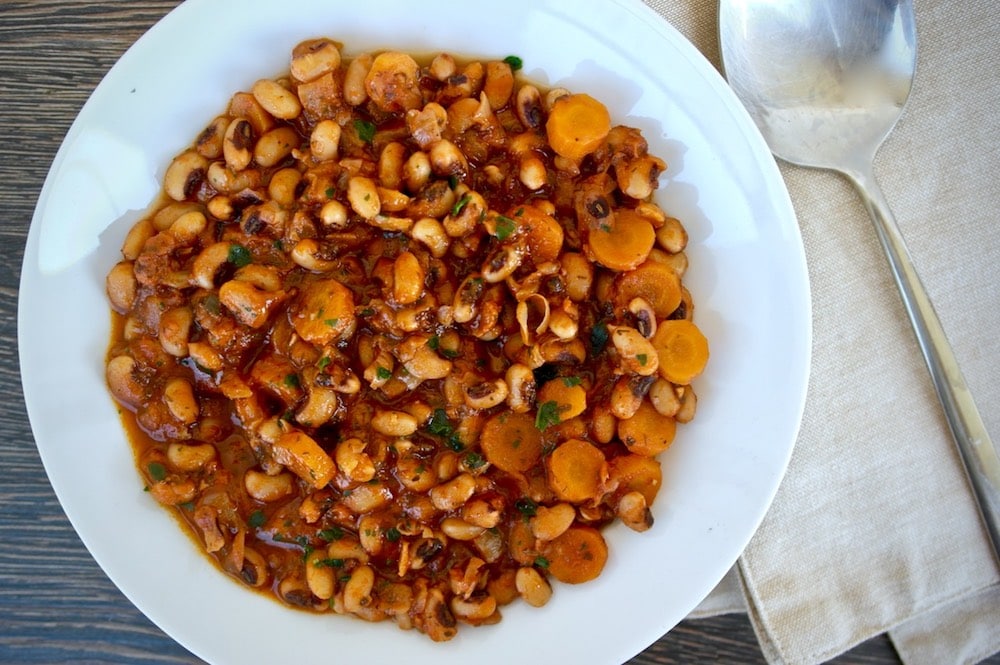 How to Prepare Black Eyed Peas
One of the reasons black eyed peas are so great apart from their flavor and nutritional value, is that they very easy to prepare. You do not need to soak them overnight and they cook quite quickly. Since they are so easy to prepare, I recommend using dried beans rather than canned.
If you intend to use them in a salad, you can soak them for 30 minutes. Then you rinse and simmer in plenty of water (make sure they are covered by 4 inches or 10 cm). They should be ready in about 30-40 minutes. If you are using them for a cold dish/salad you do not want to overcook, you do not want them mushy.
For this particular one-pot recipe, we will cook the black eyed peas along with tomato and water until they are stewed as you will see in the recipe below.
One Pot Greek Black Eyed Peas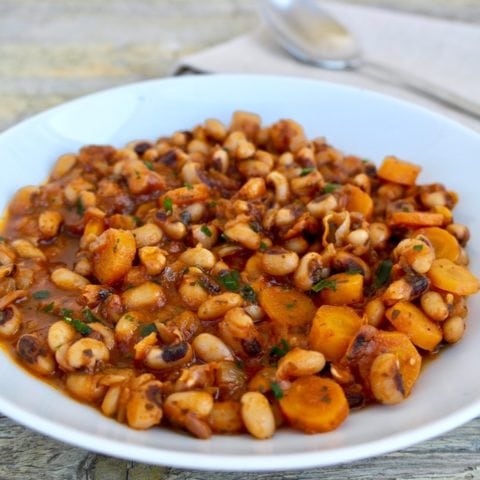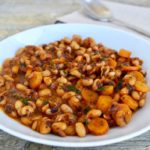 Print Recipe
Pin Recipe
Ingredients
1

cup

dry black eyed peas

7 ounces/200 grams

¼

cup

olive oil

1

large onion chopped

2

medium carrots sliced thinly

1 ½

cup

crushed tomatoes

may use canned- 12 ounces/360 grams

1

bay leaf

2-3

tablespoons

chopped dill

parsley for serving

salt/pepper
Instructions
Soak the black eyed peas in water for about 30 minutes. After that rinse in plenty of water.

In a pot, heat 4 tablespoons of olive oil and sauté the chopped onion and the carrot until the onion is translucent.

Add the black eyed peas to the pot and sauté for 1-2 minutes.

Add the tomato, the bay leaf, dill and pepper and mix well.

Add hot water until the beans are covered (about 1 inch over).

Simmer for 30-40 minutes checking the water levels, add a bit of hot water as needed (about 2-3 tablespoons each time), you do not want this to be watery or like a soup, but thick. I prefer to add less water in the beginning and add as needed later.

The beans are ready when they are soft.

Remove from heat and remove the bay leaf, add salt to taste and mix.

Serve as is or with a sprinkle of parsley. You may also accompany it with a piece of feta.
DID YOU MAKE THIS RECIPE?
Leave a comment or share on instagram and mention @greekdiet
SAVE FOR LATER AND PIN IT!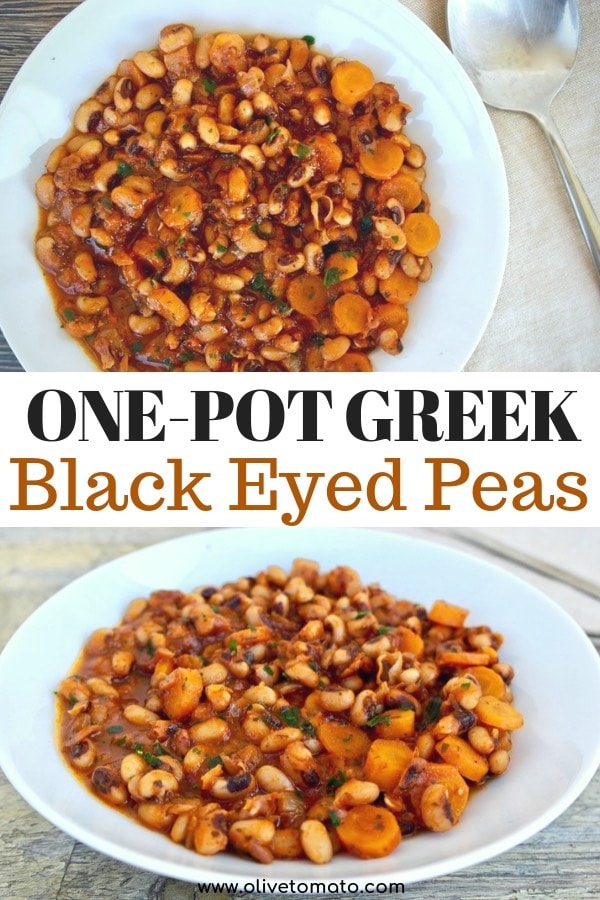 Photos by Elena Paravantes © All Rights Reserved