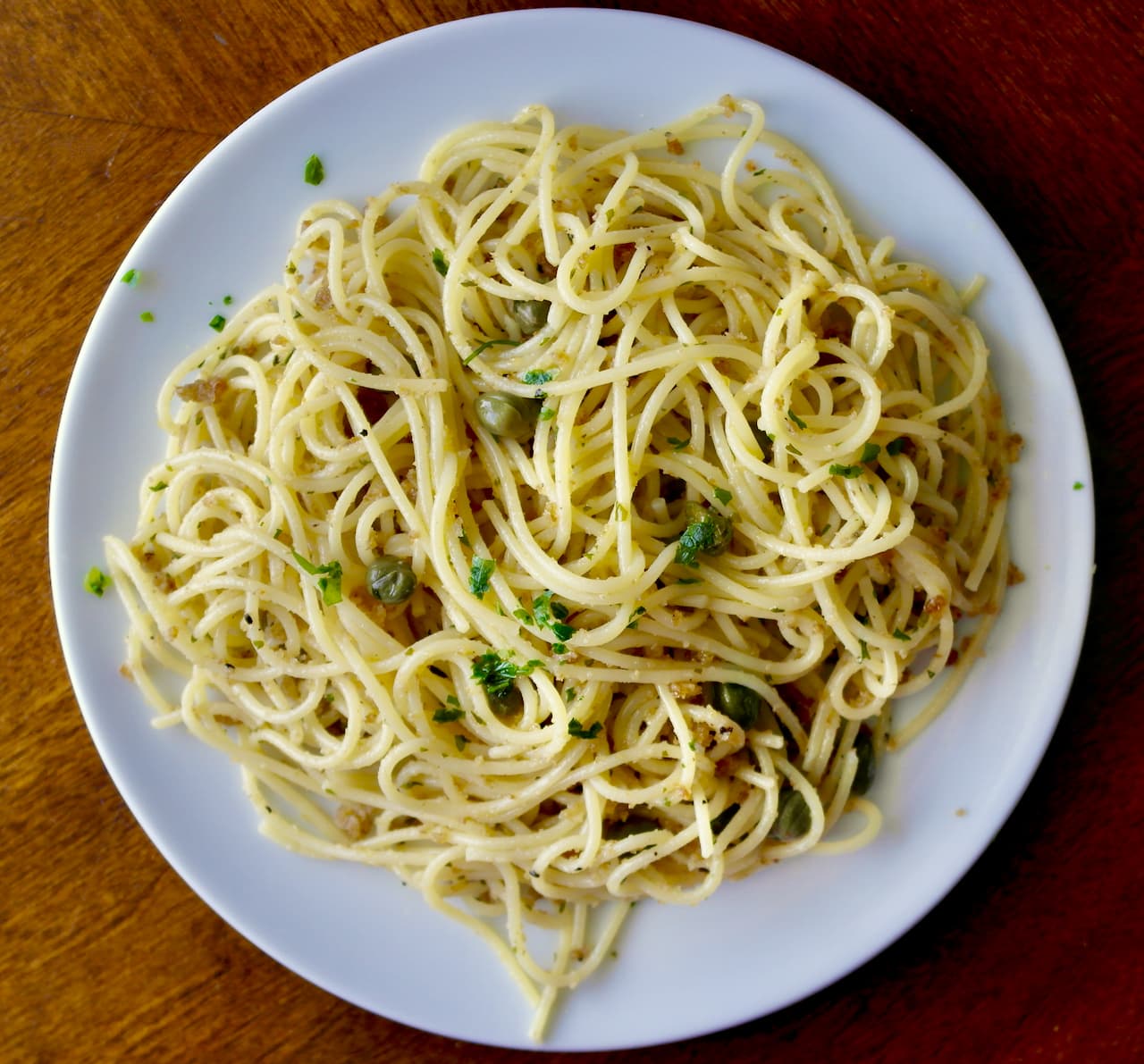 I remember having pasta with capers when I first started driving. It was my first time driving downtown. I was excited to finally be on my own and go into the city. With some friends we went to a fancy Italian restaurant and I ordered this simple pasta: pasta with capers. I loved it. It was so comforting and full of flavor, just with a few ingredients. After all these years I still remember that meal.
In this recipe, I've tried to re-create that experience. I also added whole-wheat breadcrumbs as is common in Italian recipes for a bit of texture. If you love capers, you will love this pasta. I have lately been quite enamored with capers. I found some wild capers from the island of Tinos as well as the famous Santorini capers and I've been using them everywhere: on rusks, in salads or just plain as an appetizer. They are a great source of antioxidants, even in small amounts (you don't need to eat huge amounts to get the benefits) and it appears that if you eat them with meat, the antioxidants prevent the formation of certain byproducts of digested meat that have been linked to an increased risk of cancer and heart disease. Here in Greece we also have pickled caper leaves, which we put in salads or just enjoy as a meze.
Pasta is very much part of the traditional Italian Mediterranean diet, but not western style in huge amounts, but as an accompaniment to a meal. I've calculated about 2½ ounces of uncooked pasta per person for a main dish, which is a good amount. If you have this as a first course , I would have half of that. If you have it as a main course, accompany it with a large salad for a filling meal.
This is a very easy and quick meal, to prepare the "sauce" takes only a few minutes.
Pasta with Capers, Garlic and Toasted Breadcrumbs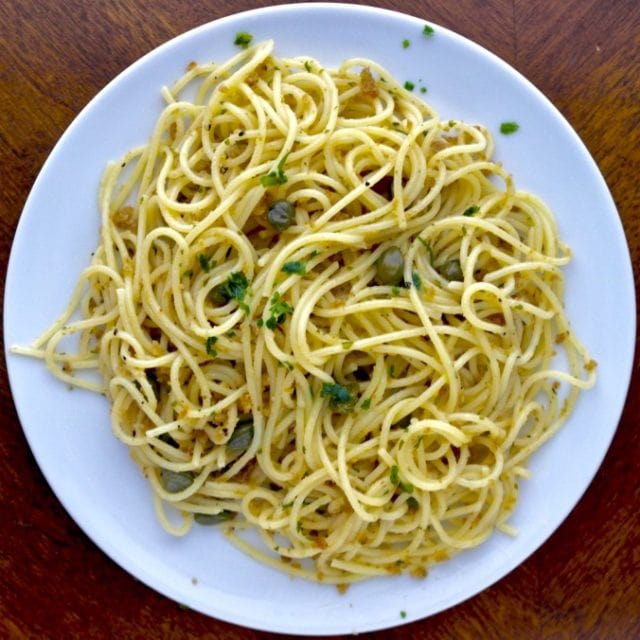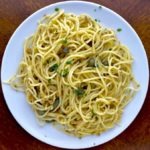 You get a lot of flavor with this effortless pasta dish made with juicy capers and golden breadcrumbs crisped in olive oil.
Print Recipe
Pin Recipe
Ingredients
10

ounces

dry spaghetti (300 grams)

4

tablespoons

capers rinsed

1

garlic clove finely chopped

½

cup

white wine

⅓

cup

olive oil

6

tablespoons

breadcrumbs

I used whole-wheat

3

tablespoons

chopped parsley

salt and pepper
Instructions
Boil the spaghetti according to directions.

While the spaghetti is boiling, heat the olive oil in a pan over medium heat.

Sauté the garlic for one minute.

Add the capers and parsley and sauté for one more minute and then add the wine and stir until evaporated.

Add the bread crumbs and continue sautéing until breadcrumbs are golden about another minute.

Drain the pasta and add it back to the pot and pour over the sauce and mix well until pasta is well coated.

Serve with freshly ground pepper and salt as need and fresh chopped parsley.
DID YOU MAKE THIS RECIPE?
Leave a comment or share on instagram and mention @greekdiet
Photo by Elena Paravantes © All Rights Reserved