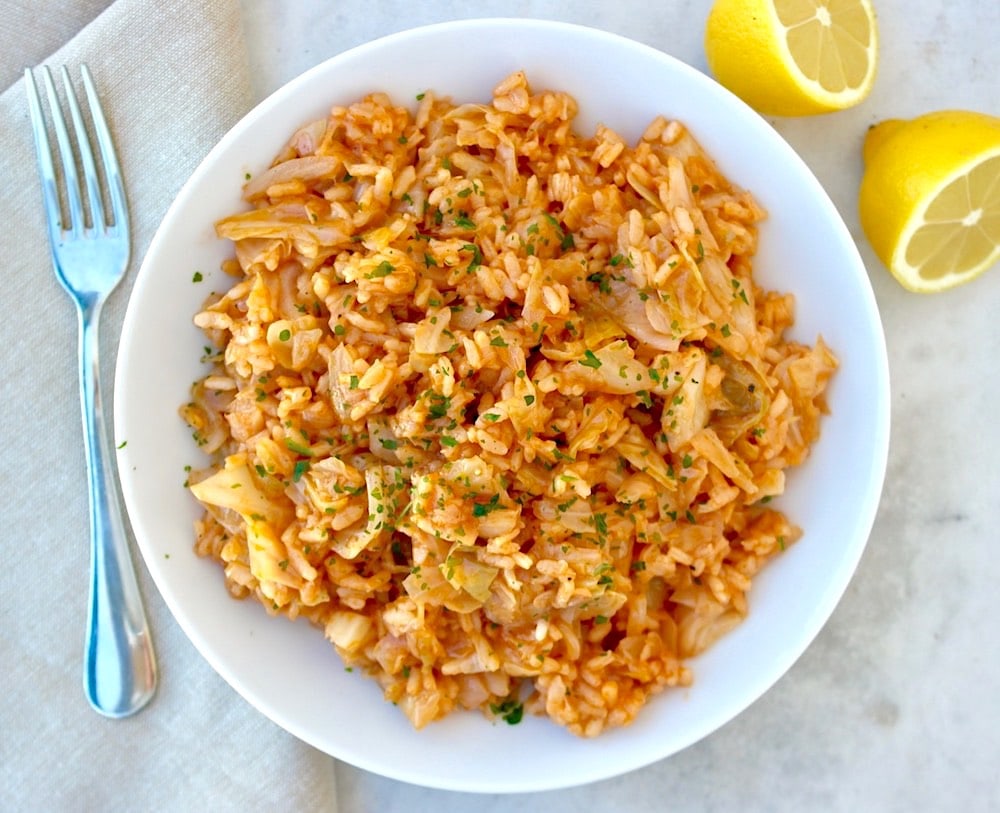 Greek cuisine has a way of making almost any vegetable desirable. Even if you thought you didn't like it, somehow, when cooked the Greek way, it manages to be something you want to eat again and again. This can be said for this traditional cabbage and rice dish.
We usually associated cabbage with coleslaw or that famous cabbage soup diet (remember that?) but here it is stewed to perfection along with rice and it is so good and comforting. Trust me, yes there may be cabbage, but you will love it!
Lahanorizo belongs to a category of the popular one-pot Greek vegetable and rice dishes in which all the flavors meld together, the more popular one being spanakorizo (spinach and rice) and my favorite prasorizo (leeks and rice). Apart from the flavor, these dishes are quite (yes you guessed it) healthy. Once again you manage to get large amounts of vegetables in one serving. And these are vegetables rich in antioxidants, plus you are cooking this in olive oil adding even more goodness. Cabbage in particular belongs to the family of the cruciferous vegetables and is rich in vitamins and minerals, but also potent antioxidants and has been associated with reduced inflammation.
To serve
This is served as a main course. If you are eating animal products you can also add feta which is a perfect accompaniment to this, and perhaps some bread, although you don't really need it as it has the rice. And do not forget the lemon, it really brings out the flavors! And as with all the lathera dishes, this is good for 2-3 days. It actually tastes better the next day. I prefer it warm, but it can also be served at room temperature.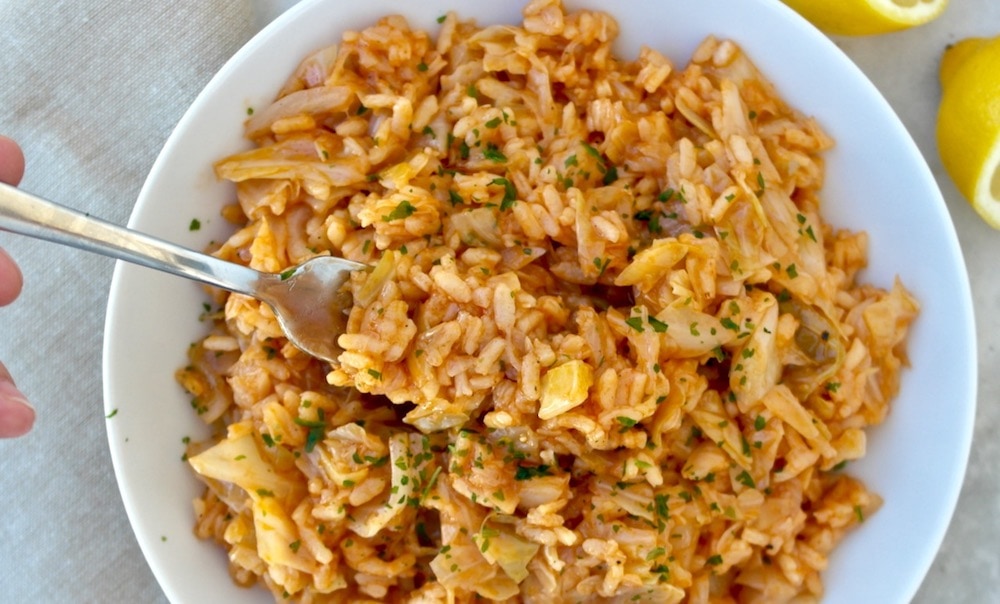 This particular recipe is the basic version which I like the best, as there are not to many ingredients which may overwhelm the cabbage, but you can also add leeks, spring onion and carrots. You can also use more vegetables and less rice, just make sure to adjust the water. This works well with a bit of spice, I added some cayenne pepper, you can also try pepper flakes.
A word about the rice
Rice is very important in these dishes, as I've mentioned before. Many of you have asked me if you can use brown rice, you can but it will not get that creamy, melt in your mouth feel. Also no long grain rice either. Medium grain rice is what you need, here are some brands that offer medium grain that I found through a quick online search: Goya Medium Grain Rice, Carolina Medium Grain White Rice, Watermaid Medium Grain Rice.
Spicy Greek Cabbage with Rice -Lahanorizo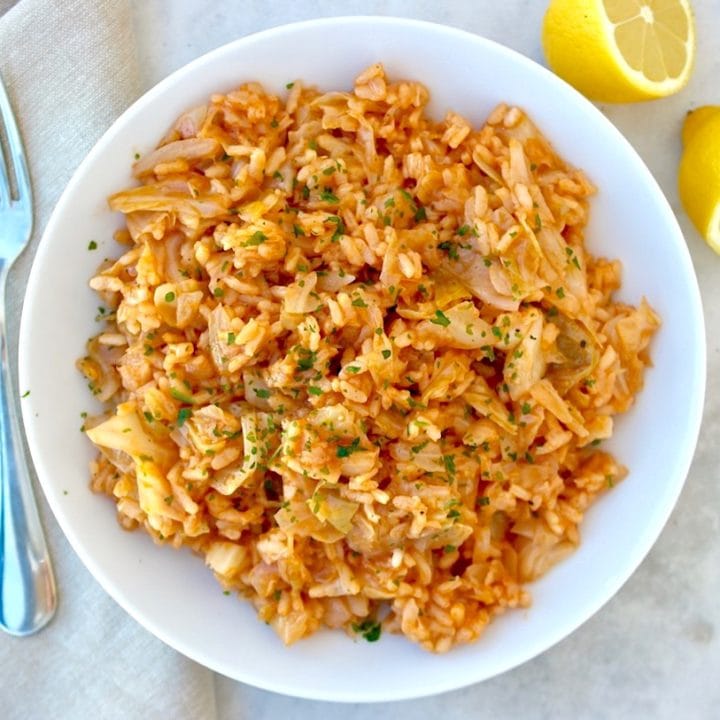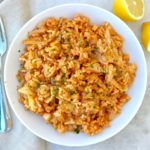 Creamy and Comforting Traditional Greek Rice and Cabbage.
Print Recipe
Pin Recipe
Ingredients
¼

cup

olive oil

1

medium onion diced (about 1 cup or 4 oz or 115 grams)

½

of a small cabbage (about 10 oz or 300 grams sliced (not too thin)

½

tablespoon

tomato paste

salt/pepper

About ½ teaspoon cayenne pepper

½

cup

medium grain rice (uncooked)

Lemon and parsley for serving
Instructions
Heat olive oil in a medium pot

Add the onion and sauté until soft about 5-7 minutes

Add the cabbage and mix until cabbage is coated with the olive oil. Heat for 2-3 minutes (stirring) until cabbage has wilted somewhat.

Add about 1 cup hot water hot water and simmer for 20-30 minutes with pot covered until cabbage is soft. Add more water if needed.

Once cabbage is soft add the tomato paste that has been dissolved in 2-3 tablespoons of water, and ½ teaspoon salt, freshly ground pepper and cayenne pepper and mix.

Add ½ cup (uncooked) medium grain rice, stir so that rice is coated with the oil.

Add 1 ¼ cup hot water and simmer (pot covered) until rice is almost cooked (about 15 minutes). Add more hot water in small amount if needed. Once rice is ready, but there is still a bit of water left in the pot, remove from heat and keep covered until rest of water is absorbed. Rice should be somewhat creamy.

Serve with plenty of lemon and sprinkle with parsley.
Notes
To reheat, you may add a bit more water to soften it.
You may serve with some feta.
DID YOU MAKE THIS RECIPE?
Leave a comment or share on instagram and mention @greekdiet
SAVE FOR LATER AND PIN IT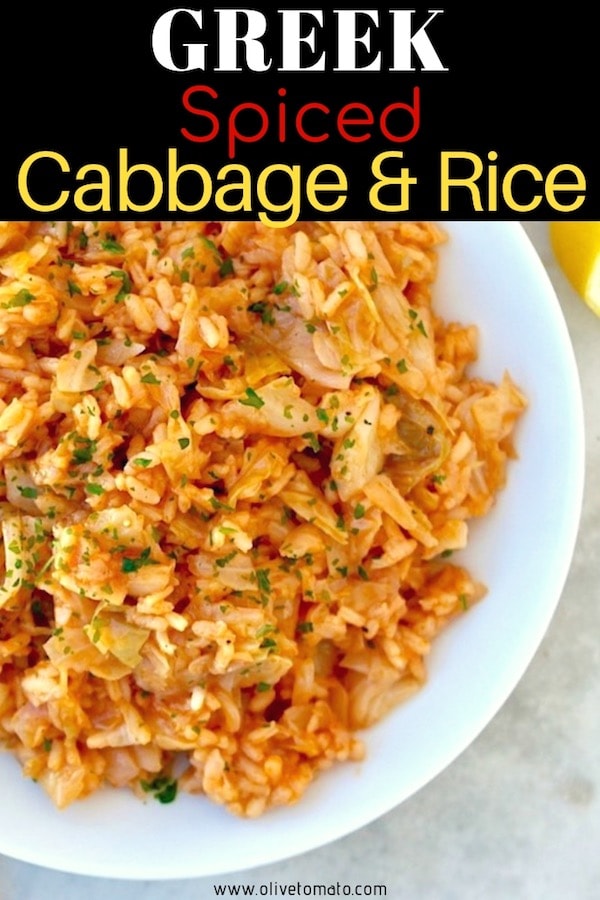 Photos by Elena Paravantes All Rights Reserved