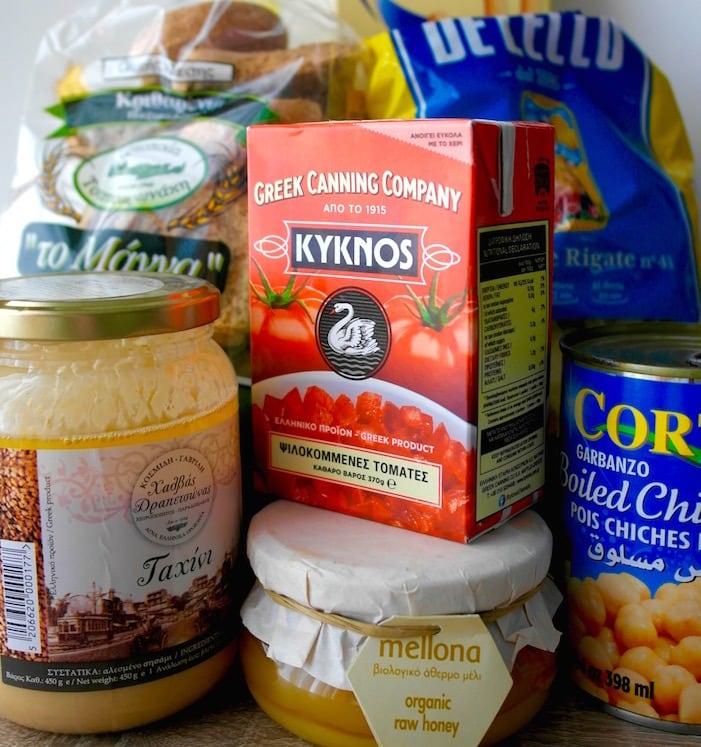 You never know when you will be in a situation where you can't go out shopping. It's times like these that I am reminded of the importance of having non-perishable food items on hand for meals I can make even if there is nothing in the refrigerator. By non-perishable I don't mean potato chips and boxes of macaroni and cheese, but staples that traditionally are part of the Mediterranean diet. These are items that I make sure I never run out of and they all play an important role both for their nutritional as well as culinary aspects. We all know that if there are unhealthy items in your kitchen, in times of hunger and weakness you will eat them. So it's much easier to avoid them in the first place by maintaining a healthy mediterranean inspired pantry.
Here is my basic list:
-Olive Oil-
Of course. It is the basis of all things Mediterranean. Make sure you buy extra virgin olive oil and look for a harvest date on the bottle
-Red Wine Vinegar-
Perfect for salads and salad dressings.
-Tomato paste and canned chopped tomatoes-
Much needed for many Greek casseroles (lathera) especially in the winter when good tomatoes are not available.
Look for those in bpa free containers, also they should not contain added salt
-Olives-
We have all sorts of olives, perfect for a snack or in salads and pasta
-Sun-dried tomatoes-
We love sun-dried tomatoes, they are treat! We eat them as a quick appetizer, but they are great in salads, sandwiches and pasta. Make sure they are preserved in olive oil
-Dried oregano, mint and basil-
What is the Greek diet without its antioxidant rich herbs? Especially my mom's favorite: oregano!
-Dry and canned beans-
Dry beans are a staple of the Mediterranean diet, canned beans are fine especially when I have no time.
-Honey-
It's our sugar, we drizzle some on yogurt, eat on bread with tahini and in salad dressings.
-Pasta-
An easy meal that you can embellish with plenty of vegetables. Kids love it.
-Walnuts-
Great plant source of omega-3 fatty acids. Eat them with fruit, in yogurt in salads or plain.
-Cretan barley rusks-
My favorite! Snack on them or use them in salads. Great source of cholesterol lowering fiber.
-Italian Style Breadsticks Grissini-
These are very thin hard breadsticks. Great as a snack along with tomatoes and cheese. When you buy them make sure they are made with olive oil not palm oil or other oils.
-Canned sardines and anchovies-
Great sources of omega-3 fatty acids and super easy to prepare. Look for fish canned in olive oil not other vegetable oils