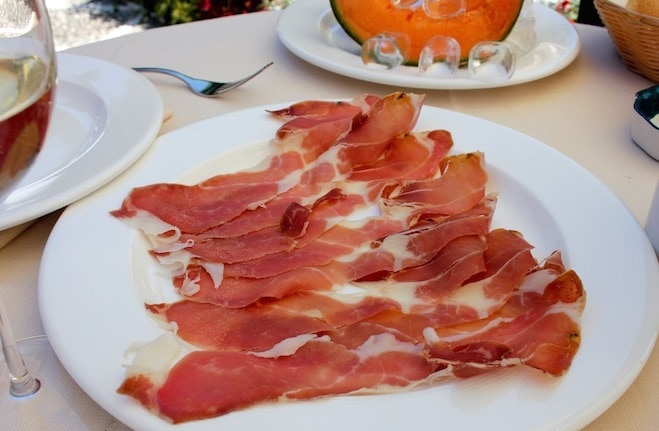 You may have all seen the latest announcement of the World Health Organization that says bacon, sausage and other processed meats cause cancer. This is not a new, academics have been talking about this for years.
What struck me is the announcement from the North American Meat Institute where Betsy Booren, Ph.D., NAMI Vice President of Scientific Affairs says that: "Followers of the Mediterranean diet eat double the recommended amount of processed meats".
Sorry to say this, but she must not understand what the Mediterranean diet is, it is NOT Mediterranean Cuisine. As I have mentioned before, the Mediterranean diet is a specific diet and does not include the whole Mediterranean region. For example the diet in Northern Italy differs greatly from that of Southern Italy. In fact the original Mediterranean Diet Pyramid as developed by Harvard researchers and the W.H.O. was based only on the diet of Southern Italy and Greece. Northern Italy has a very "northern" type of diet with plenty of meat that cannot be considered a Mediterranean diet. The same goes for some parts of Spain. And for France we know that in Northern France there is a lot of meat and butter as opposed to Southern France where they use more olive oil. Read this post to see more about regional differences.
Again, I must mention that in the traditional Mediterranean diet, people ate meat once a week. Yes there were small amounts of naturally preserved meats such as prosciutto in Italy or the Cretan apaki a meat made from lean pork cured naturally that was consumed occasionally and in very small amounts like a meze.
These meats were made when local butchers slaughtered the animals before Christmas and in January and February. With the leftovers they would preserve the meats making these cured meats or sausages. But they were consumed rarely and they weren't considered real food, just as a seasoning of sorts. In fact my father ate sausage for the first time when he was in his 20's (he is in his 70's now) and that was in the army, he had never seen other processed meats until he moved to US.
Also I should remind that in the prototype of the Mediterranean diet which is basically the Cretan diet, people fasted from animal products for 200 days a year, so in practical terms it was impossible to be eating all this meat, let alone processed meats.
Perhaps Dr. Booren is talking about what the current Mediterraneans are eating, which is basically a lot more meat, a lot more saturated fat and lot more processed foods and not a Mediterranean diet. As a result, we have higher rates of heart disease as well as other chronic diseases compared to the 60's. Living in Greece and experiencing this firsthand I can say that Greeks have an infatuation with luncheon meats, they eat them almost everyday in sandwiches. Pariza which is a bologna-like cylinder shaped product is promoted to kids as a healthy and tasty snack (this one was even voted product of the year!). Companies are adding a drop of olive oil in their processed meats and touting them as "Mediterranean" and healthy. The marketing of these products is astounding.
No, these products are not healthy and even more so with the use of preservatives that were not used in the traditional Mediterranean preserved meats.
I find it unfortunate and misleading that the Meat industry is using the Mediterranean diet as an argument for their products based on false information.
Photo by Navin75 for flickr