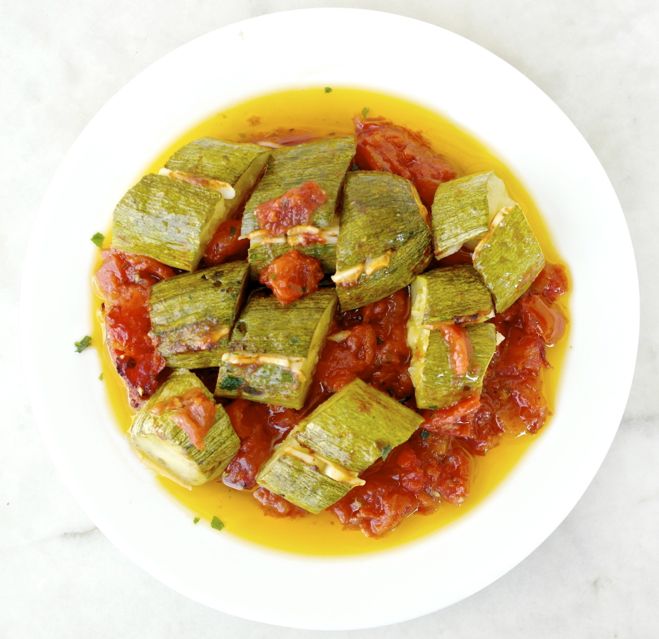 Greek food has become quite popular in the past decade. Maybe it has to do with the fact that Greece is a popular vacation destination or that the Mediterranean diet is one of the most popular diets (lifestyles) around. State of the art Greek restaurants are now in every big city and chefs and cooks are doing great things in showcasing Greek food. But, unfortunately many of the recipes I see online by several food writers and bloggers are so wrong and that's a pity. Not only are you not getting the authentic flavor, you may be missing out on several health benefits. So here are my top 5 things many people -including food and culinary professionals- get wrong about Greek food.
1. They don't use enough olive oil
I cannot count how many times I've seen so-called traditional Greek recipes calling for a fraction of olive oil that is normally used. When we make the traditional vegetable based recipes such as briami, green beans, legumes and so much more, we add a lot of olive oil. There is a reason for this, all that olive oil makes these vegetables delicious and easy to eat. These dishes are meant to be a main course so in essence you are getting over 4 servings of vegetables in one sitting easily. The olive oil that these vegetables are cooked in makes them tasty and actually decadent and filling. My proof ? My kids love these dishes, they eat almost a pound of vegetables a day, and olive oil plays an important role in that. And if you are trying to save calories, you need to remember that this is a main course so the calorie level is moderate, also plenty of the olive oil will stay on your plate, so you are not consuming all those calories. If you want to use only a teaspoon of olive oil, go ahead, you'll end up with a watery, bland dish that has little resemblance to anything Greek.
2. Anything with feta and oregano is called "Greek"
What's with this? Really, feta is Greek, and parmesan is Italian. Do you call recipes with parmesan Italian? No. Just because you add a few Greek or Mediterranean ingredients to a recipe does not mean that the dish is actually from that place. Not only is it misleading, but it can give the wrong impression and reputation about a specific cuisine. It's one thing to be inspired by Greek cuisine, but it's quite another to call something Greek when it isn't. So don't be fooled by the addition of feta, oregano or lemon in otherwise westernized recipes.
3. Meat dishes with pork and lamb are considered the quintessential Greek dishes
Yes, lamb is a common meat in Greece. But did you know that traditionally Greeks did not eat meat for over 180 days a year? Their diet was mostly vegetarian. Lamb was consumed during celebrations and holidays, it was not an everyday occurrence. The same goes for souvlaki. In fact a few decades ago you could only find souvlaki at bus stops or rest areas in Greece. As for gyros, it is essentially a Greek-American street food although it appears to be inspired by the Turkish doner-kebab. I don't know anyone who makes gyros at home.
4. Middle eastern foods such as pita bread and hummus are considered Greek
Several middle eastern dishes such as hummus or baba ganoush are based on traditional Mediterranean ingredients and often I see them in Greek restaurants, however they are not actually Greek. Yes, they are healthy and delicious but Greek they are not. I have actually been interviewed on what to eat at a Greek restaurant by an American magazine and I was given a list of middle eastern foods to choose from. I politely explained that these dishes are not actually Greek. As for pita bread, well the main type of bread in Greek cuisine is bread and in some areas rusks, like the famous barley rusks from Crete (paximadia).
5. "Greek" yogurt is Greek
Actually all those yogurts out on the market that call themselves Greek, are not Greek at all. Unfortunately, especially in U.S. the term Greek has come to mean strained yogurt, not actual Greek yogurt. In reality, in order for a yogurt to be considered Greek, it must be made in Greece using Greek milk. In addition, if you think that eating key lime pie flavored Greek yogurt is part of a Mediterranean diet, I can assure you that it is not. Traditional Greek yogurt is usually made from sheep's milk and is consumed plain or with a bit of honey and sometimes walnuts. It is quite different both nutritionally and flavor wise.