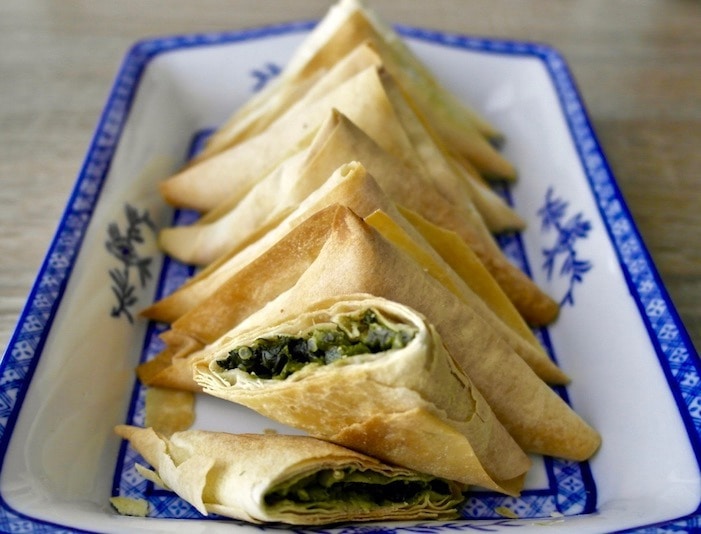 I consider Greek pies (known as pites) the original fast food that is healthy. Easy to eat while standing, you can take it with you anywhere and does not require refrigeration for many hours. These little spinach-leek pies that happen to be vegan are perfect as a snack or lunch along with a salad.
The word pita usually refers to savory pies in Greece (and also pita bread), they may be made with phyllo, or not. Phyllo translates into to leaf in English. Phyllo can be thick like a pie crust or it can be thinner then paper in the form of sheets. Pites were a an important food for shepherds and farmers who were out for many hours and even days.
For me the beauty of pites with phyllo is that you can basically fill them with anything you want or you have leftover. And that for me is vegetables and various greens. For these pitakia (with means little pies), I used spinach, leek and any herbs I had in the kitchen or growing in balcony garden. So I added plenty of mint which is often used in savory pies, fresh oregano both which are growing like crazy on my balcony. I also experimented this time and added a bit of quinoa for some extra protein. The quinoa was added raw and cooked while the pies were baked in the oven.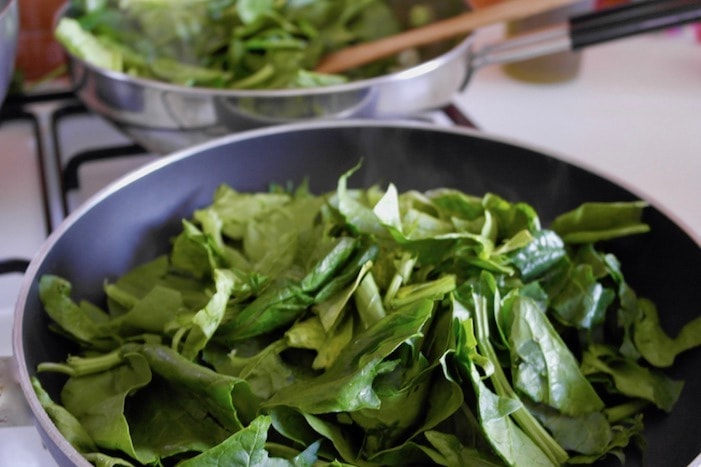 Now here's the best part, I used about 1 ½ pound of vegetables to make these little pies about 20 of them and the kids were grabbing them like they were cookies, I ate a few but the boys had most of them, and just like that they consumed about ½ pound of vegetables in one day. No need to persuade them or bribe them to eat their vegetables.
Phyllo is fairly thin so they are not consuming tons of carbs either. For this recipe I used ready made phyllo "village" phyllo from a Greek brand that has a bit of olive oil, but you can use the regular phyllo. Just make sure it does not contain added fats such as palm oil.
Mini Greek Vegan Spinach-Leek-Quinoa Pies – Spanakopita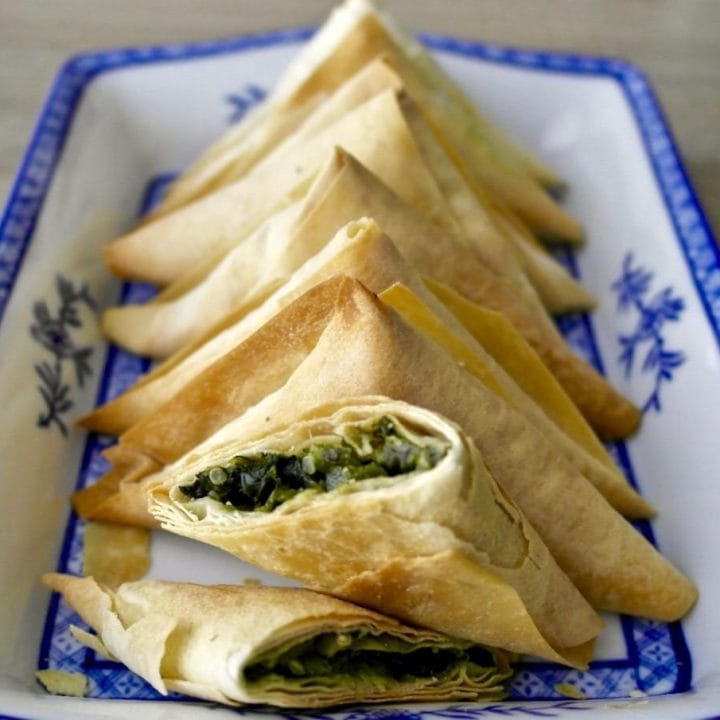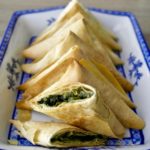 Print Recipe
Pin Recipe
Ingredients
3

tablespoons

olive oil plus more for brushing

2

cups

sliced leek

only white about 2 large leeks

2

spring onions sliced

only white

1

pound

spinach washed and chopped

3

tablespoons

fresh mint

2 Tbs dry

2

tablespoons

fresh oregano

1 Tbs dry

2

tablespoons

dill

2

tablespoons

rinsed uncooked quinoa

1

teaspoon

ground nutmeg

A pinch of sugar

6

phyllo sheets

defrosted if frozen

1

teaspoon

salt

1

teaspoon

pepper
Instructions
Preheat oven at 350 degrees Fahrenheit (180 C)

In a large pan heat the 2 tablespoons olive oil and saute the leek and onion until soft.

Add half of the spinach in the pan with the leek and heat until wilted and the other half of spinach in another pan or pot with the rest of the olive oil and heat until wilted.

Empty all spinach and leek mixture in a large bowl and add the mint, oregano, dill, nutmeg, sugar, quinoa, salt and pepper and mix well. Let it sit for 10 minutes.

Take a phyllo sheet (keep others covered with a towel) and spread it out. Brush with olive oil and cut in 4 strips lengthwise.

Place your mixture in the top corner and fold into triangles see

here

for method.

Brush tops with a bit of olive oil and sprinkle a few drops of water.

Place on a pan brushed with olive oil, and bake for 25-30 minutes, until golden.
Notes
You can reheat to get phyllo crunchy if serving later.
DID YOU MAKE THIS RECIPE?
Leave a comment or share on instagram and mention @greekdiet
Photo by Elena Paravantes© All Rights Reserved