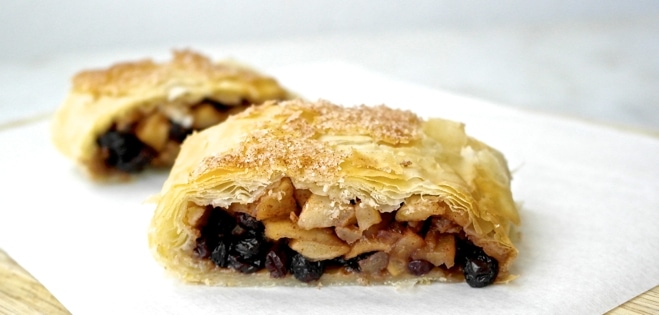 I've mentioned this before, but phyllo is so versatile and you should always have some in your kitchen. Here in Greece we actually have fresh phyllo (not frozen) available at the super market which makes it even easier to make your own Greek pies such as spanakopita. I do like to use it for sweets as well, in the place of a regular crust. It has no fat (although I noticed that in the US many brands have added fat in them) and only contain flour and cornstarch, providing a lighter version. Even when you brush your oil in between layers, you have control of how much you use and what kind of fat you add.
Generally I use only olive oil. If I am making a sweet I sometimes use a milder tasting olive oil, some olive varieties  produce milder tasting oils. If you prefer to use butter, you can use half butter and half olive oil to cut down on the saturated fat.
This recipe has a classic apple filling. I added walnuts as well, to give some crunch and add additional protein. It just contains apples, raisins (I used the Greek Corinthian currants), nuts and sugar. It does not require any cooking before hand, you basically mix all your ingredients, and put them on the phyllo, roll up and you are done.
This is a healthy sweet and vegan too! It contains a little bit of sugar and the rest is the healthy apples, nuts and raisins providing a good amount of fiber. You can accompany it with some Greek yogurt on the side or just enjoy plain with that morning cup of coffee.
Apple-Raisin Phyllo Strudel
INGREDIENTS
3 apples peeled and chopped in small cubes (¼ inch)
1/3 cup raisins
¼ cup chopped walnuts
1 teaspoon cinnamon
3 tablespoons brown sugar
6 phyllo sheets thawed
1/3 cup olive oil (or half butter)
Topping
1 tablespoon sugar
¼ teaspoon cinnamon
DIRECTIONS
1. Preheat oven at 350 degrees Fahrenheit (180 Celsius).
2. In a large bowl combine all the ingredients except the olive oil and phyllo. Set it aside.
3. Take out your phyllo, spread the first sheet and brush with the olive oil, covering the edges well, continue doing this for all 6 phyllo sheets.
4. Take the apple mixture (strain so there are no liquids)  and spread it lengthwise on one side of the phyllo layers-the one closest to you. Spread a bit so it is about 2  inches wide. Then fold in each side (top and bottom-like folding a burrito) so that the ends are closed. Roll the phyllo with the filling carefully into a log. Place on a pan.
5. Mix the cinnamon and sugar in a small bowl. Brush with your oil or butter and sprinkle the cinnamon and sugar mixture on top, this will form a crust when baked. Make a few small slits on top of the strudel
6. Bake for about 30 minutes until phyllo is golden.
Photo by Elena Paravantes © 2013