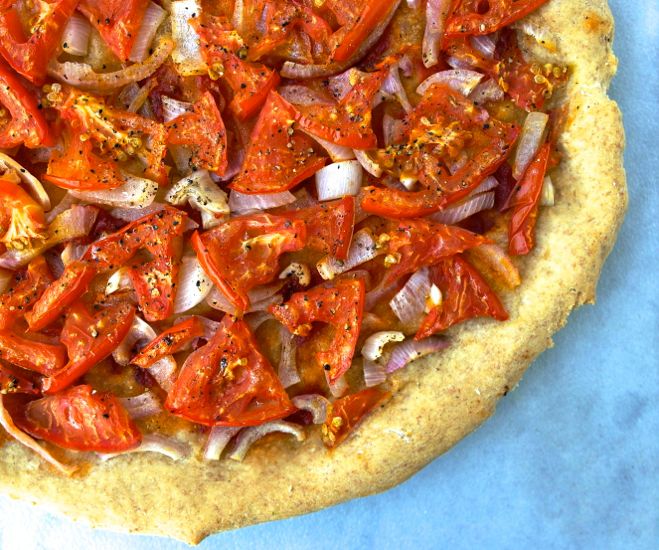 Summer means Greek islands for a lot of us here in Greece. We all have memories of our first "adult" vacation when we took a boat to one of the islands with our friends and arrived in one of the many Greek islands and had the time of our lives. The islands are often associated with a carefree lifestyle, no need for formalities just fun. While living on an island is not all fun and games, particularly years ago when transportation was not good, islanders and those living near coastal areas are generally more outgoing  than those from mountainous areas of Greece. Even their songs were more positive sounding. This was very refreshing for me as both my parents are from Arcadia which is in the center of Peloponnesus surrounded by mountains and people tend to be a bit more closed.
I remember a friend of my mom's  back in the U.S. Her name was Petroula and she was from the island of Kimolos. We would always go to their house on Christmas and it was a big Greek gathering. The moment she opened the door and saw us, she welcomed us with such excitement that it made you think that you were her favorite person in the world. During these parties the table was full of food: mountains of meatballs (keftethakia), salads, cheese, lamb and also lathenia. Lathenia is a recipe that resembles a pizza from the island of Kimolos. The dough is similar to focaccia as it contains quite a bit of olive oil. In fact the name of the lathenia, means "the oily one". Then it is topped with tomato and onion, a drizzle of olive oil and salt pepper.
It is baked in the oven much longer than a pizza, and the result is soft onions and sweetened tomatoes that have melted together, creating a delicious taste and texture. I have heard that it should not contain anything else such as oregano or other vegetables. I am fine with that, it is so tasty in its simplicity. Now the secret to the tastiness of this recipe is the olive oil that is practically drizzled on every layer. It brings out the flavor of the vegetables but also makes the crust delicious in its own right.
I used a bit of whole wheat flour to add some more fiber. This recipe is vegan, there is no cheese in it. It is also rich in antioxidants from the onions, tomatoes and olive oil. Studies have shown that we absorb more lycopene (an antioxidant in tomatoes) when it is heated with olive oil as is in this recipe. This is an ideal snack for a picnic or a road trip as it has no cheese and is easy to carry around. A perfect appetizer but also a filling lunch.
Authentic Greek Island Pizza-Olive Oil Pizza-Lathenia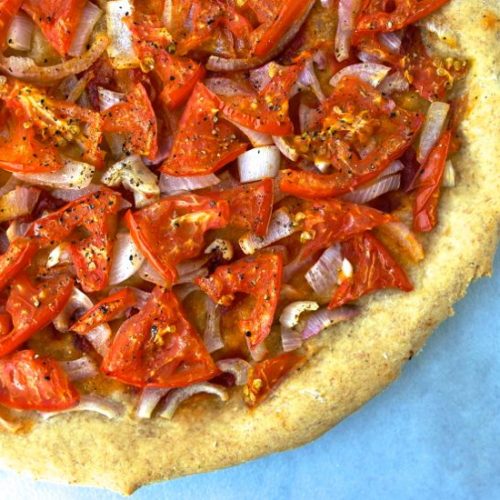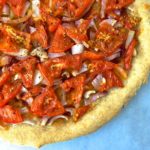 Print Recipe
Pin Recipe
Ingredients
For crust*
For topping
2

medium tomatoes

1

large or 2 medium onions

1

teaspoon

tomato paste

Olive oil for drizzling

Salt and pepper
Instructions
Empty flour in a large bowl, add the sugar, salt and yeast and mix.

Add the olive oil and mix with a spoon. Now start adding the water mixing until you have a thick dough.

Place the dough and knead for about 5 minutes adding more water or flour as needed until you have dough that is uniform and is not sticking to your hands.

Place the dough in the bowl, cover with plastic wrap, and let it rise in a warm place for about an hour.

Preheat the oven at 350 degrees Fahrenheit (180 Celsius).

When dough is ready, drizzle some oil on the bottom of a round pan that is about 14-15 inches diameter (or you can use smaller and divide into 2 pans). Spread the dough with your hands so it covers the whole pan. Brush again with olive oil.

Chop the onions in medium size pieces and place in bowl, add about a teaspoon of olive oil and add the tomato paste and mix, until all the pieces are covered.

Make little dents in the dough with your fingers and spread the onions.

Cut the tomatoes in thin slices and then cut in half or in quarters depending the size of the tomatoes and place on top of the onions. Drizzle with a bit of olive oil, add freshly ground pepper and a bit of kosher salt.

Bake in the oven for about 50 minutes on the lower rack.
Notes
*On some occasions I have made the crust without yeast because I didn't have any plus it is quicker. The crust is not as fluffy but still very delicious. So if you are short on time check the recipe for yeastless crust.
-Yeastless Crust-
*3 1/2 cups flour (you can also use a bit of whole wheat flour)
*3 ½ teaspoons baking powder
*1 teaspoon salt
*½ teaspoon sugar
*1/3 cup olive oil
*1 cup water
Follow the instructions as in the recipe omitting step #4.
DID YOU MAKE THIS RECIPE?
Leave a comment or share on instagram and mention @greekdiet
Photo by Elena Paravantes