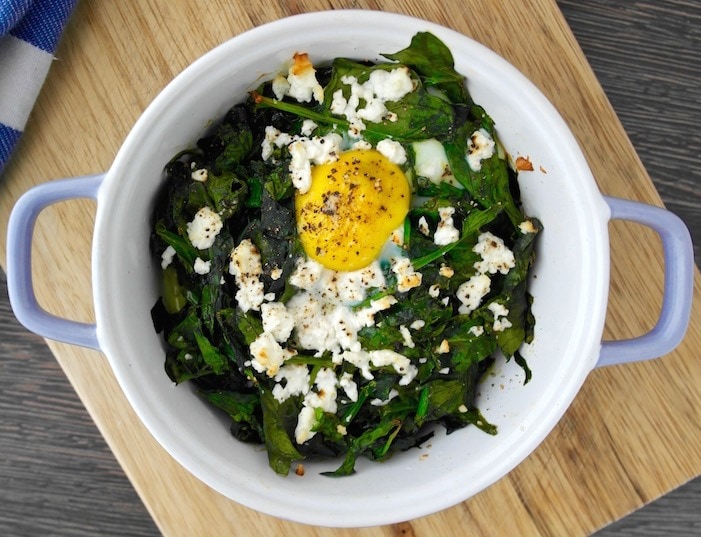 Eggs are a such a great food and as I've mentioned before, eggs in Greek cuisine were not necessarily a food for breakfast, but rather a convenient food that was consumed as a quick dinner. This particular dish is one of those recipes that can be consumed all times of the day using traditional Mediterranean ingredients. An egg sunny side up over a bed of spinach lightly sautéed in olive oil and sprinkled with feta. This dish is so easy and filling, you won't be hungry for hours. I use plenty of fresh spinach as it pretty much shrinks when you heat it. This dish contains about 3 cups fresh spinach per person, that fulfills three servings of veggies in just one meal. You also get filling protein from the egg and the feta, and some good fat from the olive oil which also helps in the absorption nutrients from the spinach.
The secret to these simple dishes is always good quality ingredients. I love using fresh spinach and organic eggs and of course real feta and extra virgin olive oil.
This recipe is for one, but you can easily double or triple the ingredients and use a larger baking dish.
Baked Egg with Spinach and Feta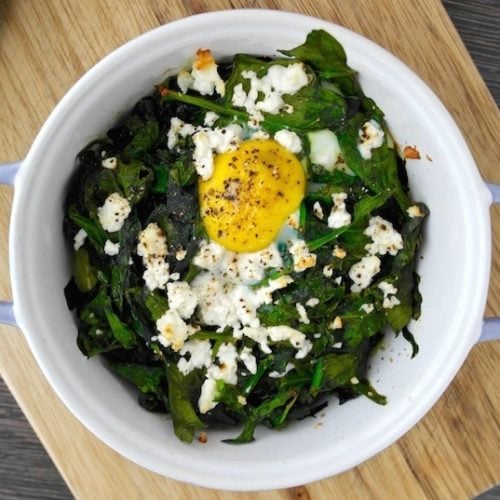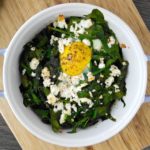 Print Recipe
Pin Recipe
Instructions
Preheat oven at 350 degrees Fahrenheit (180 degrees Celsius)

In a pan heat 1 teaspoon olive oil and sauté spinach for 2-3 minutes.

Place spinach in a small heatproof ceramic casserole dish and add the other 2 teaspoons of olive and blend.

Crack an egg over the spinach, sprinkle with feta and add salt and pepper for taste.

Bake for about 18-20 minutes.

Serve warm.
DID YOU MAKE THIS RECIPE?
Leave a comment or share on instagram and mention @greekdiet
Photo by Elena Paravantes© All Rights Reserved