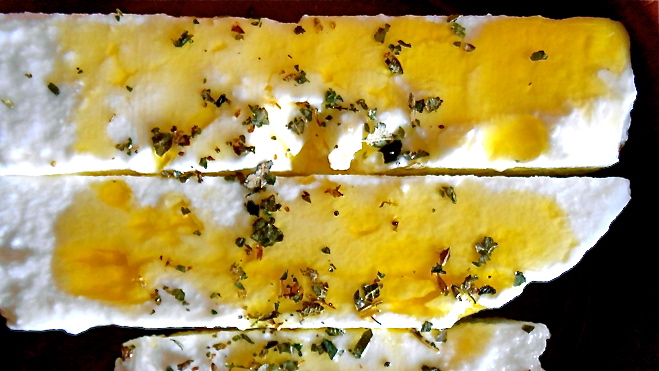 I love feta all year around but during the summer when I eat mostly vegetables, feta is my meat and I go through it in no time. That's why I wanted to dedicate a few posts to this wonderful food.
What is Feta?
It is a Greek white salty cheese produced from sheep's milk or a combination of sheep's and goat's milk (I will talk about its taste in another post). After the rennet is added to the milk, it coagulates and it is drained. Then it is transferred to barrels and it goes through a maturation process of at least 2 months. As with many Greek products, feta became popular in other countries and imitations began to be produced outside of Greece. But it wasn't feta.
Panos Leontaritsis former Marketing Manager for Fage in Greece once explained to me why this generic white cheese is different from feta: "The main differences of feta with the 'white brine cheese" is that the generic white cheese is made from cow's milk, there is the the addition of additives such as vegetable fat or protein, there is non-natural drainage, and the absence of the maturation process. These factors produce a cheese whose structure and taste have nothing to do with feta."
Your Feta Could be Fake
If you live in the European Union, you won't find feta made in France, Denmark or Germany. Actually it wouldn't be feta if it were made in those countries. That's because feta is on the register of protected designations of origin in the European Union. Only cheese produced in a traditional way in certain parts of Greece can be called feta. Now if you live outside of the EU, the law does not apply and you might see "feta" made in Wisconsin from cow's milk, or even "feta" made from buffalo milk. Nope, that cheese is not feta, doesn't matter what the package says.
Back in 1996 Greece applied to the European Commission to include feta on the register of protected designations of origin (PDO). However, Denmark, Germany and France, challenged that decision, saying that the word feta is generic and simply describes salty cheese and the EC decision was cancelled. In 2002, however, feta was once again granted a protected designation of origin. This time, Germans and Danes took the case to court indicating that the manner and method of production is what's important and not the country of origin. OK…but their "feta", was primarily produced from cow's milk, using different technology. The court was not convinced either and rejected the request. So hurray, finally feta has been "officially" Greek for 10 years!
The concept of PDO actually protects the consumer. When a cheese not made in Greece and not the traditional way, is called feta and makes reference to its Greekness, this is part of a sales strategy that not only capitalizes on the reputation of the original product but also creates consumer confusion.
What is Real Feta?
As I've mentioned in the past, consuming original products made the way they have been made for hundreds of years in the original location is important from a culinary and nutritional point of view. We have to remember that sheep's and goat's milk is quite different from cow's milk but what is also different is what those animals eat. Sheep from the UK are different from sheep in Greece because the land is different and so are the breeds. In Greece, small native breeds of sheep and goats, which have become extremely tough and resistant, in order to survive in the particular environment with diversified flora, give feta its unique flavor, but also a different nutritional profile.
So if you are trying to incorporate nutritional components of the Greek Mediterranean diet and gain the health benefits, you need to eat food that resembles as closely as possible the original product and not imitations made with different ingredients. 
Photo credit: Olive Tomato