This soup /stew is another one of those comfort foods served during the winter. Nourishing, warm, flavorful and filling this Greek Chickpea soup or rather stew hits the spot.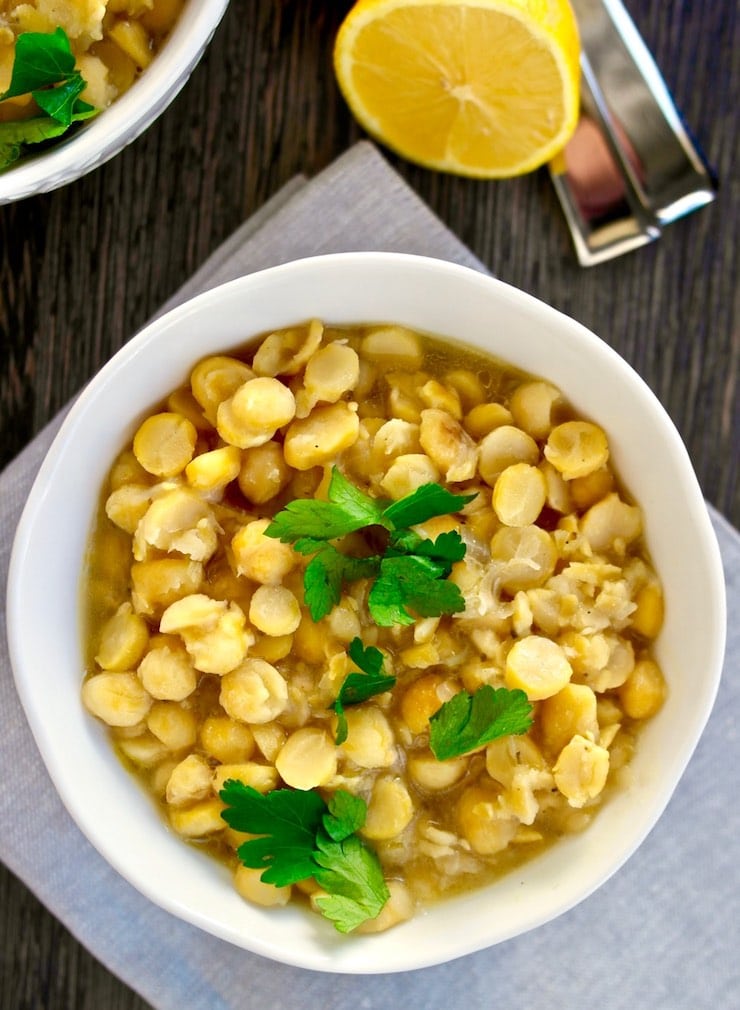 The chickpea is a favorite legume generally, and this soup is by far the most popular way to enjoy it in Greece. As many Greek dishes, this stew is made with a few simple ingredients, not at all complicated, but you do want to make sure you cook it correctly and you add the condiments when serving (lemon, extra olive oil) as this is what brings out all the flavor. Slow cooked with plenty of olive oil, onions and a squeeze of lemon right before serving is a perfect meal for lunch and dinner. This "soup" is meant to be a bit thick and the beans a bit mushy, which is what makes it so good to eat. I like my beans generally thicker and not as soupy, but if you prefer a soup you can add a bit more water. These taste better the next day and will be even thicker as the beans will have absorbed all the liquid.
Chickpeas are a great source of protein and fiber and also contain vitamins and minerals. The nutty flavor along with the richness of olive oil and the tanginess of the lemon meld perfectly together.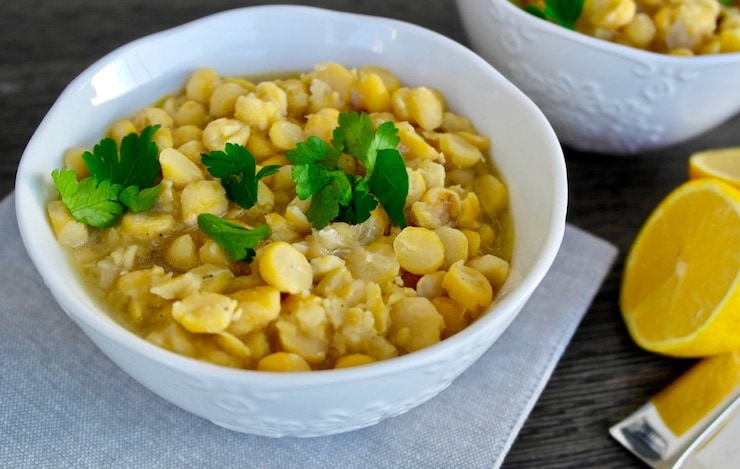 How to Cook and Prepare Chickpeas
Cooking with dry chickpeas requires some planning, make sure they are soaked for at least 12 hours -not just overnight, otherwise they will take forever to boil and for this recipe we want them a bit mushy so that may take even longer. Here in Greece there are peeled dry chickpeas available so you can avoid the peeling, otherwise you can follow this method:
After they have soaked, rinse them and place them in a pot with some water. Once the water comes to a boil rinse the chickpeas again and then rub with your hands to remove the skin.
If you are using canned chickpeas, you will need less boiling time at about 30 minutes (see recipe below), but cooking slowly from dry beans results in that creamy texture. *Clarification/correction: By "creamy" I mean that the beans should be very soft, but not like a creamy, pureed soup.
Greek Chickpea Stew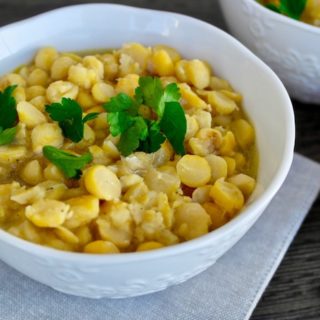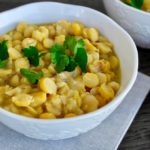 Servings:
3
generous servings
Print Recipe
Pin Recipe
Ingredients
1

cup

dry chickpeas

9 oz or 250 gms soaked, rinsed and peeled).

1

large onion diced

1

garlic clove cut in half

1

bay leaf

¼

cup

olive oil

salt/pepper

lemon for serving
Instructions
Place the chickpeas in a pot with a bit of water (just enough to cover) and bring to a boil. Rinse and place again in a clean pot.

Add the onion, garlic, bay leaf, ¼ teaspoon salt and olive oil. Add enough water so that it covers the beans by about ¾ of an inch.

Simmer for about 2-3 hours until soft and mushy.

Serve with a drizzle of olive oil and plenty of lemon juice and freshly ground pepper.
DID YOU MAKE THIS RECIPE?
Leave a comment or share on instagram and mention @greekdiet
Photos by Elena Paravantes © All Rights Reserved