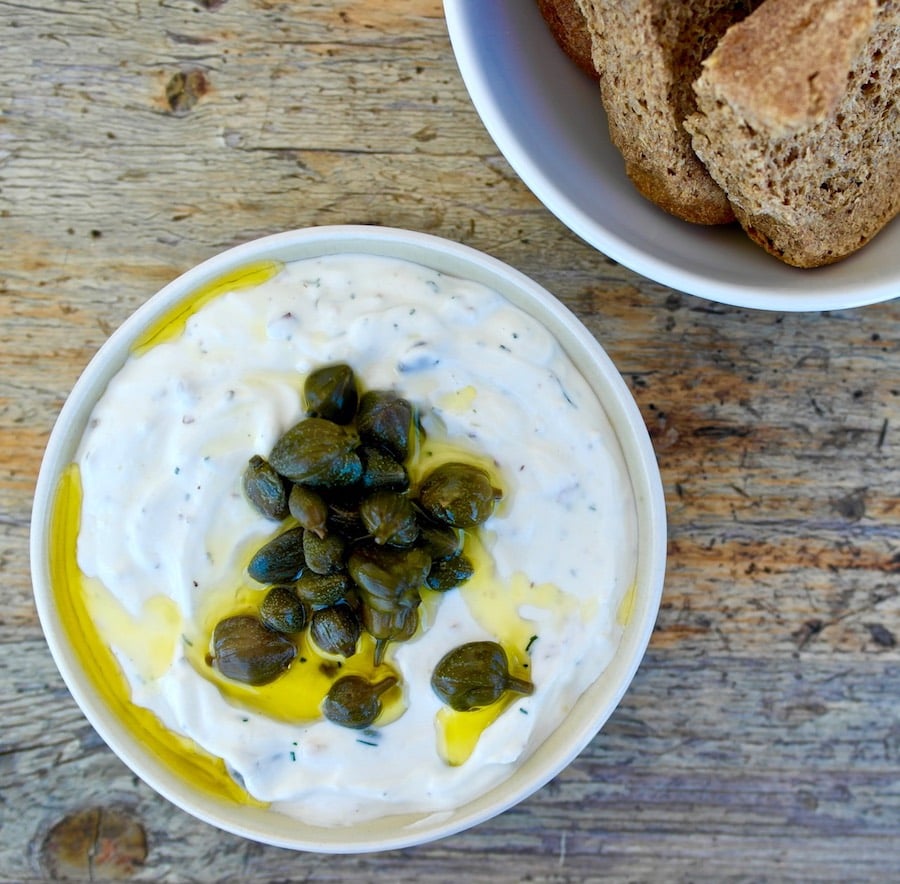 I've finally made this amazing caper dip with the capers I bought from Tinos island and I'm sharing it today. Over the summer we visited Tinos and in Greece it is mostly known as a religious destination-Greeks go to the island to visit Our Lady of Tinos, a shrine of pilgrimage-. In the church there is an icon that is believed to be a source of miracles.
However, Tinos has a number of beautiful villages, beaches and an important gastronomic culture. One of the products Tinos is known for is the capers. I love capers, so when I got off the boat, I went to the farmers market right on the port and bought a big jar, it only lasted for our stay we ended up buying some more from the islands farmers Co-Op store. If you love capers (and beautiful beaches and villages) than this is the island for you! They make their appearance everywhere: in salads, on meats, even as appetizers. They even have a festival dedicated to capers, which were lucky to attend and eat dishes made by the locals with capers.
Caper Benefits
Just a few capers add a burst of flavor to almost anything. Some of my favorite places to add them is of course on salads, on rusks or bread- I'll mash some feta, drizzle a bit of olive oil and sprinkle some capers, on pasta, and we sometimes eat them plain as an appetizer. But apart from their culinary versatility – they are rich in certain antioxidants and other protective substances. Capers contain the flavonoids kaempferol and quercetin and hydrocinnamic acids (a substance found in plants) with anti-inflammatory and antioxidant effects. And they have very few calories. It is important to note that as they are pickled, they do have a bit of salt. You can rinse them prior to using them and also avoid adding any additional salt when using them in recipes.
In Tinos there is a very popular caper dip known as Kaparosalata it is made with bread and potato, but while we were eating at a tavern on the island we were offered a different caper salad; this was made with Greek yogurt. This dip looks like tzatziki but it does not contain garlic, making it much lighter. We ordered it often along with a large Greek salad for lunch, it was soooo good. I recreated it here, and it is very easy to make. You can serve as is with rusks, breadsticks, bread or crackers but it also works as a sauce for chicken or salmon.
Creamy Greek Lemon Caper Dip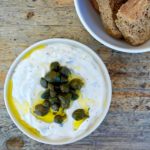 Print Recipe
Pin Recipe
Instructions
In a bowl mix the yogurt, capers, pepper, walnuts and lemon juice.

Add the olive oil and blend. Add the dill and mix.

Cover and let it sit for at least an hour.

When ready to serve the dip, sprinkle with some capers and drizzle a bit of extra virgin olive oil.
Notes
Do not add any salt as the capers already have salt in them.
DID YOU MAKE THIS RECIPE?
Leave a comment or share on instagram and mention @greekdiet
Photos by Elena Paravantes © All Rights Reserved