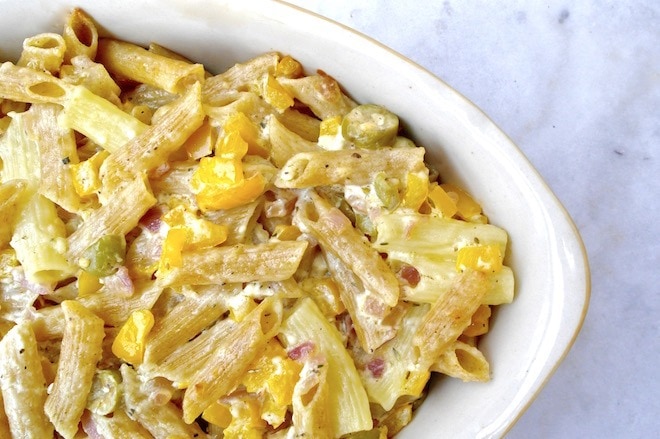 Pasta is such an easy meal to make with little effort. Many times dinner for us is a bowl of plain pasta with a drizzle of olive oil, grated cheese and a salad on the side. When I was growing up in the states I never experienced the famous American comfort food macaroni and cheese. My mom never made it, instead we usually had pasta with tomato sauce or with meat.
Of course, I was jealous of the other kids who got to eat this Kraft macaroni and cheese thing so recently, I decided to try it out for myself and see what all the fuss is about. I bought the ready made packaged stuff, as I had read that many people loved that type. I have to admit, it did not do much for me. I tried to make a homemade version too and still was not all that excited. Maybe it was the powdered cheese or the milky taste. In any case, I did like the texture so I tried to recreate something to my taste, that was also a bit healthier as well.
For the cheese sauce I melted some feta with some Greek yogurt and a bit of low fat cream cheese. I added pepper and several herbs (oregano, parsley, mint) and a bit of olive oil (no butter here). I also added vegetables to this dish, it's a great way to incorporate them in the meal, and you can add whatever you have on hand. And I use whole grain pasta for the most part for the extra fiber.
In Greece, I believe in the 80's it became in style to make pasta "soufflés". Well it really is not a soufflé, but that is what they call it, even today. Basically it is pasta full of heavy cream, heavy cheeses (not Greek), eggs and bacon all mixed and baked in the oven. People here in Greece still serve it at parties. It is one of those unfortunate foreign inspired, non-Greek copy dishes, Greeks just love making…
In any case here you have an easy light dish that seems rich and creamy but without all those fats. You can serve for a simple lunch or a side dish.
Greek Style Mac and (Feta) Cheese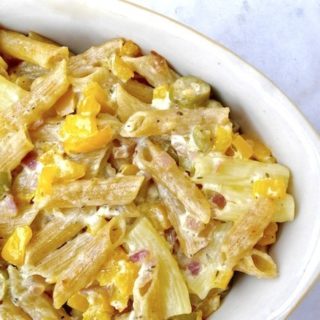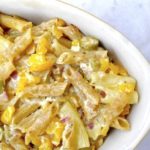 Creamy and tangy pasta with a Greek touch, but without all the fat.
Print Recipe
Pin Recipe
Ingredients
½

pound

pasta

3

ounces

feta

½

cup

Greek yogurt

2-3

tablespoons

cream cheese

1

tablespoon

parsley

1

teaspoon

dry oregano

1

tablespoon

mint

3

tablespoon

olive oil

1

onion chopped

1

pepper chopped

¼

cup

chopped olives

Pepper/Salt to taste
Instructions
Preheat oven at 350 Fahrenheit (180 C)

Boil the pasta according to the directions

In a pan heat about 1 ½ tablespoon olive oil and sauté the onion and pepper until soft.

Add the herbs and olives and sauté for 1-2 minutes. Set aside.

In a bowl mash the feta with yogurt and cream cheese until creamy. Add some pepper.

Once the pasta in boiled, drain and put back in the pot and add the cooked vegetables and the rest of the olive oil.

Add the cheese sauce and mix well. You can sprinkle a small amount of dry cheese such as parmesan on top.

Pour into a casserole and bake in the oven for about 20 minutes.
DID YOU MAKE THIS RECIPE?
Leave a comment or share on instagram and mention @greekdiet
Photo by Elena Paravantes © 2013