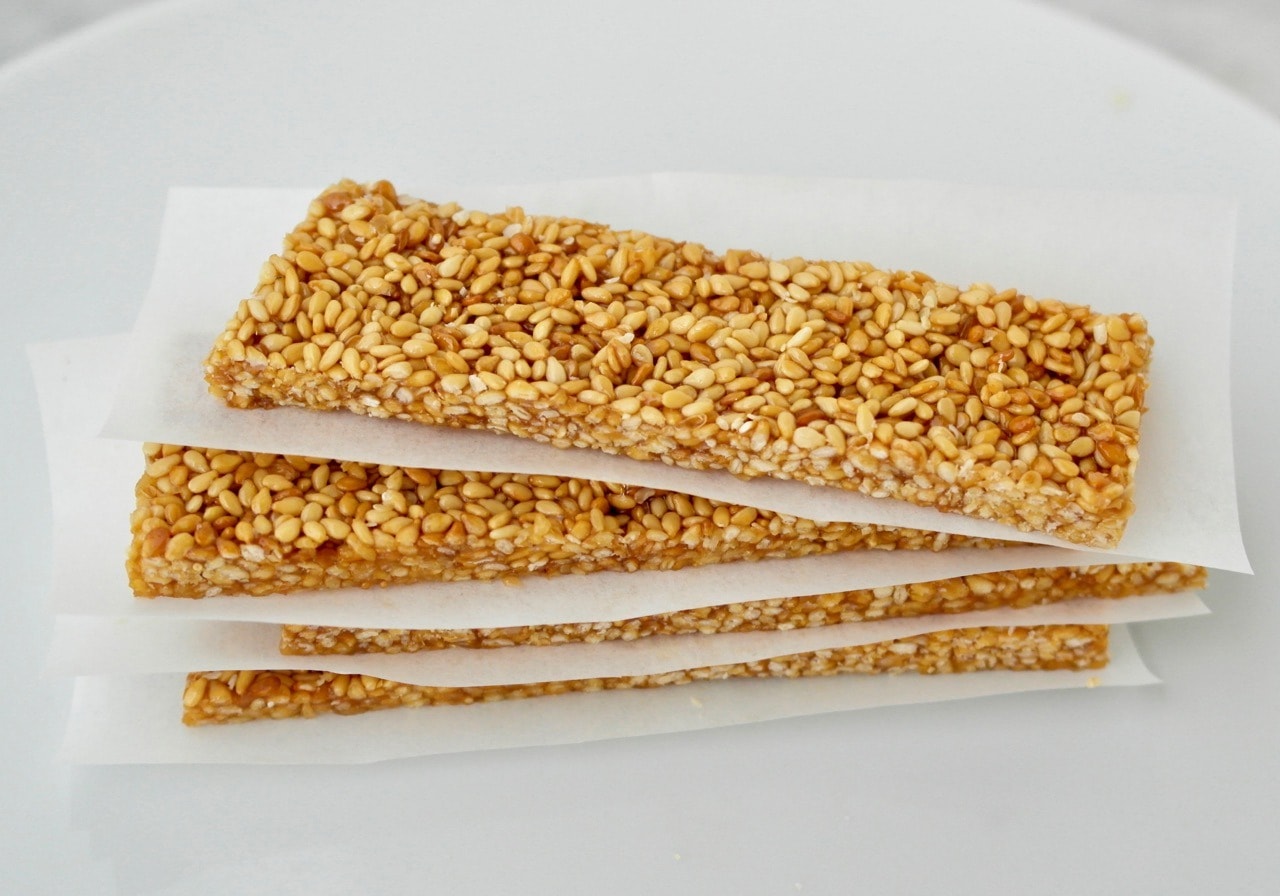 These sesame bars known as pasteli in Greek are the original power bars. They actually go back to antiquity, the ancient Greeks had a similar recipe that included a variety of nuts and honey. Today you can pretty much find pasteli anywhere in Greece. When I'm out and am looking for something quick I'll stop by a periptero (kiosks that are everywhere) and that is what I'll get. It is basically honey and sesame seeds. You can also find other types of pasteli that include other nuts such as pistachios.
These bars are traditionally consumed during times of fasting, when animal products are prohibited. If you do not already know, Greeks used to fast from animal products for about 180 days a year so these little things were nice little desserts to have.
I've seen these bars, being called sesame candy, but they are far from it, from nutritional point of view at least. Sesame is an excellent source of protein, a good source of calcium and iron, contains the good fats and the most phytosterols among nuts and seeds. Phytosterols are substances that appear to lower cholesterol levels and may protect from cancer. In addition sesame seeds contain antioxidants and fiber. The honey acts as a binder and a sweetener. They are a great snack during the day and kids love them too.
These bars are a concentrated source of calories and they are rich and sweet so you only need small amount. And I'm not just saying that, you really will feel satisfied after eating a small thin bar.
I decided to make my own, as holiday treats this year. They only contain honey and sesame seeds, unfortunately nowadays a lot of the pasteli you buy at the store contains glucose syrup.
The steps are simple, you just want to make sure you do not overcook it. I like mine to be thin and crispy, but you can roll them out in the size you wish. There are different recipes out there, I used the most straightforward one with equal amounts of honey and sesame seeds (by weight).
Pasteli: Greek Honey-Sesame Bars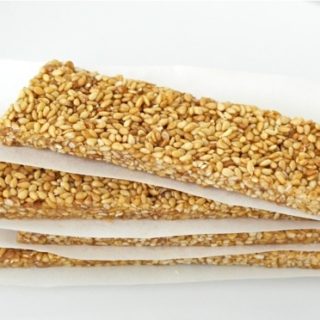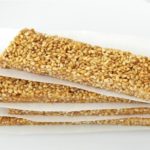 Crunchy, Sweet and Protein rich bars. A traditional Greek snack made with only two ingredients.
Print Recipe
Pin Recipe
Instructions
Toast the sesame seeds. You can spread them in a pan and put them in the oven at 325 degrees Fahrenheit or you can toast them in a pan. You want them to get a bit of color but not too brown.

Pour the honey in medium sauce pan and heat the honey until it starts to bubble. Let it boil for 4-5 minutes. If you have a food thermometer, you boil until honey reaches a temperature of 250 F (125 C).

Pour the toasted sesame seeds, lower the heat and stir. Making sure all ingredients are mixed well together. Heat the mixture for 2-3 minutes more (the more it cooks the crunchier it will be-but be careful of scorching). To check if it is ready, take a small amount and drop it in a glass with water, it should stay in a ball, if it spreads out it still needs to be heated.

Line a pan with slightly greased (I spray or brush with olive oil) parchment paper and pour the sesame mixture, place another sheet of parchment paper on top (also greased) and spread out the sesame-honey mix with a rolling pin. I prefer to do this step directly on the table instead of using a pan, that way I can spread as thin as I like (mine are rolled out to ¼ inch thick).

Remove the top sheet carefully and let it cool for about 15 minutes. Cut in small bars (I use a pizza cutter).

Let them cool completely. Remove and store with parchment paper between them in airtight container.
Notes
It is advisable to weigh the ingredients.
Make sure you grease the parchment paper well.
DID YOU MAKE THIS RECIPE?
Leave a comment or share on instagram and mention @greekdiet
Photo by Elena Paravantes